10 CUSTOM AUDIO CLIPS Female Voice for Boom Cards, Google Apps and More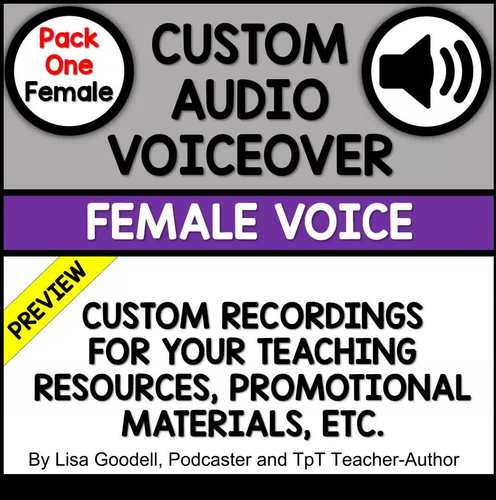 ;
Up to ten custom audio files
Description
Do you need custom audio recordings in your digital resources (i.e. Boom Cards, Google apps, PowerPoints, etc.) but don't have the equipment, know-how, or time to figure it out? With this pack (Pack One Female) you may order up to 100 spoken* words. The words may be divided up however you want between 1 and 10 audio files.
I can record directions, sentences, passages, questions, answer choices... whatever you need! (Or even marketing voiceovers for teacher sellers).
The recordings will have a female voice, which you can hear in the sample audio clip that is included in the zipped preview you can download. Test it to make sure it works with your project.
CLICK HERE TO SEE ALL MY MALE AND FEMALE CUSTOM AUDIO PACKS.
*Spoken letters, numbers, hyphenated words, symbols and letter sounds count as one word. Examples:
3+3=6 (5 words)
What word has the /a/ sound like in apple? (9 words)
Do you want a full-time job when you are twenty-one? (10 words)
Read the following carefully to know how this works:
Your custom audio files will be MP3 files, which work on Boom Cards, PowerPoint, Google Apps, SeeSaw, and more.
Once you purchase, follow the directions in the paid download to email me your order. I will reply to let you know that I received your email. Then I will email the audio files to you when they are done (within 24-48 hours, unless I am out of town).
One revision is included (if I make a pronunciation error), and must be requested within 7 days of when audio files are emailed to you.
Custom work does not go on sale and will not be 50% off the first 24 hours.
Email me with questions or ask on the Q and A page of my TpT store.
CLICK HERE TO SEE ALL MY MALE AND FEMALE CUSTOM AUDIO PACKS.
TERMS OF USE: Customized voiceover audio clips (MP3 files) may be used in your digital teaching resources (for your own use or to be sold as a small business owner on Teachers Pay Teachers (TpT), Boom Cards, etc. You may not give, share or sell the audio clips to anyone else. You may not post them online. There are no returns on this item.
This resource does not provide directions on how to insert your custom audio files into your project. However, please check FAQ on the platform you are using to make sure they give instructions, and also make sure they take MP3 files. You can also read this blog post with video tutorials.
***********************************************************************
GET THE MOST OUT OF MY STORE
Personalized Customer Service:
Go to the Ask a Question tab in my store to ask a question before buying or to let me know of an error. I am committed to responding ASAP when I'm not teaching.
Be the First to Know About New Products and Sales:
►Click here to become a follower. TpT will notify you when new resources are available, plus you can get 50% off if you purchase in the first 24 hours. (Exception: The 50% off doesn't apply to custom work....because it is custom work.)
►Go to the Profile tab to connect with me on social media - get freebies, teaching tips, and enter give-a-ways.
How to Get TpT Credits to Save Money on Future Purchases:
Please go to your My Purchases page when you are logged in. Next to each purchase, you will see a Provide Feedback button. Just click it and you can then leave a quick rating and comment. Each time you give feedback, TpT will give you credits that you can use to lower the cost of future purchases during Checkout. Everyone loves getting a discount!!
Total Pages
Up to ten custom audio files
Report this resource to TPT