10 Health and Physical Education Distance Learning or Homework Web Assignments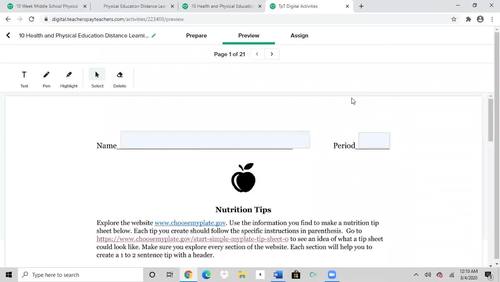 ;
Easel Activity Included
This resource includes a ready-to-use interactive activity students can complete on any device. 
Easel by TPT is free to use!
Learn more
.
Compatible with Digital Devices
The Teacher-Author has indicated that this resource can be used for device-based learning.
Also included in
Designed by the 2019 SHAPE America National High School Physical Education Teacher of the Year, this bundle can complete your physical education distance learning program for up to 10 weeks. Included are: · 10 Week High School Physical Education Log · 10 Health and Physical Education Distance Learn

Price $14.95

Original Price $18.70

Save $3.75
Description
Designed by the 2019 SHAPE America National High School Physical Education Teacher of the Year, this remote learning tool introduces students to reputable organizations and websites where they can learn about important health concepts. It has been said "Give a man a fish and you feed him for a day; teach a man to fish and you feed him for a lifetime" These assignments guide students in exploring websites they can refer back to in the future when they have questions about wellness topics. Students explore the sites, read information or watch videos, then answer questions to check for understanding. Students are also often prompted to apply new learning to real life situations.
These web assignments are intended for high school health and physical education students age 13 and up and may be printed for use in class curriculum or homework or assigned during distance learning. Web assignments have been made digital (including answer boxes) and may be assigned and completed by students in Google Classroom.
Each web assignment helps students learn state and national health and physical education standards. There are 10 web assignments. Each assignment is 2 to 3 pages long. Topics covered include:
· Nutrition Guidelines
· Food Safety
· Eating Disorders
· Steroid Abuse
· Tobacco Use
· Alcohol Use
· Drug Abuse
· Sleep
· Stress
Ideas for how to use these assignments:
· These can be assigned as part of distance learning curriculum. Students can complete the assignments individually and submit from home as part of a remote learning plan as they have been formatted for use as digital assignments in Google Classroom.
· Web assignments can also be used as part of regular on campus physical education or health curriculum. The teacher can use computers with students to complete the assignments. Following completion of the assignments class discussions about the learning can occur.
· The web assignments can be sent home with students as homework. The day they are due and returned, the teacher can facilitate a brief discussion about the website students explored and the learning that occurred.
Note: All weblinks are current as of January 23, 2022.
Report this resource to TPT