101 Digital Graphic Organizers & Thinking Too|s for All Curriculum Areas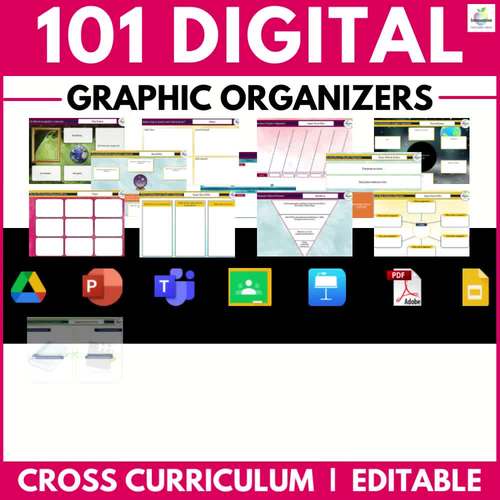 ;
3

rd

- 12

th
,
Higher Education
,
Adult Education
,
Homeschool
Zip

Google Apps™
Includes Google Apps™
The Teacher-Author indicated this resource includes assets from Google Workspace (e.g. docs, slides, etc.).
Easel Activity Included
This resource includes a ready-to-use interactive activity students can complete on any device. 
Easel by TPT is free to use!
Learn more
.
What educators are saying
fantastic resource that gives so many different entry points to help students with organizing, writing, and brainstorming their ideas.
Fantastic range of graphic organisers that are both editable and printable. The range for different genres and purposes is awesome. Thank you for this user-friendly collection!
Also included in
Teach and learn like a Boss in 2023 on your Chromebook, iPad, laptop or device of choice with this vast collection of purpose-built DIGITAL WRITING RESOURCES with HUNDREDS OF GLOWING REVIEWS. These interactive units are packed full of resources, interactive graphic organizers, multimedia and cutting

Price $44.95

Original Price $87.00

Save $42.05

This bundle contains our top 10 English, Reading, and Writing resources for grades 5 and 6 students. Packed with 1000+ pages over ten complete work units with hundreds of 5-star reviews at a heavily discounted rate.If you are a first-time grade 5 or 6 teacher, or a seasoned veteran, these resources

Price $89.95

Original Price $137.95

Save $48.00
Description
These stunning❤️101 DIGITAL GRAPHIC ORGANIZERS❤️are essential CRITICAL THINKING TOOLS for the DIGITAL CLASSROOM in 2023. Our EDITABLE slides allow students to FOCUS and ORGANIZE their thinking for ALL CURRICULUM AREAS.
This teaching "SWISS ARMY KNIFE" is a ready-made Digital GOOGLE SLIDES / CLASSROOM, POWERPOINT, PDF and TpT EASEL resource. NO PREP REQUIRED making it perfect for DISTANCE LEARNING your students can WORK INDEPENDENTLY, or you can EDIT these and share them with your WHOLE CLASSROOM.
This product has over 370 FIVE STAR ⭐⭐⭐⭐⭐ REVIEWS. It is a PROVEN WINNER and the BIGGEST resource of its type on TpT.
These BEAUTIFUL templates remove the paper trail and boost INDEPENDENT LEARNING SKILLS (All instructions are included on each graphic organizer.), leaving you to focus on doing what you do best... Teaching.
⭐ TEMPLATES INCLUDED ⭐
Organizing the facts (Reading and Writing)
Story Sequencing Graphic Organizer
Timelines
Event Map Graphic Organizer
Story Map Graphic Organizer A
Story Map Graphic Organizer B
Journalistic Report Graphic Organizer
Plot Elements Graphic Organizer
Story Sequencing Graphic Organizer
Conflict / Resolution Graphic Organizer
Cause and Effect Graphic Organizer
Double Venn Diagram
Single Concept Map
Compare and Contrast Graphic Organizer
Problem and Solution Graphic Organizer
Text Comparison Tool
Alphabet Knowledge Organizer
Facts Vs Opinion Graphic Organizer
Observation Response Graphic Organizer
U Plan Narrative Organizer
Vocabulary Dissection Tool
Character Traits Graphic Organizer
Character Analysis Tool
Animal Research Graphic Organizer
Biography Research Graphic Organizer
My Opinion Graphic Organizer
Biography Research Tool
Book Vs Film graphic Organizer
Cause and Effect Wheel
Problem and Solution Chart
Flow Diagram
Cycle Diagram
Y Chart
Spider Diagram
Writing Stimulus Tool
Newspaper Report Planner
Writing Stimulus Tool B
3-2-1 Fiction Follow Up
Vocabulary Concept Map
Animal? Creature Graphic Organizer
DeBono's Thinking Hats
Family Tree Graphic Organizer
Computational Thinking Graphic Organizer
Pictograph Generator
Blank Bar Graph
Horizontal Bar Graph
Design Thinking Graphic Organizer
Question Tower
Key Facts Graphic Organizer
Fish Bone Graphic Organizer
Learning Triangle
Know, Want to know, How will I find out?
Describe Interpret, Generalize, Apply
Digital Learning Matrix
Character Analysis
Ranking Ladder
Tic Tac Toe Research Notes
Research Note Taker Tool
Think Pair Share
Internet Research Notebook
Cornell Note Taker ( 2 Variations )
Book Vs Film
Know, Want to know the notebook
321 Fact Checker
Create your own quiz tool
DIY Assessment Rubrics ( 4 Variations )
Geography Graphic Organizer
Human Body Graphic Organizer ( Junior & Senior Editions )
Animal Specific Graphic Organizer
Historical Event Graphic Organizer
War / Battle Graphic Organizer
Solar System/ Planets Graphic Organizer
Scientific Method Graphic Organizer
All About Me Graphic Organizer
Food Comparison Graphic Organizer
Bloom's Taxonomy Problem Solver
Problem Solving Matrix
Math Problem Solving Matrix (3 variations )
Reading Predictions Graphic Organizer
Basic Word Vocabulary Expander
Pre-Reading Graphic Organizer
Film Plot Graphic Organizer
Poetry Analysis Tools ( 3 Variations )
Word Etymology Organizer
PLUS, MUCH MORE!!! - More to come regularly for free
TEACHERS LIKE YOU SAID THIS...
⭐⭐⭐⭐⭐ Amy O. says... "My students loved using this resource! It was very well thought out and highly engaging! Thank you for taking thetime to create a quality resource!"
⭐⭐⭐⭐⭐ Larissa M. says, "You can use these for many classes and change the titles. I love that you can create your own based on what is already there, but the ones there are already useful."
⭐⭐⭐⭐⭐ Jacqueline T. Says "This resource is ready to go. I found it very helpful to incorporate into the tasks I assign my students. It is rich in content, and the templates are very helpful in supporting student thinking. Thank you very much for this amazing resource. I would love more writing organizers!!! :)"
This TpT Top Seller will not disappoint when it comes to providing a nice balance of direct instruction and freedom to let students personalize their learning due to the range and diversity of these graphic organizers.
Introduce your students to 21st century learning with this GROWING BUNDLE OF 101 EDITABLE & PRINTABLE (if you must) GRAPHIC ORGANIZERS. ✌NO PREP REQUIRED!!!✌ Go paperless, and let your students express their knowledge and creativity through the power of technology and collaboration inside and outside the classroom with ease.
A GROWING COLLECTION of over 100 EDITABLE GRAPHIC ORGANIZERS makes it the largest of its kind on TpT and now includes a printable PDF version.
Please note all of our templates have been built and checked for compatibility across all platforms. You will not find missing fonts or misaligned elements in our bundles.
YOU MIGHT ALSO❤️VE THESE ENGLISH RESOURCES
❤️ Year-Long Visual Writing Prompts Collection
❤️ News and Media Literacy Bundle
❤️ 125 Guided Reading Activities for ANY BOOK
❤️ 101 Digital Graphic Organizers
⭐LET'S CONNECT
Innovative Teaching Ideas on YouTube
Innovative Teaching Ideas on Facebook
TERMS
Copyright © Innovative Teaching Ideas. All rights reserved by the author. This product is to be used by the original downloader only. Copying for more than one teacher, classroom, department, school, or school system is prohibited. This product may not be distributed or displayed digitally for public view. Failure to comply is a copyright infringement and a violation of the Digital Millennium Copyright Act (DMCA). Clipart and elements found in this PDF are copyrighted and cannot be extracted and used outside this file without permission or license. Intended for classroom and personal use ONLY. See the product file for clip art and font credits.
CUSTOMER TIPS:
How to get TPT credit to use on future purchases:
• Please go to your My Purchases page (you may need to
login). Beside each purchase, you'll see a Provide Feedback button. Simply click it, and you will be taken to a page where you can give a quick rating and leave a short comment on the product. Each time you give feedback, TPT gives you feedback credits to lower the cost of your future purchases. I value your feedback greatly as it helps me determine which products are most valuable for your classroom to create more for you. ☺
Teaching Duration
Lifelong tool
Report this resource to TPT
Standards
to see state-specific standards (only available in the US).
Determine the main idea of a text; recount the key details and explain how they support the main idea.
With some guidance and support from adults, use technology, including the Internet, to produce and publish writing as well as to interact and collaborate with others; demonstrate sufficient command of keyboarding skills to type a minimum of one page in a single sitting.
Conduct short research projects that build knowledge through investigation of different aspects of a topic.
Recall relevant information from experiences or gather relevant information from print and digital sources; take notes and categorize information, and provide a list of sources.
Conduct short research projects that use several sources to build knowledge through investigation of different aspects of a topic.