125 Directed Drawing Bundle - Writing & Reading Comprehension Activities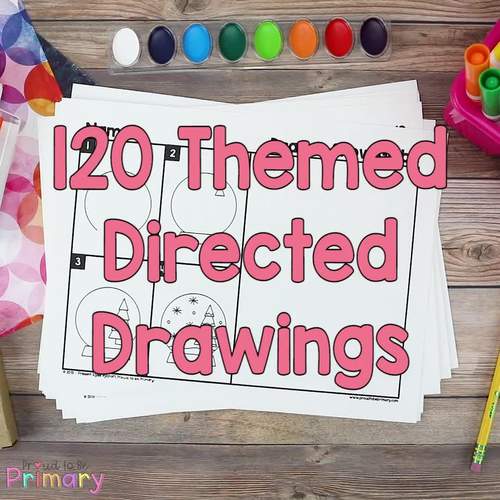 ;
Products in this Bundle (6)
showing 1-5 of 6 products
Description
Help kids learn to draw with this Bundle of 125 THEMED directed drawings and activities (6 individual resources). Teach kids how to draw with the 4-6 step-by-step drawing activities that are perfect for kindergarten, first grade, and second grade.
⭐Build drawing skills and following directions with these versatile printable directed drawing, writing, and reading activities that work great as morning work, sub-plans, in an art center, and more!
⭐Kids will love creating their own art portfolio of drawings, writing stories and opinions to go with their drawings, and practicing their reading and fine-motor skills (as they have FUN!) with the included options.
Are you searching for high-interest directed drawing activities that combine with engaging reading and writing activities? This NO-PREP themed bundle of directed drawing activities is all you need to supply your art center or for your directed drawing lessons for an entire school year!
↑↑↑ See the PREVIEW for more details and pictures of what this HUGE BUNDLE has to offer! ↑↑↑
Why YOU NEED Themed Directed Drawings by Proud to be Primary!
This themed directed drawing resource includes to teach your students how to draw and include in a classroom drawing center.
Children can learn to draw a variety of while working on building and using their .
The pictures chosen for the drawings are things that young children should learn to draw that will help them draw pictures independently.
This resource as it comes with everything you'd need to and amongst your students!
There are many , as well as reading and writing activities, making this a resource that can be to meet different needs.
There are a variety of templates to to create drawings and writing they're proud of and excited to share!
Here's What's Included (see the PREVIEW for an up-close view and samples):
✔ 125 different themed directed drawings are included
✔ 6 themed sets with 20 drawings in each (seasons, food, animals, people & things, weather & nature, & kid-favorites) + 5 BONUS cuties kids will love (caticorn, pupmaid, etc.)
✔ There are many different options available with 4-6 steps each
✔ Each drawing comes with a variety of templates for writing practice with two types of writing lines. Extra pages for writing stories are included.
✔Each drawing comes with three differentiated reading activities using a reading passage.
✔ Versatile pages and drawing task cards are included to create FUN and choice!
✔ Half-page mini-booklet template included to create individual drawing books
✔ 2 different drawing journal covers included to create drawing portfolios
Why You'll LOVE this Directed Drawing resource!
♥ Easily differentiate for all learners with the multitude of drawings and variations included!
♥ Give children a confident, head start with their drawing skills that will help them in the future!
♥ Help kids build listening skills and practice in following directions!
♥ Build reading, writing, and drawing skills at the same time!
125 Directed Drawings are included in the BUNDLE (20 in each individual set):
1. Seasons + Holidays – SEE IT HERE
Summer – sandcastle, sun w/ sunglasses, palm tree, popsicles, pool float
Fall – pumpkin, turkey, apple, acorn, scarecrow
Winter – snow globe, penguin, snowman, hot cocoa, winter wear (mittens/hat/scarf)
Spring – kite, baby bird, Earth, flowers, umbrella
2. Animals – SEE IT HERE
Zoo Animals – lion, panda, elephant, monkey, hippo
Pets – dog, cat, fish, bunny, hamster
Farm Animals – cow, chicken, horse, pig, goat
Sea Animals – whale, shark, jellyfish, starfish, crab
3. Food - SEE IT HERE
favorite foods - burger, fries, milkshake, pizza, taco
fruit - banana, grapes, pineapple, strawberry, watermelon
vegetables - avocado, broccoli, carrot, corn, tomato
sweets & snacks - chips, cupcake, donut, ice cream, popcorn
4. People & Things – SEE IT HERE
People - baby, boy, girl, man, woman
School - backpack, crayon, glue, pencil, school building
Things that Go - Bike, Bus, Car, Rocket, Train
Things to Play With - Teddy Bear, Puzzle, Building Blocks, Robot, Video Game Controller
5. Weather & Nature (bugs, reptiles/amphibians, things that grow) – SEE IT HERE
Bugs - bumblebee, butterfly, caterpillar, ladybug, spider
Reptiles & Amphibians - crocodile, frog, lizard, snail, snake
Plants & Things that Grow - tulip, tree, sunflower, rose, cactus
Weather - lightning, rain, rainbow, snowflake, sunshine
6. Kid Favorites (magical fairy tales, places, dinosaurs, sports, cuties) – SEE IT HERE
kid-favorite cuties - bunny cone, caticorn, pupmaid, fox-cake, supercat
dinosaurs - baby dino, long neck, spiky back, pterodactyl, T-rex
magic & fantasy - castle, dragon, monster, unicorn, wizard
places - beach, house, mountains, playground, skyline
sports - baseball, basketball, golf, hockey, tennis
Have questions?
Please ask all questions before purchasing or email support@proudtobeprimary.com.
Looking for MORE great directed drawing resources?
Alpha-Draw Directed Drawing Pack
Want to learn more about directed drawing? Read our ultimate guide HERE!
Stay connected with Proud to be Primary
♥Click HERE to follow our store and receive notifications of new product releases, sales, and freebies.
♥Join our email list and get weekly teacher tip emails and access to our FREE resource library.
♥Visit our website at Proud to be Primary for tons of engaging ideas for teaching kids in the classroom!
♥Join our FREE Facebook group and connect with thousands PROUD primary teachers like yourself.
Terms of Use: This product is licensed for personal classroom use ONLY unless multiple licenses are purchased. Your purchase grants you a license to use in a secure, password-protected online platform (such as Google Classroom) with your students only. You may not transfer or share with another teacher or use for commercial purposes (Outschool, etc.).
©2013 to Present - Proud to be Primary - Elyse Rycroft
Report this resource to TPT
Standards
to see state-specific standards (only available in the US).
Confirm understanding of a text read aloud or information presented orally or through other media by asking and answering questions about key details and requesting clarification if something is not understood.
Ask and answer questions in order to seek help, get information, or clarify something that is not understood.
Add drawings or other visual displays to descriptions as desired to provide additional detail.
Ask questions to clear up any confusion about the topics and texts under discussion.
Ask and answer questions about key details in a text read aloud or information presented orally or through other media.