125 Guided Reading Activities | ANY BOOK | Text Response | Student Instructions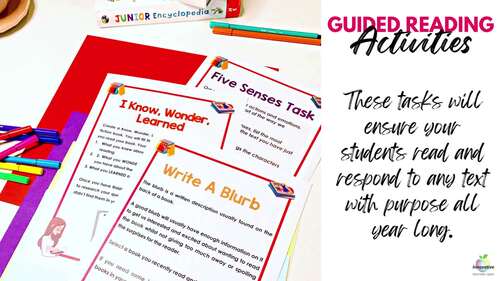 ;
3

rd

- 7

th
,
Adult Education
,
Homeschool
Easel Activity Included
This resource includes a ready-to-use interactive activity students can complete on any device. 
Easel by TPT is free to use!
Learn more
.
What educators are saying
A great resource for my guided reading program. Thanks so much for creating this, it's saved me endless hours.
These task cards are perfect to pair with any text. We created literacy kits to send home with kids and they were a hit!
Also included in
Buy an extensive collection of our most popular reading resources in a bundle for a HEAVILY DISCOUNTED rate to master essential reading skills, such as FLUENCY, COMPREHENSION, VOCABULARY BUILDING and MUCH MORE.Click on the individual resources to read reviews and descriptors for complete details.Mo

Price $42.46

Original Price $95.90

Save $53.44

This bundle contains our top 10 English, Reading, and Writing resources for grades 5 and 6 students. Packed with 1000+ pages over ten complete work units with hundreds of 5-star reviews at a heavily discounted rate.If you are a first-time grade 5 or 6 teacher, or a seasoned veteran, these resources

Price $89.95

Original Price $135.95

Save $46.00
Description
This HUGE collection of ⭐READING ACTIVITIES⭐ for ANY BOOK or TEXT TYPE is packed with DIFFERENTIATED TASKS for FICTION and NONFICTION TEXT GENRES. Your students can work INDEPENDENTLY or in GROUPS through these FUN and ENGAGING activities that will make reading in 2023 a blast!
WHAT'S INCLUDED
❤️ 60+ activities require students to RESPOND in various genres and styles.
❤️ 40+ activities incorporating ARTISTIC and CREATIVE skills about their book
❤️ 30+ TECHNOLOGY activities, including open-ended iPad and web-based tasks
❤️ 25+ GROUP-based tasks
❤️ 20+ tasks requiring RESEARCH and ENQUIRY of concepts within a text.
❤️ 50+ tasks to use with FILMS, GRAPHIC NOVELS and DIGITAL LITERACIES.
❤️ 15+ activities involving DRAMA, MUSIC and ROLE PLAYING
❤️ 88 PRINTABLE Task Cards
❤️ 25+ GRAPHIC ORGANIZERS that can be applied to any text
❤️ Reading WORKSHEETS
These evergreen 125 activities are available in both DIGITAL and PRINT formats for you to use in READING CENTER ROTATIONS or online INSTRUCTIONAL TASKS your students can efficiently complete.
TEACHERS LIKE YOU SAID THIS...
⭐⭐⭐⭐⭐ Lisa G. says... "The resources are really useful to use for students whose absences may impact on their learning as it allows the teacher to give them an effective reading activity to complete regardless of how much or what they are reading..
⭐⭐⭐⭐⭐ Susan K. says, "Lots of great writing prompts, visuals and organizers, making distance teaching more accessible and interesting for students. The recipes were especially successful! Thank you!"
⭐⭐⭐⭐⭐ Elidih H. says, "So much work has gone into this. If you are considering it - BUY IT!!!!"
This TpT Top Seller will not disappoint when providing a nice balance of direct instruction and freedom to let students personalize their learning due to the range and diversity of resources and lesson content.
This set of beautifully presented reading activities ensures students are engaged and on task during literacy rotations and can be used for both groups and independent study.
Each 40-60 minute lesson contains multiple "evergreen" activitiesso that they can be applied to any student or text.
Every activity has clear instructions and open-ended outcomes to meet the needs of all ability ranges. We know this through experience: an exemplary teacher designed each one, and they have all been used in our classrooms for over two decades.
YOU MIGHT ALSO❤️VE THESE ENGLISH RESOURCES
❤️ Year-Long Visual Writing Prompts Collection
❤️ News and Media Literacy Bundle
❤️ 125 Guided Reading Activities for ANY BOOK
❤️ 101 Digital Graphic Organizers
⭐LET'S CONNECT
Innovative Teaching Ideas on YouTube
Innovative Teaching Ideas on Facebook
TERMS
Copyright © Innovative Teaching Ideas. All rights reserved by the author. This product is to be used by the original downloader only. Copying for more than one teacher, classroom, department, school, or school system is prohibited. This product may not be distributed or displayed digitally for public view. Failure to comply is a copyright infringement and a violation of the Digital Millennium Copyright Act (DMCA). Clipart and elements found in this PDF are copyrighted and cannot be extracted and used outside this file without permission or license. Intended for classroom and personal use ONLY. See the product file for clip art and font credits.
Teaching Duration
Lifelong tool
Report this resource to TPT
Standards
to see state-specific standards (only available in the US).
Ask and answer questions to demonstrate understanding of a text, referring explicitly to the text as the basis for the answers.
Describe characters in a story (e.g., their traits, motivations, or feelings) and explain how their actions contribute to the sequence of events.
Determine the meaning of words and phrases as they are used in a text, distinguishing literal from nonliteral language.
Distinguish their own point of view from that of the narrator or those of the characters.
Refer to details and examples in a text when explaining what the text says explicitly and when drawing inferences from the text.