13 Colonies Digital Unit | Colonial America Digital + Printable Unit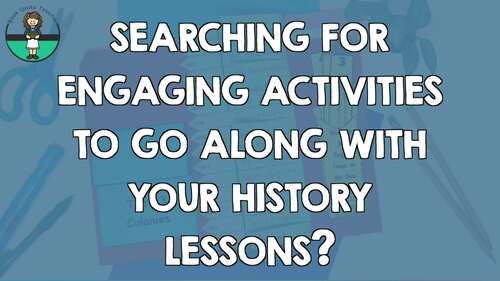 ;
Zip

Google Apps™

Internet Activities
136 Printable Pages + Google Docs, Slides, and Forms
Includes Google Apps™
The Teacher-Author indicated this resource includes assets from Google Workspace (e.g. docs, slides, etc.).
What educators are saying
This is a very thorough and comprehensive lapbook about Colonial America! We worked on it in sections and it took four 40 minute class sessions.
Great addition to my colonial unit! Nice project for the students to have to display! Since we could work by littles it was so much fun for them too - not overwhelming! Thanks!
Also included in
This bundled set includes the Explorers, Colonies, Revolutionary War, and Constitution / US Government Digital Units + Printable Lapbooks.Digital Articles in Google Docs Organizers created with Google Slides Quizzes created with Google FormsPrintable Lapbooks These graphic organizers may be glued on

Price $14.00

Original Price $22.00

Save $8.00
Description
Colonies contains digital resources created with Google Apps and interactive organizers which may be glued onto a file folder to form a lap book, added to interactive notebooks, or used individually.
Digital Resources
Articles created with Google Docs
Organizers created with Google Slides
Quizzes created with Google Forms
Lesson 1 – Why did the English come to America?
Lesson 2 - Jamestown
Lesson 3 – The Pilgrims (Massachusetts Bay Colony)
Lesson 4 – The Puritans
Lesson 5 – The Middle Colonies
Lesson 6 – The Quakers
Lesson 7 – The Southern Colonies
Lesson 8 – Life as a Trapper
Review Activities
Printable Organizer Topics include the following:
• Reasons the English Came to America - Pocket and Strips
• 13 Colonies Cards with Envelope for Storage
• Colonial America Timeline – Trifold
• The Story of Jamestown - Mini Book
• Constructive Response Questions for "The Story of Jamestown"
• The Pilgrims and Squanto - T-Shaped Book
• Map of the 13 Colonies
• The New England, Middle, and Southern Colonies – Staggered Flip
• The Puritans – Pamphlet Fold
• The Middle Colonies - ¾ Organizer
• The Southern Colonies – ¾ Organizer
• The Quakers – 3 Door Flip
• Photos to Use as Writing Prompts
Download the first in this series free to get a look at the quality and format of this product.
Here's another free organizer you might enjoy:
Free United States Wars Graphic Organizer
Also in this series:
• The American Civil War Lap Book
• Industrial America & Westward Expansion Lap Book
• World War I & the Roaring Twenties Lap Book
• The Great Depression & World War II Lap Book
• Civil Rights and the Vietnam War Lap Book
Total Pages
136 Printable Pages + Google Docs, Slides, and Forms
Teaching Duration
Lifelong tool
Report this resource to TPT