14 Summer Sight Word Poems | Shared Reading | Sight Word Activity | New Readers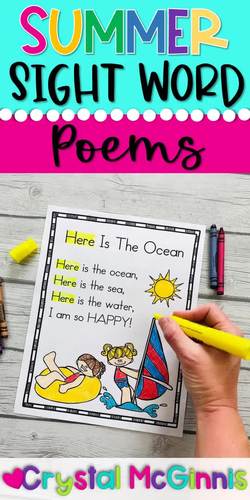 ;
What educators are saying
Great resource for my kindergarten students. It was used in class and was well received by students and parents.
Our school has recently began Science of Reading. These poems are excellent! My students loved being able to color the picture during their spare time!
Also included in
Are you looking for a reading comprehension and reading fluency activity that incorporates sight words? I have bundled up all of my Sight Word Poems for Shared Reading sets to create a year-long poetry bundle for you (13 sets). (sight word activity for beginning readers) This bundle includes my best

Price $19.00

Original Price $32.25

Save $13.25

Upon request, I have bundled ALL of my sight word poems, AND matching pocket chart poems just for you! This set of sight word poems is HUGE! You get over 180 sight word poems, with matching Pocket Charts! Every single poem, has the exact pocket chart so that you can differentiate your instruction. T

Price $33.75

Original Price $67.25

Save $33.50

If you love my 14 SUMMER SIGHT WORD POEMS FOR SHARED READING, you will also love this BUNDLE! You get the same poems in a POETRY NOTEBOOK, FILL IN THE MISSING SIGHT WORD VERSION, POCKET CHARTS, GOOGLE SLIDES, POWERPOINT, and a PRINTABLE COLORED PDF form. This set comes with 2 poetry notebook version

Price $6.50

Original Price $10.00

Save $3.50

This massive Kindergarten Bundle was created from more than 200 of my favorite products currently in my TPT store. I have included a variety of Kindergarten Activities to use in your classroom throughout the entire school year. This set has activities including alphabet, word family crafts, pocket c

Price $222.50

Original Price $443.55

Save $221.05
Description
Summer, sunshine, the beach and more! These are all topics included in my Summer sight word poems for shared reading (sight word activity for beginning readers). Are you looking for a reading comprehension and reading fluency activity that incorporates sight words? I created this set of sight word poems to use during my shared reading time in my Kindergarten classroom. This set of 14 poems will provide you with poems to use during Summer school. These predictable poems are filled with sight words so that your kinders can learn their sight words in "text." My kinders will highlight the sight words and keep them in a poetry notebook. (cover provided). We will also look for rhyming words, punctuation, context clues, and more. This set is a black and white poetry notebook. Your kiddos can color in the pictures to match each poem.
Use these poems during your:
Small group reading activities
Science of Reading activities
Sight Word Practice
Morning Work
Whole Group Reading Activities
Literacy Centers
Some of the sight words included are:
we, will
in, the, we
he, will, go, to, the
on, we, a
we, saw
they, went, to, the
will, I, see
we, love, the
is
can, and
I, will, play, in
I, on, the
here, is the
HERE IS A SIGHT WORD LIST AND TABLE OF CONTENTS PAGE FOR THIS SET!
FREE Sight Word Poems Table of Contents and Word Lists -To Use With My Poem Sets
I ALSO HAVE THIS SET AVAILABLE IN POCKET CHART FORM!
POCKET CHARTS! 14 Summer Poems for Shared Reading (Pocket Chart Version)
You might also like some of my other Shared Reading Poem Sets
40 Sight Word Poems for Shared Reading (For Beginning Readers)
Alphabet Poems for Shared Reading (26 Poems)
15 Fall Themed Sight Word Poems for Shared Reading (for Beginning Readers)
17 Winter Themed Sight Word Poems for Shared Reading (for Beginning Readers)
15 Thanksgiving Sight Word Poems for Shared Reading (for beginning readers)
10 Number Word Poems for Shared Reading (Sight Word Poems for Beginning Readers)
Color Word Poems for Shared Reading
14 Christmas Themed Sight Word Poems for Shared Reading (for beginning readers)
Valentine's Day Themed Poems for Shared Reading (for Beginning Readers)
15 Spring Themed Sight Word Poems for Shared Reading (for Beginning Readers)
Report this resource to TPT