15 Min Comedy Play Script And Unit| Saturday Sunday and Monday Italian Folk Tale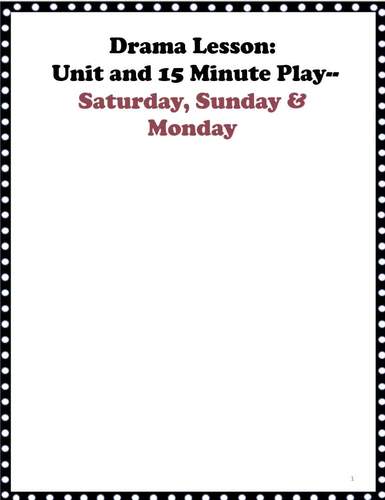 ;
Also included in
BUNDLE:Created for the classroom teacher and easy to produce!20 OFF! 290 pages of 9 multicultural plays with units, (each 15 minutes in length) appropriate for a public performance, however they were created with the classroom in mind. Students strengthen their study of other cultures, reading (flu

Price $48.00

Original Price $60.50

Save $12.50

20% off! This bundle contains four multicultural plays (Japanese, Italian, Jewish and Indian folk tales) and comprehensive units which are most suited for upper elementary and middle grade students. Students in a drama class, social studies or language arts class benefit from them the most because

Price $23.00

Original Price $28.75

Save $5.75

BUNDLE! This particular bundle was created for an elementary vocal music teacher who requested it. Save up to 20% on bundles. YOU can do the same thing! Any two lessons can be bundled if you merely write me through my Questions/Answers page. Any grave level, any category, any lesson. THE PRICE

Price $41.60

Original Price $47.50

Save $5.90
Description
This comical play and song (based on an Italian folk tale) is suitable whether studying folk tales, the Italian culture or in a drama class. Students strengthen their reading (fluency), speaking (diction) and listening skills (restating) while learning to work cooperatively. The central themes include generosity, laziness and selfishness. Based on an Italian folk tale, students have an opportunity to:
create comical characters--stereotypes in particular
use movement to explore ideas and themes
sing a song in unison
choral speaking
develop a theatrical piece with peers
This product comes with:
a warm up focused on the objective of a character
procedure or rehearsal schedule
teacher's script--how I say it and what I say
information about the translator/author,
the original folk tale--gives the students a nice opportunity to discuss comparison and contrast
six page script complete with stage and blocking directions (to help you stage your performance)
tips and advice
discussion questions (post performance) with a quick art assignment
costume suggestions
original songs, written for this play--plenty of fun for everyone!
an alternate set of lyrics in Italian for the song!
sound bytes which can be used as accompaniment or for rehearsing the songs
stage properties list--including how to create each prop
sound effects list
costume suggestions
Italian words for the days of the week, including pronunciation
sources
Comprehensive? You bet!
This is a guaranteed successful teaching and learning experience created by a veteran drama teacher of thirty-eight years.
Do you follow me? If not, I hope you will. Follow Me
Check out my other TPT products at: Dramamommaspeaks
Here's what reviewers have said of Dramamommaspeaks products:
"A resource that includes everything you need! Two-days of diving into the world of Tony Awards, students will love it. Brimming with fascinating trivia!"
"WOW! WHAT an AWESOME Resource!!!! Thanks for providing the questions, the links, a couple of different teaching options. This could be a great sub plan, but I know every teacher wants to do this lesson for themselves. Love that you finished with a great tweet from L M Miranda. Kids are gonna love THIS!"
Need another play? Check out other Dramamommaspeaks products at:
You may also like these Dramamommaspeaks products:
Hadestown, the Broadway Musical
"This is extremely complete and a well-designed resource. I love the video clip links! The Tony Awards section is a nice addition. I also appreciate the keys."
Storytelling with Student Created Pictures
What a great resource to use with these older students. It is very comprehensive and will definitely involve them.
This is an amazing resource that gets students creating and planning a set for drama!! A fantastic way for students to practice skills that are necessary in life! Thank you!
Earning TPT Credits
• Do you want credit for future TPT purchases? Just provide feedback for resources you purchase. Click on the "provide feedback" button next to your purchases, rate the resource, and leave a short comment. (You need to do both to earn credits.)
You receive 1 TPT credit for each dollar you spend, and you can spend it just like cash on future Teachers Pay Teachers purchases.
Teaching Duration
2 Weeks
Report this resource to TPT
Standards
to see state-specific standards (only available in the US).
Determine a theme of a story, drama, or poem from details in the text, including how characters in a story or drama respond to challenges or how the speaker in a poem reflects upon a topic; summarize the text.
Compare and contrast two or more characters, settings, or events in a story or drama, drawing on specific details in the text (e.g., how characters interact).
Analyze how visual and multimedia elements contribute to the meaning, tone, or beauty of a text (e.g., graphic novel, multimedia presentation of fiction, folktale, myth, poem).
By the end of the year, read and comprehend literature, including stories, dramas, and poetry, at the high end of the grades 4–5 text complexity band independently and proficiently.
Determine a theme or central idea of a text and how it is conveyed through particular details; provide a summary of the text distinct from personal opinions or judgments.