1st Grade Digital Review {Review for Distance Learning}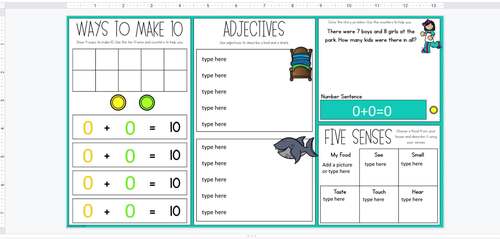 ;
Zip

Google Apps™
Includes Google Apps™
The Teacher-Author indicated this resource includes assets from Google Workspace (e.g. docs, slides, etc.).
What educators are saying
Love, love, love! Great resource during online learning! Will definitely continue to use upon return to the classroom!
Some of the questions were too advanced for a first grade review for my students, but it was a really nice resource! I will use it again to review 2nd grade.
Description
Do you need a quick and effective way for your students to review the skills they have worked on during first grade? Years ago, I created a quick paper review for students to work on during the last few weeks of first grade or the first few weeks of second grade. You can get that here.
As we move to more distance learning and 1:1 technology, I wanted to make sure you had the option to use a digital review. I totally reworked the format and structure so it is a totally different product.
There are so many ways to use this product but here are a few:
1. Use as morning work in a whole group setting on a Smartboard or on student devices
2. Use for fast finishers during the last few weeks of 1st grade or first few weeks of 2nd grade
3. Use as a review for distance learning at the end of 1st grade
4. Use as a digital "summer packet" between 1st and 2nd grade
5. Use as a review for distance learning at the beginning of 2nd grade
Each slide is divided into 4 parts- math, language arts, problem-solving (story problems), and science/social studies. Some of the activities use movable parts and some don't, but each slide is engaging and unique. To see each slide, download the preview or watch the quick video preview where I go over each slide.
I've included a PDF with links to a Google Slides file. This file already includes text boxes and has some movable pieces.
The following activities are included:
Make 10
Make a Dollar
Time to the Hour/Half Hour
2D Shapes
3D shapes
Halves/Fourths
Missing Numbers on a 120 Chart
Missing Numbers on a Number Line
10 More/10 Less
Compare Numbers
Graphing
Place Value (with blocks)
Least to Greatest
Greatest to Least
Number Strips
Missing Numbers in an Equation
Making Number Sentences Equal
Ways to Make 12
Nonstandard Measurement
Count the Coins
Place Value
3 Addends
Sight Words
Subtraction
Counting Back
Fractions- Parts of a Group
Composing Shapes
Counting On
Skip Counting
Adjectives
Initial Blends
Nouns and Verbs
Rhyming Pairs
Beginning/Middle End of a story
Lingering Questions after reading
Describe the Main Character
Silent E Words
Beginning Digraphs
Writing a Story
Writing a Poem
Alphabetical Order
E/EA/EE/EY Words
Ending Digraphs
Contractions
Editing Sentences
Plural Words
Make an Inference
Compound Words
New Words in a Book
Comprehension
Nonfiction Learning
OA/OU/OW/OY
Make Predictions
Main character Thoughts, Feelings, and Actions
EW/UE/UI
Silly Story
Problem and Solution
Ending Punctuation
Living and Nonliving
Heat Energy
Natural Resources
Food Chains
Bodies of Water
Five Senses
Describing Matter
Weather
Rocks
States of Matter
Staying Healthy
Plant Parts
Life Cycles
Light and Sound Energy
Types of Landforms
Push and Pull
My Home and I
Wants/Needs
Living and Nonliving
Rules and Laws
Goods and Services
In the Past/In the Present
Our Traditions
Inventions
Famous People in History
Holidays
Responsibility
Making a Timeline
Goods and Services
Community
Being a Good Leader
Problem Solving
Each page has a different story problem for them to solve. I've included combining, comparing, separating, and missing parts problems. Some are more challenging than others so that students get LOTS of practice.
Have questions I haven't answered here? Feel free to reach out with a Question or email me at Haley@Teachingwithhaley.com
Teaching Duration
1 month
Report this resource to TPT
Standards
to see state-specific standards (only available in the US).
Express the length of an object as a whole number of length units, by laying multiple copies of a shorter object (the length unit) end to end; understand that the length measurement of an object is the number of same-size length units that span it with no gaps or overlaps.
Tell and write time in hours and half-hours using analog and digital clocks.
Organize, represent, and interpret data with up to three categories; ask and answer questions about the total number of data points, how many in each category, and how many more or less are in one category than in another.
Count to 120, starting at any number less than 120. In this range, read and write numerals and represent a number of objects with a written numeral.
Understand that the two digits of a two-digit number represent amounts of tens and ones. Understand the following as special cases: