1st Grade Math Curriculum for Small Group Math - Math Centers, Games, & Lessons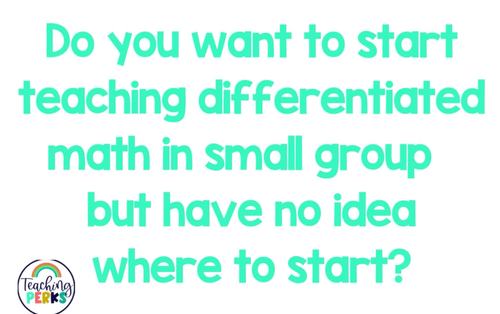 ;
What educators are saying
My students love this but more importantly, I love this resource! It's super organized and helpful! Thank you for your time and attention to this. It makes my small group instruction so much easier!
I have only used a couple of the units, but each one that I have used has been wonderful!! It is so nice to have the 3 different levels. The students have also enjoyed the activities for the lessons.
Products in this Bundle (14)
showing 1-5 of 14 products
Description
Set your year up for success with this full-year 1st grade math curriculum! These ready to use math resources come with 14 units that provide differentiated small group math instruction for 1st graders. 
Having engaging and fun 1st grade math centers will allow your students to learn and thrive in your classroom. These 1st grade math games and lesson plans will help you teach students 1st grade common core math standards. If you want differentiated 1st grade math games, math worksheets, math lesson plans, or math activities for all of your small group math sessions then this is exactly what you need.
1st Grade Math Centers and Resources Included:
Daily lesson plans
Differentiated two-sided work mats
Differentiated equation cards
Differentiated independent practice pages
Games with each lesson
Higher order thinking Questions to ask during lessons
Challenge extensions for those quick learners
Posters (Addition and Subtraction strategies, coins, shapes)
Differentiated word problems to use in each lesson
Clickable table of contents 
Answer Keys
❤️Let's face it, most math curriculums are just bad. You could spend hours digging through everything just to pull out the best parts to create one lesson plan. If this doesn't sound like something you want to spend your personal time doing, then this is just the thing you need to make your life easier!
❤️ These 1st grade math lesson plans are differentiated to teach your students exactly what they need to know in order to master 1st grade standards in no time while saving you hours of planning and prepping! 
This 1st grade math curriculum bundle includes:
⭐️ Unit 1: Addition and Subtraction Strategies (1.OA.A.1, 1.OA.C.5, 1.OA. A. 6) 
⭐️Unit 2: The Equal Sign & Balancing Equations (1.OA.B.3, 1.OA.C.5, 1.OA.D.7, 1.OA.D.8)
⭐️Unit 3 Missing Addends & Related Facts (1.OA.B.4, 1.OA.C.5, 1.OA.C.6)
⭐️Unit 4 Measurement/Ordering and Comparing Lengths (1.MD.A.1, 1.MD.A.2)
⭐️Unit 5 Word Problems (1.OA.A.1, 1.OA.C.5, 1.OA.C.6, 1.OA.D.8)
⭐️Unit 6 Adding 3 Numbers (1.OA.A.2, 1.OA.B.3, 1.OA.C.6)
⭐️Unit 7 Telling and Writing Time to the Hour and Half Hour (1.MD.B.3)
⭐️Unit 8 - Graphing (1.OA.A.1, 1.OA.C.6, 1.MD.C.4)
⭐️Unit 9 Using Place Value to Read, Write, Represent, and Compare Numbers (1.NBT.B.2., 1.NBT.B.3)
⭐️Unit 10 Adding Multiples of Ten (1.NBT.A.1, 1.NBT.C.4)
⭐️Unit 11 Using Place Value to Add and Subtract Within 100 (1.NBT.C.4, 1.NBT.C.5, 1.NBT.C.6)
⭐️Shapes and their Attributes (1.G.A.1, 1.G.A.2)
⭐️Fractions/Partitioning Shapes (1.G.A.3)
**You can click on any of these units to see more pictures, a video preview and a pdf preview.
Use these 1st grade math games and lessons in small groups or math centers. Use the independent practice pages for table work, homework, morning work, or as review during the year. 
This 1st grade math centers bundle includes lessons for below, on and above level students. There is very low prep needed for this 1st grade math curriculum that aligns to 1st grade math standards.
Help EVERY child in your classroom with these differentiated math centers, games and worksheets. There are higher order thinking questions as well as challenge extensions with every lesson.
✅ Try a free lesson from unit 1 here!
What teachers are saying about these small group math activities?
⭐️⭐️⭐️⭐️⭐️ "When this says time saving that is exactly what it means! I have never seen a resource that contains so much for one lesson. My principal was amazed when she came for my observation and saw the amount of differentiation that was going on in my groups. Some days my lower levels don't make it through the main part of the lesson while my higher groups fly through. This packet provides ample resources for those higher level students to keep them learning for their entire guided math time while also providing simpler versions of the lesson for those struggling." - Christy 1st grade teacher 
⭐️⭐️⭐️⭐️⭐️ "WOW is all I can say! These units are jam packed full of activities in each lesson to keep my students learning during our guided math time. For years, I have searched for lessons that would meet all of my students' needs and this does just that. From challenges to independent practice pages all of my different levels of learners are covered." - Amy 1st grade teacher from FL
⭐️⭐️⭐️⭐️⭐️ "These guided math lessons have saved me endless hours of working after school to plan for my guided math groups. It is ALL done for you. I made a few trips to the copy machine and was ready to teach. No planning or prep on my end! Thank you for helping me get back some of my personal time." - Sarah 1st grade teacher GA
You may also like:
↬ Be sure to follow my store to be alerted of new products. >>Click Here
↬Don't forget to leave feedback. You will receive TPT credits that can be used on future purchases!
Want FREE Resources?
❤Let's Connect❤
Report this resource to TPT
Standards
to see state-specific standards (only available in the US).
Order three objects by length; compare the lengths of two objects indirectly by using a third object.
Express the length of an object as a whole number of length units, by laying multiple copies of a shorter object (the length unit) end to end; understand that the length measurement of an object is the number of same-size length units that span it with no gaps or overlaps.
Tell and write time in hours and half-hours using analog and digital clocks.
Organize, represent, and interpret data with up to three categories; ask and answer questions about the total number of data points, how many in each category, and how many more or less are in one category than in another.
Count to 120, starting at any number less than 120. In this range, read and write numerals and represent a number of objects with a written numeral.