1st Grade Math & ELA Spiral Review Homework, Exit Tickets + Google, Seesaw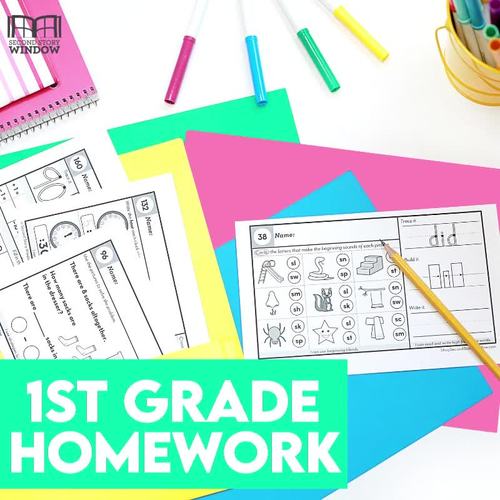 ;
Zip

Google Apps™
180 + key, Google Slides, Seesaw
Includes Google Apps™
This bundle contains one or more resources with Google apps (e.g. docs, slides, etc.).
What educators are saying
I assign these nightly for homework..I am so grateful to have found this as it helps my students practice skills that our curriculum doesn't currently cover! They are always practicing new things!!
I am loving this homework! I love that it is a spiral review and only half sheets so I'm not sending home too much for homework.
Products in this Bundle (3)
Bonus
ELA and Math Combined Pages, ELA Scope and Sequence
Also included in
Do you need DIFFERENTIATED and MEANINGFUL homework for students that helps them spiral review grade level math and ELA standards? This is a bundle of 540 pages of our best-selling spiral review ELA & Math homework for 1st, 2nd, and 3rd grade. This parent-friendly, paper-saving homework is no pre

Price $58.00

Original Price $89.70

Save $31.70
Description
This is a bundle of our best-selling spiral-review ELA & Math homework for 1st grade. Each day contains a half-sheet with ELA on one side and math practice on the other. Copy back to back and cut down horizontally across the middle. Each page is labeled with an "I can" statement for each topic.
NEW! This product now contains both print + Google Classroom + Seesaw (ready to use) versions of this product!
=====================================================
Other homework bundles:
=====================================================
Daily Spiral Review is one of the most effective ways to help students move their learning from short-term to long-term memory. Every time our students retrieve information from their memories it becomes easier to recall that information in the future. Our Spiral Review homework includes both math & ELA content because studies show that mixing different content challenges the learner but leads to more flexible understanding and the ability to implement knowledge in varied situations. We space out how frequently students see certain content to help deepen their understanding. 
What makes our homework half sheets special?
Horizontal (easy to project!) half pages
Paper-saving half-sheet design
Parent-friendly details
Effective content review that is not time-consuming or overwhelming
Detailed answer key
High-quality, non-distracting design
Both Math & ELA content
Carefully planned content designed to build independence in students
Expertly spiraled content that constantly reviews and increases in difficulty
Key features designed to help students deepen their understanding
NEW: Google Slides for each week
NEW: Seesaw - Click & Assign for each week
>>> Be sure to download the Bonus file to get the ELA and Math homework combined into one file and the combined digital files!
=====================================================
1st grade homework cycles through 5 language art areas:

Phonics - short and long vowel word family practice
Sight words - daily high-frequency practice
Vocabulary - word usage and dictionary skills
Grammar - nouns, verbs, adjectives, adverbs
Writing - composing and expanding sentences

And 5 math areas:

Math facts - number combinations and strategies for numbers to 20
Place value - combinations of tens and ones, adding tens and ones, making and using 2-digit numbers
Geometry - 2-D and 3-D shapes and fractions
Measurement - nonstandard and standard measurement, time, and money
Problem-solving - 1 step addition and subtraction word problems with numbers to 20
1st Grade Homework Includes:
180 days of common core aligned math/ELA practice
Answer Key
NEW: Google Slides for each week
NEW: Seesaw - Click & Assign for each week
** Be sure to download the BONUS file to get Math and ELA combined into one file.**
=====================================================
You may also be interested in 1st grade:
=====================================================
Connect with us! • Second Story Window • Facebook • Pinterest • Instagram • Twitter
=====================================================
Total Pages
180 + key, Google Slides, Seesaw
Report this resource to TPT