1st Grade Math Games - Hands On Small Group Math Activities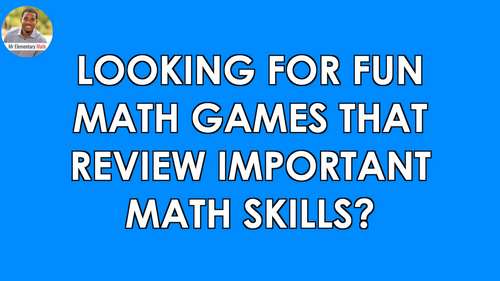 ;
What educators are saying
This is a great organized resource for math centers. Once students are taught the routine these centers run themselves. Very engaging and encourages critical thinking!
I loved these so much that I purchased another set for when I changed grades. I use this level for differentiation now.
Products in this Bundle (10)
showing 1-5 of 10 products
Also included in
The Math Centers Mega Bundle for 1st grade is a surefire way to get your kids to practice and review important math skills. ★★ Newly updated to include Back to School centers to review counting skills from kindergarten.★★This massive resource includes 3 of my best selling bundles:1) Ready-Set-Play M

Price $68.00

Original Price $93.75

Save $25.75
Description
Ready to ditch the worksheets and increase student engagement? These hands on math activities are low prep and highly engaging! Add these 1st grade math games into your center rotations and watch as your students fall in love with math.
⭐️⭐️⭐️⭐️⭐️ This product has really helped improve my math time! I absolutely love that it is organized by skills so it makes it really easy for me to find the games that match what we are learning in class. The picture directions also help my students work independently. This is a great investment for anyone looking to add more to their math centers!
- Sofia M.
1st Grade Math Games Topics - Each topic contains 3 different hands on math activities. 
Place Value
Counting to 120
Comparing Numbers
Ten More - Ten Less
Addition to 20
Addition to 100
Subtraction to 20
Subtraction without Regrouping
Telling Time
2D and 3D Shapes
⭐️⭐️⭐️⭐️⭐️ I love that I only have to teach three different games. Once the students have learned them they can use the same strategies to play the games for each area of content. Thank you for all your dedicated effort and work.
- Lisa V.
1st Grade Math Games Descriptions:
Face Off:  In this hands on game, students "face off" by counting down and turning their game cards over at the same time. The player that finds the correct answer first wins the match.
Flip and Match: In this cooperative game, students take turns flipping their cards over to make a correct match. Next, they use Math Talk cards to explain their answers.
Four in a Row: In this hands on math activity, students take turns to answer a variety of questions and mark them on their game mat. The first player to mark 4 answers in a row, column, or diagonally is the winner.
Why should YOU buy this bundle? Glad that you asked. It's:
✅ a huge time saver 
✅ easy to setup and comes with student friendly photo directions
✅ fun for students to play + easily check their answers
✅ aligned to the Common Core math standards
✅ a great way to get your kids talking and thinking about important math skills
Other 1st Grade Math Activities You'll ❤️
✔︎ - Whole Class or Small Group Fun!
✔︎ - NO Prep and great for early finishers
✔︎ - Daily Standards Based Questions
✔︎ -  SAVE on Small Group Activities
If you LOVED this resource get TPT credit to use on future purchases using these 3 EASY STEPS:
Go to your "My Purchases" page.
Click the "Provide Feedback" button to leave a rating ⭐⭐⭐⭐⭐ and tell us why you loved it.
Use the TPT credits you earned on future purchases!

Product Printing Information:
This is a digital file. If you need help opening or printing the file, please refer to tech help within TpT or here for support printing the file.
Report this resource to TPT
Standards
to see state-specific standards (only available in the US).
Tell and write time in hours and half-hours using analog and digital clocks.
Count to 120, starting at any number less than 120. In this range, read and write numerals and represent a number of objects with a written numeral.
Understand that the two digits of a two-digit number represent amounts of tens and ones. Understand the following as special cases:
Compare two two-digit numbers based on meanings of the tens and ones digits, recording the results of comparisons with the symbols >, =, and <.
Add within 100, including adding a two-digit number and a one-digit number, and adding a two-digit number and a multiple of 10, using concrete models or drawings and strategies based on place value, properties of operations, and/or the relationship between addition and subtraction; relate the strategy to a written method and explain the reasoning used. Understand that in adding two-digit numbers, one adds tens and tens, ones and ones; and sometimes it is necessary to compose a ten.