1st Grade Math Journal | December Spiral Review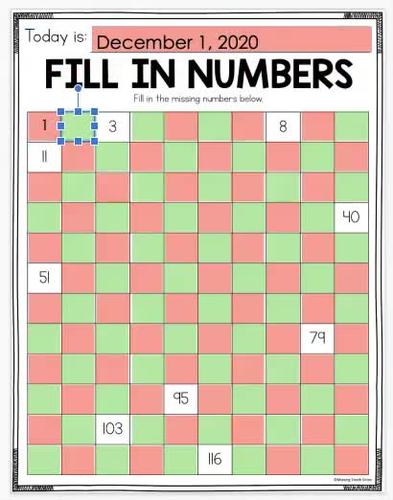 ;
PDF

Google Apps™
Includes Google Apps™
The Teacher-Author indicated this resource includes assets from Google Workspace (e.g. docs, slides, etc.).
What educators are saying
This resource was a great switch up for our daily math groups and I love how it could be easily differentiated! So fun, too!!
This is seriously amazing! It is PERFECT for our math talk to start our math block. It's such a fun way to keep these students engaged. I love themed packets!
Also included in
Math journals are a great way to review and spiral math content and 1st grade standards that are taught throughout the school year, but also to teach new content. These 11 math journals (July not included) are aligned to the Common Core State Standards for first grade. Build Mastery And Confidence:U

Price $45.60

Original Price $57.25

Save $11.65
Description
Use this math journal for daily spiral review, math warm-up, math centers, independent work, early finishers, morning work, or even homework! This 1st grade math journal provides your students with a month's worth of daily math review. You can easily review the math standards all month long so that your students are continuously learning. Now digital!
SAVE 20% BY PURCHASING THE MATH JOURNAL BUNDLE!
Build Confidence, Independence and Mastery:
By using this journal every day and constantly reviewing skills, your students will become more confident in their learning.
Concepts included:
Counting
Counting on from a number other than 1
Practice writing numbers 1-120
Addition to 20
Subtraction within 20
Missing Addends of 10
Missing Addends of 20 (with twenty frames)
Properties of Operations (ex. if 8+2=10, then 2+8=10)
Addition Word Problems
Subtraction Word Problems
Subtraction with picture support
Counting on with picture support
Time to the hour and half hour
Comparing length
2-D Shapes
Comparing numbers
Graphing
Fractions
Organize Your Journal How You Want:
There are no page numbers so that you can sort your booklet by skill to match your math curriculum, scope and sequence, and daily lesson plans. There are two different covers to pick from for your booklet.
IMPORTANT: The digital journal included in the file is ideal for Google Classroom, Google Slides, and distance learning. When you purchase this resource, you will receive a download with the link to add this journal to your Google Drive. You do not need to have Google Classroom to use it. However, you need a Google Drive account to access it.
How To Use Digitally:
As you teach math concepts to your students, there are a few different options on how to share this resource with your students. You can:
Copy the pages with the skill you are teaching or reviewing and share with your students.
Share all of the journal with your students so they can work at their own pace or so you can assign them certain pages to work on each day.
Click on the preview to get a better look!
Make sure to follow me so that you are notified of when new resources are posted! Brand new resources are always on sale the first 24 hours!
Teaching Duration
1 month
Report this resource to TPT
Standards
to see state-specific standards (only available in the US).
Order three objects by length; compare the lengths of two objects indirectly by using a third object.
Tell and write time in hours and half-hours using analog and digital clocks.
Organize, represent, and interpret data with up to three categories; ask and answer questions about the total number of data points, how many in each category, and how many more or less are in one category than in another.
Count to 120, starting at any number less than 120. In this range, read and write numerals and represent a number of objects with a written numeral.
Understand that the two digits of a two-digit number represent amounts of tens and ones. Understand the following as special cases: