1st Grade Reading Fluency in a Flash bundle • Digital Mini Lessons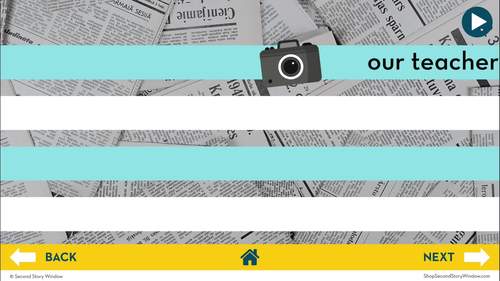 ;
What educators are saying
This is a great tool to quickly fit in some fluency practice. Students love doing these daily and ask for them when you forget! Great resource and highly recommend!
I have really liked using this resource with my first grade guided reading groups. They are above grade level so they are strong readers and this is a great way to work on building fluency daily.
Products in this Bundle (11)
showing 1-5 of 11 products
Also included in
1st Grade Fluency in a Flash + 1st Grade SEASONAL Fluency in a Flash Bundle! This is a MEGA bundle of everyday and seasonally themed reading fluency mini lessons for 1st Grade. Read on below to learn about Fluency in a Flash and what is contained in this mega bundle.This is a bundle of:1st Grade Flu

Price $39.96

Original Price $91.00

Save $51.04
Description
Fluency in a Flash! This resource is a year of weekly 5-day interactive PowerPoint mini lessons that can be done in just a few minutes every day with no prep from you! You'll love how easy it is to implement these lessons in your daily routine with only a few minutes needed! Your students will love these interactive and engaging mini-lessons.
Please note: You MUST have PowerPoint on a desktop device to use this resource. It is NOT compatible with Google Slides, Keynote, or Powerpoint for Ipad. This resource is digital only and is not designed to be printed. The files will open directly into Powerpoint show mode to protect the complicated animations and links.
=====================================================
Want to know if Fluency in a Flash is right for your class? Click here to download a FREE 1 week sample of 1st Grade Fluency in a Flash!
=====================================================
Need more fluency resources for 1st grade? You may also be interested in our companion resources: 1st Grade Fluency in a Flash Seasonal Add-On and 1st Grade Fluency Passages
=====================================================
What is Fluency in a Flash?
The Fluency in a Flash program is a brief, targeted routine for practicing reading fluency daily. Each day of the week focuses on a specific fluency skill and can be completed in 2 or 3 minutes.
Simply project the day's lesson on your board and guide your students through the activity. Offer feedback on how they're reading and, if time allows, give them the opportunity to reread some or all of the day's materials.
When we help students recognize words effortlessly and teach them to read with appropriate expression and phrasing, we're allowing them to access texts in a more meaningful way. Reading fluency is the key to unlocking the magic of reading.
What does a week of Fluency in a Flash look like?
Monday - Fantastic Phrases: Students practice reading sight word phrases with fluency to learn how fluent readers group words into meaningful phrases.
Tuesday - Punctuation Power: Students read the same sentence with multiple punctuation marks to learn how punctuation changes the meaning and sound of a sentence.
Wednesday - Rhythm & Rhyme: Students practice reading a short poem as a real-life opportunity to practice good phrasing and expression. They also have the opportunity to practice reading in different styles of voice to make this fluency practice extra fun. You can practice up to 3 different styles per week.
Thursday - Syllable Slide: Students work with multi-syllable words to practice the efficient word attack strategies that help fluent readers quickly decode unknown words.
Friday - Find the Funny: Students learn how to use good phrasing, expression, and timing to successfully tell jokes. (Spoiler alert: your students will love this!)
What does a month of Fluency in a Flash contain?
Each month of Fluency in a Flash contains 5 weeks of daily interactive PowerPoint mini-lessons. We provide 5 weeks so you always have enough!
What does this bundle contain?
1st Grade August Mini Lessons (5 weeks)
1st Grade September Mini Lessons (5 weeks)
1st Grade October Mini Lessons (5 weeks)
1st Grade November Mini Lessons (5 weeks)
1st Grade December Mini Lessons (5 weeks)
1st Grade January Mini Lessons (5 weeks)
1st Grade February Mini Lessons (5 weeks)
1st Grade March Mini Lessons (5 weeks)
1st Grade April Mini Lessons (5 weeks)
1st Grade May Mini Lessons (5 weeks)
That's 50 weeks of mini lessons to use throughout the year!
=====================================================
>> Click here to download a FREE 1 week sample of 1st Grade Fluency in a Flash! <<
=====================================================
Looking for more Fluency resources? Check out all our fluency resources.
=====================================================
Join our Facebook Group to see more about this program and ask questions!
Connect with us! • Second Story Window • Facebook • Twitter • Pinterest
=====================================================
Report this resource to TPT