1st Grade Sub Plans Printable Set #3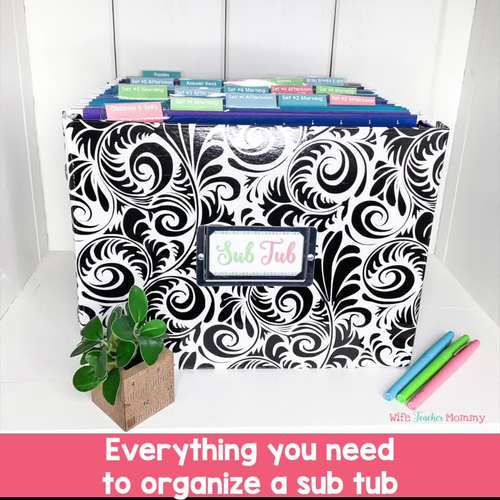 ;
Also included in
These 1st grade sub plans include a FULL week (or more!) of 1st grade sub plans that are no prep and ready to go. These printables are perfect for 1st grade emergency sub plans to fill your sub tub. Your students will be actively engaged in learning activities aligned to 1st grade standards while y

Price $44.00

Original Price $54.95

Save $10.95

These 1st grade sub plans include a FULL day (or more!) of first grade substitute plans that are no prep and ready to go in print AND digital format! Your students will be actively engaged in learning activities aligned to 1st grade standards while you are away. Our Ready To Go Sub Plans are standar

Price $14.99

Original Price $21.98

Save $6.99

Need emergency sub plans for multiple grade levels? This Mega Bundle includes FIVE FULL days (or more!) of PRINTABLE substitute plans for grades Pre-K through 6th grade that are no prep and ready to go! These printables are perfect for emergency sub plans to fill your sub tub. Your students will be

Price $220.00

Original Price $439.60

Save $219.60

These 1st grade sub plans will save you time and help you be prepared! Never worry about emergency sub plans for 1st grade again with this print + digital mega bundle including all 5 sets that are no prep and ready to go in print AND digital format! These are perfect for emergency sub plans to fill

Price $54.95

Original Price $109.90

Save $54.95

Need emergency sub plans for multiple grade levels? This Mega Bundle has you covered! When you purchase this Mega Bundle of emergency sub plans for pre-k through 6th grade, you'll not only save big time, but you will also get the bundle-exclusive Sub Tub Organization Bonus, which includes a sub tub

Price $439.60

Original Price $879.20

Save $439.60
Description
These 1st grade sub plans include a FULL day (or more!) of first grade substitute plans that are no prep and ready to go.  Your students will be actively engaged in learning activities aligned to 1st grade standards while you are away.
Our Ready To Go Sub Plans are standards-based and have been used and trusted by over 50,000 teachers. They are perfect for emergency sub plans to fill your sub tub. No need to worry about making plans to call in sick or take a much-needed day off. You can rest assured that we've got you covered.
Be sure to read to the end of this listing to learn more about the !
FOR THE BEST DEAL AND TO BE PREPARED FOR A WEEK OR MORE, GRAB THIS RESOURCE AS PART OF THE 1ST GRADE SUB PLANS PRINT + DIGITAL BUNDLE!
**THIS RESOURCE PAIRS PERFECTLY WITH OUR BRAND NEW 1ST GRADE 36 WEEKS OF SKILLS PRACTICE GROWING BUNDLE**
Lesson plans for all core subjects and topics are included so that you won't have to worry about a THING! With your purchase, you'll get lessons for:
Language Arts (Adjectives lesson plan with all student pages included)
Silent Reading Comprehension Strategy Lesson (Visualizing mini-lesson plan with all student pages included)
Reading Passages Lesson (Three differentiated reading passages are included. The title of the reading passages is Reading with Mom.)
Writing (Informative lesson plan with all student pages included)
Math Review (A Quick Math review sheet and Math Fluency practice page with lesson plan included)
Math Lesson (The equal sign lesson plan with all student pages included)
What's The Question? Math Activity (Students will create their own story problem with this fun and engaging math activity- lesson plan and all student pages included)
Science (The sun's patterns lesson plan with all student pages included)
Social Studies (People at school)
Each lesson in the 1st grade sub plans is simple enough for the sub to follow, but the students will be engaged in real learning ...and not just busy work.

These captivating lesson plans include a short section for notes at the bottom of the page for if you'd like to write any extra notes for the sub (or, alternatively, for the sub to leave you notes about how the lesson went!)

All graphic organizers, activities, or worksheets needed to complete the lesson are INCLUDED. 
In addition to the core lessons, the following activities are also included so you won't have to worry about the sub running out of things to do. See the detailed preview file for more information about each one:
Brain Breaks that can be used to help break up the day 
Art Activity to help get creative juices flowing and fill time as-needed
Interactive Notebook covering a topic from one of the lesson plans
Educational Card Game The educational game covers content from the other lessons from the day
Just Add a Task Board Game This board game is nearly ready to go! All that's left to do is add a task- such as a spelling or vocab list or math flash cards. It can also be played just for fun without a task. Color and B&W versions included
Rest assured the day will run smoothly, because we've got you covered with these extras, too:
Copies for Students Page No guesswork because this page lists what pages need to be copied for you or your sub's convenience
Organization Tips so you can get your sub tub organized in a jiffy
Print-and-Go Thank You Cards so your sub knows that you appreciate them and likely comes back to your classroom
How Did Your Day Go? Substitute Notes Form so you'll more than likely get detailed notes from your substitute
Substitute Punch Cards that make a great behavior management tool that is special JUST for substitutes!
Binder Cover and Spines to get your master-copy binder organized
Answer Keys & Worksheet Guides for ALL worksheets & graphic organizers so even if your sub doesn't know the answers, they have something to refer to
And last, but certainly not least, you will receive a bonus editable PowerPoint so you can customize your sub plans to perfectly fit YOUR classroom!
The PowerPoint includes:
Substitute Plan Outline a complete editable outline for your entire day! It has been filled out but you may customize it to suit your needs
Additional Notes for the Substitute Any other notes you'd like to make to the substitute here in the PowerPoint since everything else is in PDF format
School Schedule so your sub knows when to use each lesson
Classroom Info form so your sub can have the important info they need at their fingertips
Class List template because EVERY sub we have talked to has told us that this is a MUST!
Please review the in-depth preview to inform you even further before your purchase of these 1st grade emergency sub plans. The preview includes real-life photos, collages, full-size sample pages, and testimonials. We want you to feel confident in your purchase!
$5 in BONUSES - With your purchase, you will receive our editable Drag N' Drop Seating Charts for FREE! We may not include these bonuses forever, so purchase NOW and download your Drag N' Drop Seating Chart for FREE so that you don't miss it!

FOR THE BEST DEAL AND BE COVERED FOR AT LEAST A WEEK, GRAB THIS RESOURCE AS PART OF THE 1st GRADE SUB PLANS PRINT + DIGITAL BUNDLE!
Or only need the printables? Save money and get JUST the printable sets with the 1st Grade Sub Plans Printable Bundle and be covered for a week or more here! 
Want THIS SET ONLY in both printable + digital format? Click here!
Need only certain subjects? Departmentalized sub plans are now available!
Related Resources for First Grade Sub Planning
Also Available for 1st Grade:
Need Sub Plans For Another Grade Level? Sub plans are available for Pre-K through 6th Grades? Check out ALL my Sub Plans!
WANT MORE FREEBIES & TEACHING TIPS?
CLICK HERE to become a follower! You will be notified when we upload new products, freebies, and have sales! For our BEST freebies, helpful teaching blog posts, and more- be sure to check out our website at www.wifeteachermommy.com. 
HAVE A QUESTION OR CONCERN ABOUT THIS PRODUCT?
For questions, please email us at hello@wifeteachermommy.com or leave a Q&A and we'll get back to you as soon as we can! If you have a concern with a resource you purchased, please send an email before leaving feedback and we'll do our best to help you out! We offer a 30-day happiness guarantee on our resources that states that if you are not satisfied with your purchase we'll be happy to offer you something else from our store that will work for you. We take care of our customers! You can email us at hello@wifeteachermommy.com. 
Teaching Duration
Lifelong tool
Report this resource to TPT
Standards
to see state-specific standards (only available in the US).
Use addition and subtraction within 20 to solve word problems involving situations of adding to, taking from, putting together, taking apart, and comparing, with unknowns in all positions, e.g., by using objects, drawings, and equations with a symbol for the unknown number to represent the problem.
Add and subtract within 20, demonstrating fluency for addition and subtraction within 10. Use strategies such as counting on; making ten (e.g., 8 + 6 = 8 + 2 + 4 = 10 + 4 = 14); decomposing a number leading to a ten (e.g., 13 - 4 = 13 - 3 - 1 = 10 - 1 = 9); using the relationship between addition and subtraction (e.g., knowing that 8 + 4 = 12, one knows 12 - 8 = 4); and creating equivalent but easier or known sums (e.g., adding 6 + 7 by creating the known equivalent 6 + 6 + 1 = 12 + 1 = 13).
Understand the meaning of the equal sign, and determine if equations involving addition and subtraction are true or false. For example, which of the following equations are true and which are false? 6 = 6, 7 = 8 - 1, 5 + 2 = 2 + 5, 4 + 1 = 5 + 2.
Ask and answer questions about key details in a text.
Write informative/explanatory texts in which they name a topic, supply some facts about the topic, and provide some sense of closure.