2023-2024 Digital Music Teacher Planner Editable PPT™️ | Google™️ FREE Updates!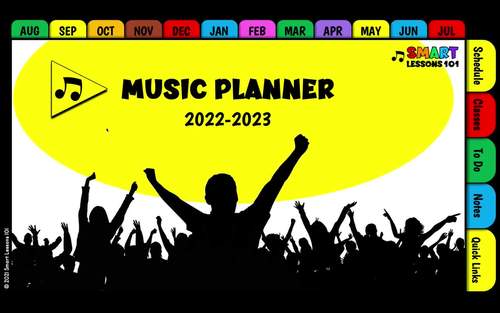 ;
Zip

Google Apps™
Includes Google Apps™
The Teacher-Author indicated this resource includes assets from Google Workspace (e.g. docs, slides, etc.).
What educators are saying
Amazing resource, VERY user-friendly. Bonus points for the "Teacher-author" that created this resource!!! I had a question about editing and they got back to me IMMEDIATELY.
I was searching for a really good editable planner and this IS IT! Absolutely great way for me to keep all my lesson plans and links in one place during this challenging year!
Also included in
UPDATES for the 2023-2024 school year have been posted! Re-download your purchase today for the latest version!DIGITAL MUSIC TEACHER PLANNER BUNDLE - everything you need to stay organized!Digital Music Teacher Planner - 607 editable slides Teacher Planner Binder - for PowerPoint and Google Slides!

Price $25.00

Original Price $49.75

Save $24.75
Description
The Digital Music Teacher Planner for 2023-2024 has been updated!! your purchase today to get the newest version!
Start your year off ready and organized with this amazing EDITABLE digital music teacher planner for PowerPoint! Don't use PowerPoint? No worries - just import into Google Slides and away you go! This product is 100% digital (with the option to print) and gives you quick and easy access to any information on all 607 pages by the simple click of a tab or link!
! Yes, that's right! You'll have to buy another planner EVER again! Download this one for FREE every single year! Each year this resource will be updated with new covers, calendars, and everything you need to ensure you you're ready to go for the new year ahead! To see complete contents, click on "VIEW PREVIEW" above and watch the demo movie of the previous version!
607 Slides that can be can be used in Powerpoint or imported into Google Drive if that is your preferred platform for planning!
Tabs linking to 12 monthly editable calendars, to-do lists, staff meeting notes, jot notes and meeting minutes.
Quick links to weekly and daily plans for the whole year
More quick links to Emergency Fire Drill and Lockdown procedures, a parent communication log, handy website links, field trip info, volunteer lists and report card information.
Editable schedule customizable to the number of teaching blocks in your week.
Enough room for 24 classes of information. Don't teach 24? Use them for extracurricular teams, choir groups, jazz band, handbell choir, etc.
Each class has quick links to add and access student contact information, seating charts, meeting notes, medical and allergy information, and student logins and passwords.
Teaching Schedule
Class Lists
Student and Parent Contact Lists
Seating Charts
Meeting Notes
Parent Meetings
Student Meetings
Staff Meeting Notes
Medical Information/Notes
Student Logins
Student Passwords
2023 - 2024 Yearly Calendar
Notes - add Birthday Chart info for each month
Important Dates at a Glance
Monthly Calendars
August 2023
September 2023
October 2023
November 2023
December 2023
January 2024
February 2024
March 2024
April 2024
May 2024
June 2024
July 2024
Parent Communication Log
Emergency Procedures
Fire Drill Procedures
Lockdown Procedures
Other Editable Emergency Procedures (Tornado)
Website Links
Field Trip Information
Volunteer List
Marks / Report Card info
Weekly Plans
Day Planning
To Do Lists
SALES & FREEBIES
Click HERE to be the first to see new products and FREEBIES and learn about upcoming sales!
FREE STORE CREDITS
Want to get Free store Credits? Click HERE to provide FEEDBACK!
♫ MUSIC FREEBIES
Smart Theory NOTE NAME POSTERS
LINES ON THE STAFF Music Theory FREEBIE with Video and Reproducible
BAG Recorder Fingering Boom Cards for Google Classroom TM
Rhythm Symbol Anchor Chart FREEBIE
FREE Peter and the Wolf Bookmarks
♫ SEASONAL MUSIC FREEBIES
First Day of Music Photo Signs
Meet the Teacher Posters and Editable Invitation
Winter Treble Clef Staff Paper FREEBIE
Groundhog Day Color by Rhythm Symbols FREEBIE
♫ FOR THE MUSIC TEACHER:
Editable Meet the Teacher Open House Presentation
Editable Music Teacher Planner Binder with 478 pages
Editable Music Teacher Digital Planner 607 Slides
Editable Music Teacher Planner Teacher Binder BUNDLE 1085 Slides - FREE Updates for Life!
Australian Digital Music Teacher Binder
Australian Digital Music Teacher Planner (Powerpoint and Google Slides)
Australian Substitute Teacher Digital Planner (Powerpoint and Google Slides)
Australian Music Teacher Digital Planning BUNDLE - FREE Updates for life!
Student Helpers Classroom Decor Labels
Growth Mindset Inspirationals Quote Posters for Music & Band Teachers
♫ BACK TO SCHOOL PRODUCTS YOU MIGHT LIKE:
Back to School Jive With a Gif
Music Rhythm Flashcards - 129 Printable cards, 10 levels
September Rhythm Flashcard Videos
September Note Name Worksheets
Back to School Rhythm Worksheets
Back to School Rhythm Bingo
Back to School Treble Clef Bingo
Back to School Bass Clef Bingo
Pop Playalongs (Cha Cha Slide, Chicken Dance, YMCA, Limbo, Mexican Hat Dance, Hokey Pokey, Locomotion)
♫ POSTERS FOR YOUR CLASSROOM:
Treble & Bass Clef Note Posters
♫ BACK TO SCHOOL MUSIC BOOM CARDS YOU MIGHT LIKE:
BTS Lines and Spaces Boom Cards
BTS Treble Clef Note Boom Cards
BTS Seek and Spy Rhythm Boom Cards
BTS 3 and 4 Note Spelling Boom Cards
BTS Instrument Family Boom Cards
BTS Counting Rhythms Level 1 Boom Cards
BTS Counting Rhythms Level 2 Boom Cards
BTS Treble and Bass Clef Boom Bingo
BTS Lines and Spaces Boom Bingo
BTS Rhythm Flashcard Boom Bingo
BTS Orchestra Instruments Boom Bingo
♫ OTHER BUNDLES YOU MIGHT LIKE:
MUSIC THEORY MEGA BUNDLE - Buy as a complete Smart Theory Program or purchase units you need below!!
Boomwhacker Note Reading Bundle
Female Composers Posters & Research Templates
Instrument Coloring and Worksheets 204 pages
Australian Music Teacher Digital Planning BUNDLE
Virtual Handbells Christmas Carols BUNDLE
Virtual Handbells Holiday Songs BUNDLE
Jive with a GIF BUNDLE - Move for a Musical Minute!
Composer Reading Rhythms BUNDLE with Digital Dice
Music Teacher Digital Planning BUNDLE
Rhythm Bingo for the Whole Year
Treble Clef Bingo for the WHOLE Year
Rhythm Worksheets for the WHOLE Year
Rhythm Assessment BUNDLE for Winter
Nutcracker Note Reading BUNDLE
Categories: Back to School, back to school activities, Back to school music, band activities, band digital resources, Band director, band distance learning, band google classroom, Band Lessons, beginning band, beginning orchestra, choir activities, Classroom management, digital music resources, digital music teacher planner, Digital Teacher Planner, distance learning, distance learning concert band, distance learning elementary music, distance learning music, editable music teacher planner, Editable Teacher Binder, elementary music, Elementary music activities, Fall music activities, Fall music class lesson, Fall music for kids, fall music lessons, Fall music plans, google classroom, google classroom activities, google classroom distance learning, google classroom music, google classroom music lessons, Lessons for music fall, music activities, Music and dance, Music and Movement, Music assessment, music at home, Music back to school, Music band, music distance learning, Music ed, Music Education, Music first day activities, Music first day of school, music for google classroom, music google classroom, Music lesson for sub, Music lesson plans K-5, Music Lessons, Music sub plans, music sub plans for non music sub, Music teacher, binder pages, Music teacher planner, November music, November music lessons, October Music lessons, orchestra, orchestra activities, powerpoint music activities, Recorder, recorder assessment, Rhythm assessment, rhythm assessment elementary, rhythm assessment for music, September music, September Music lessons, Spring music lessons, substitute binder, Substitute Lessons, substitute plans, substitute teacher, Summer music lessons, Teacher binder, Teacher Binders, Teacher Planner, Teacher Planner 2023-2024, Teacher Planners, Teaching Band, Welcome back, Welcome back to school, Welcome back to school, 2023-2024 Teacher Planner
Teaching Duration
Lifelong tool
Report this resource to TPT