2400+ Digital Interactive Notebook Templates Clipart - Back to School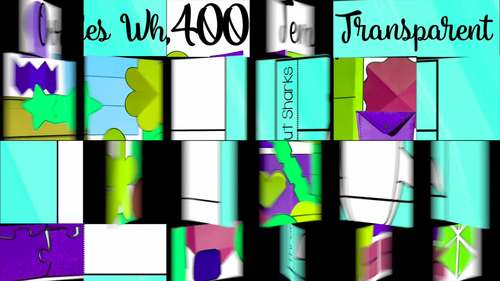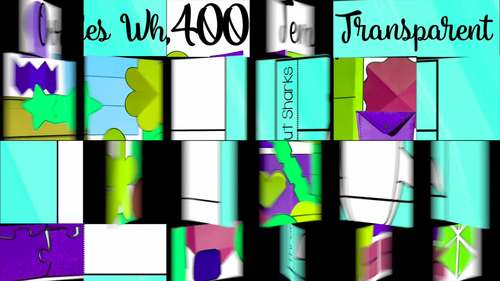 Created By
The Candy Class
Product Description
Do you ever find need to still differentiate instruction after finding a great resource? With these templates, you can easily whip up something quickly to solve that problem! Easily customize these for any subject and any grade level! This set includes over 2400 templates!
There is nothing like this on the market because of the top notch quality of these interactive templates combined with the quantity and the photographed step-by-step instructions! All the interactive notebook templates have been created in Adobe Illustrator at 300 ppi…the top notch graphic software for creating illustrations and clipart. There really is nothing of this quality and quantity on the market for interactive notebook templates! I have always enjoyed adding to it as a thank you to everyone because this has been a huge blessing to my family with paying down student loans and supporting my sister-in-law's children's home in India. I keep the price low to make it affordable for everyone. This resource really is much more valuable than the price tag, but I feel it is important to give back too. I have done this by adding to it over the years, and it is my hopes to continue to do that.
These include not only the PNG files, but 1200+ templates inserted into PowerPoint that can easily be used for digital activities too. You can upload the PowerPoint files into Google Slides and use them with Google Classroom too. In PowerPoint, you can add color filters to the templates too.
••••••••••••••••••••••••••••••••••••••••••••••••••••••••••••
Includes:
-Includes 2,400+ interactive notebook template images in png format at 300 dpi that form well over 2,400 templates
-Also, 1200+ interactive notebook template images inserted into organized editable PowerPoints…simply insert text boxes over them to add text. (Due to file size restrictions, only the white-filled templates come inserted in PowerPoint. Instructions are included on how to insert images though.)
-Photographed directions for each interactive notebook template type included in an editable PowerPoint. * You have permission to include these photographed directions in your commercial products!
-Visual reference guide with organized name system to locate those templates easily!
-Commercial use as long as you give credit and follow my terms of use posted here. Please note, this is a single user license. Please do not share it. I offer it at an affordable price, and you will get many years of use out of this. Please be kind and buy additional licenses if for more than one teacher or user. If using for TPT for schools, this is for personal use only. Commercial use licenses are only granted through buying through your own account. Credit using my logo is required for commercial use, and there are other terms outlined in the terms of use to follow. Thank you for your understanding!
•A extra folder with 226 transparent templates and 226 white-filled templates in png format that are in addition to the 2400+
•Bonus: 21 spring templates in png format that are all white filled
The transparent templates can be used for any theme! Simply layer on top of your favorite clipart! Make it any theme!
About the Templates:
-You can resize the png images because of the high resolution.
-1200+ templates are transparent on the outside of the interactive notebook templates and white filled on the inside of the interactive notebook templates.
-1200+ templates are transparent on the outside and inside of the templates for layering on top of clipart
-Even though adjustable, the sizes are created to fit in a composition notebook. Sizes vary according to the design.
-Solid black lines for cutting and dotted lines for folding
-Well organized with a name system, folder system, and reference guide to make it easy to locate just the right template.
Some Interactive Notebook Templates Include:
- Accordions
-Book Folds
-Compressed Shapes
-Double Doors
-Double Doors with Center Cut
-Double Flap Books
-Envelopes
-Flip Books
-Fun Templates
-Graphic Organizers
-Matchbooks
-Mini-books
-Mini-file books
-Petal Books
-Pizza Flaps
-Puzzles
-Shapes/ Inserts
-Shape Flaps
-Spinners
-Pop-up Stages and Puppet Boxes
-Staggered books
-Trifolds
-Trifold Interlocks
-Venn Diagrams
-More…the preview shows you everything, except the surprise bonus folder!
These are really versatile for creating your own interactive notebooks for science, reading, spelling, math, phonics, grammar, and more. There are so many possibilities! You can also use these to create lapbooks!
Please note, this is not a big compilation bundle set of all my other template sets for an interactive notebook at this time. It might be one day now that the file size has changed. However, please view the preview to know exactly what is included as of now. Thanks!
******************************************************
*Visual directions include the types of interactive notebook templates for most, not each interactive notebook template because many templates for interactive notebooks come in various formats, but are constructed in the same method.
****Please note, you will need PowerPoint to be able to use the editable PowerPoints. For the png images, you will need a software that allows you to insert images and add content to them. (Examples of softwares that you could use to add content with the png images: Microsoft Word, PowerPoint, Photoshop, Pages, KeyNote, etc. I provide only tutorials for PowerPoint.).****
************************************************
Thank you for stopping by the Candy Class!
Jolene
Report this Resource to TpT