252 Tangram puzzles & solutions - TANGRAM CHANNEL ESSENTIAL CARDS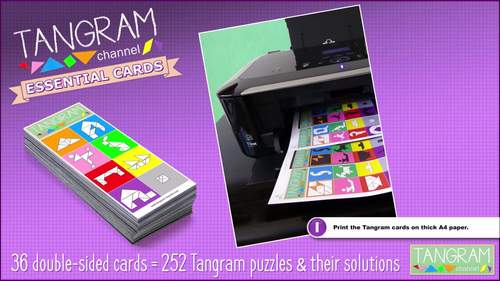 ;
What educators are saying
These were great for my students, there were so many puzzles to choose from including letters and numbers.
My students really enjoyed using this resource. Will definitely use again next year. I love that everything is already made, all I needed to do was print and go!
Also included in
TANGRAM Centers & Activities - ULTIMATE BUNDLE. This Bundle provides teachers with a wide assortment of resources dedicated to the Tangram (745 pages):- 36 Tangram cards- 252 double-sided worksheets- 90 printable Tangram templates- 1 board game... and detailed instructions for printing, pastinga

Price $29.95

Original Price $48.95

Save $19.00
Description
TANGRAM CHANNEL ESSENTIAL CARDS.
Containing 36 enjoyable cards and 2 Tangram sets too, this DIY activity project has all that you need to have fun with Tangrams. Each card includes 7 Tangram patterns on one side and their solutions on the reverse side.
Great resource for math centers and morning work!
Hope you like it! Do let me know if there's any way I can improve it for you. And if you love it then let me know! :)
The complete set consists of 252 challenging patterns.
The 'Tangram Channel - ESSENTIAL CARDS' eBook is an ideal first step for getting children interested in making things, and in experimenting with color and form. So this eBook is also a brilliant resource for a teacher to use to teach kids some basic principles of crafts.
Included in the PDF file:
36 printable Tangram cards 6,7cm X 16,3cm (252 Tangrams)
Step-by-step instructions on how to make the cards
In addition, this document also contains 2 printable Tangram sets to start playing right away with the cards.
Tangrams may help kids learn geometric terms, and develop stronger problem solving abilities:
- Geometry translations activities
- Geometric transformations
- Triangle congruence
- Critical thinking with geometric shapes
- Classifying polygons and quadrilaterals
- etc.
Common Core Aligned:
K.G.A.1 , K.G.A.2 , K.G.A.3, K.G.B.5, K.G.B.6, 1.G.A.1, 1.G.A.2
These Tangram cards are an exciting way for pupils and teachers to enjoy the ancient Chinese art of Tangram.
> Click here to read the DIY Tutorial
♥♥♥ PLEASE LEAVE FEEDBACK IF YOU ENJOY. THANKS!! ♥♥♥
You may also like:
>Tangram Themed Playing Cards Deck
> PRESTO TANGRAM - Speed and accuracy
> Tangram Worksheets VOL.1 - 84 double-sided worksheets
> Tangram Worksheets VOL.2 - 84 double-sided worksheets
> Tangram Worksheets VOL.3 - 84 double-sided worksheets
*** Thank you for visiting my store! ***
If you have any questions, please do not hesitate to contact me at the following address:
team@tangram-channel.com
Browse tangram puzzles printables resources on Tangram Channel.
© Copyright 2017-2019 Tangram Channel. All rights reserved. Permission is granted to copy pages specifically designed for student or teacher use by the original purchaser or licensee. The reproduction of any other part of this product is strictly prohibited. Copying any part of this product and placing it on the Internet in any form (even a personal/classroom website) is strictly forbidden. Doing so makes it possible for an Internet search to make the document available on the Internet, free of charge, and is a violation of the Digital Millennium Copyright Act (DMCA).
Report this resource to TPT