2ND GRADE MATH WORD PROBLEMS IN ENGLISH - YEAR BUNDLE (360 Word Problems)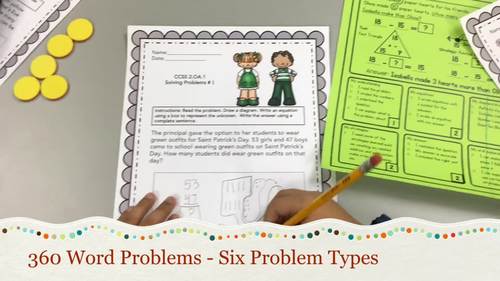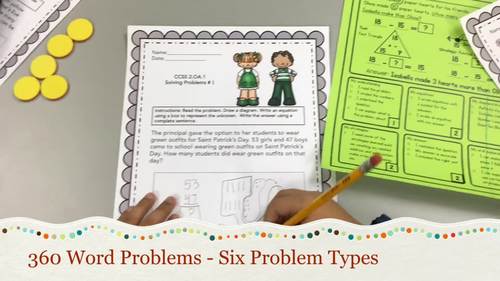 Created By
Bilingual Bee
Products in this Bundle (12)
showing 1-5 of 12 products
Bundle Description

Standards
YOU GET 360 WORD PROBLEMS (color and b/w 720-page file) to practice word problem skills THROUGHOUT THE ENTIRE YEAR! Perfect for daily practice, math centers, assessments or homework. Practice Makes Perfect!
100% COMMON CORE ALIGNED! - VISUAL SUPPORT FOR ELL's
It includes: 12 PACKAGES OF 30 WORD PROBLEMS EACH (ONE PACKAGE FOR EVERY MONTH OF THE YEAR) Every monthly package features Three Word Problem Types for a total of Six Word Problem Types throughout the year:
Total Unknown
Part Unknown
Start Unknown
Two parts Unknown
Compare
Two Step
FOR A RUBRIC CLICK HERE: WORD PROBLEM RUBRIC IN ENGLISH
FOR THE SPANISH VERSION OF THIS BUNDLE CLICK HERE: 2ND GRADE MATH WORD PROBLEMS IN SPANISH YEAR BUNDLE
Your feedback is greatly appreciated! ♡ You will receive TPT credits to use in future purchases. Be the first to know about new products, discounts, and freebies! Just click on the star next to my store logo.
HAPPY TEACHING!
Log in
to see state-specific standards (only available in the US).
Use addition and subtraction within 100 to solve one- and two-step word problems involving situations of adding to, taking from, putting together, taking apart, and comparing, with unknowns in all positions, e.g., by using drawings and equations with a symbol for the unknown number to represent the problem.
Report this Resource to TpT