2nd GRADE Opinion Persuasive Informative Narrative WRITING PROMPTS Google Slides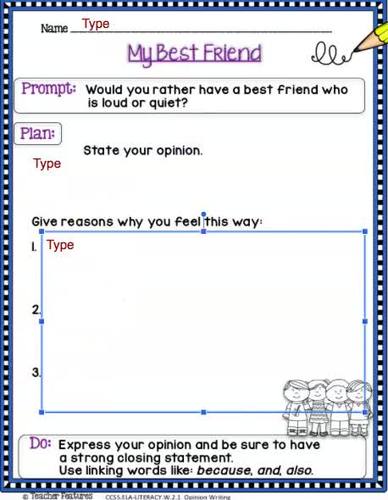 ;
PDF

Google Apps™
61 Google Slides & 61 EASEL pages
Includes Google Apps™
The Teacher-Author indicated this resource includes assets from Google Workspace (e.g. docs, slides, etc.).
Easel Activity Included
This resource includes a ready-to-use interactive activity students can complete on any device. 
Easel by TPT is free to use!
Learn more
.
What educators are saying
The best purchase ever. I will be using these over and over. Thank you for creating this awesome google slides writing prompts. You are very creative.
This is a great writing prompt for young/inexperienced writers. There is enough to guide them to get started but also allowing space for creativity and challenge for those students who need it.
Description
Use Google Slides to teach opinion, informational & narrative writing. Your 2nd graders will practice sequencing events & transition from writing complete sentences to writing stories. These graphic organizers work well for morning work, homework, centers & assessment! This no prep Google Classroom activity is an interactive and engaging way to get your students writing.
Each writing prompt template is organized with a "Plan" section and "Go" section , in addition to the prompt given. Students type in the editable text box on each card.
★★★ This resource has an Easel Activity already created for students to input their responses in answer boxes and to use other tools to draw and highlight. It is an Interactive layer over the original pdf. Click here to learn more about TpT's digital activities. You can even edit the digital overlay or use it as is. After purchasing this resource, click the red Open in Easel button.
20 Opinion Writing Templates
20 Narrative Writing Templates
20 Informative/Explanatory Writing
1 Blank Notebook paper
*When you purchase this product you will receive a link in a PDF file. First, make sure you are signed into your FREE Google account. Click on the link and you will be prompted to "Make a Copy". Rename the product whatever you would like. It will be sent directly to your drive! Disperse to your students via Google Classroom or a Google Drive Shared folder. This product can be used with a tablet, iPad, Chromebook, Netbook, laptop, or a desktop computer.
My Best Friend (pg. 3)
Yum, Yum, Yum! (pg. 4)
The Best Gift (pg. 5)
Pets For All (pg. 6)
Just Right? (pg. 7)
The Best Books (pg. 8)
Friends From Books (pg. 9)
Which Chore? (pg. 10)
What Do You Know? (pg. 11)
Pet Monkey (pg. 12)
Sleepy Time (pg. 13)
Field Trip! (pg. 14)
Fruity Flavor (pg. 15)
Grown Up Fun (pg. 16)
New at the Zoo (pg. 17)
Movie Director (pg. 18)
Pick A Season (pg. 19)
I Scream for Ice Cream (pg. 20)
Playground Fun (pg. 21)
Snakes or Spiders? (pg. 22)
Take Your Time (pg. 23)
Say How to Play (pg. 24)
Love Your Pet (pg. 25)
Writing and Drawing (pg. 26)
Keep It Clean (pg. 27)
Brusha Brusha (pg. 28)
Sunshine & Sand (pg. 29)
Substitute Teacher (pg. 30)
Grow it! (pg. 31)
Meow or Woof? (pg. 32)
Making Toast (pg. 33)
What Do You Know? (pg. 34)
Riding My Bike (pg. 35)
Yummy Food (pg. 36)
PB & J (pg. 37)
Did You Know? (pg. 38)
New Neighbors (pg. 39)
Rainy Days (pg. 40)
Scary Storm? (pg. 41)
Making Friends (pg. 42)
Community Worker (pg. 43)
Dressy (pg. 44)
AmazingArtist (pg.45)
First Time! (pg. 46)
Out of Time (pg. 47)
Oops! (pg. 48)
I'm A Mouse (pg. 49)
Kindness Matters (pg. 50)
Embarrassed (pg. 51)
Surprise (pg. 52)
You Shrunk! (pg. 53)
A Million Dollars! (pg. 54)
Fly Like A Bird (pg. 55)
Run the School (pg. 56)
Science Smartie (pg. 57)
Elephant Trouble (pg. 58)
GiraffeViews (pg.59)
Message in a Bottle (pg. 60)
Sleepover (pg. 61)
World Traveler (pg. 62)
©Teacher Features
***************************************************************************
Here are some other items you may be interested in:
★ 2nd Grade Grammar Bundle FOR GOOGLE CLASSROOM
★ GRAMMAR & SENTENCE WRITING BUNDLE 1st & 2nd Grade FOR GOOGLE CLASSROOM
★ PERSUASIVE & DESCRIPTIVE WRITING BUNDLE FOR GOOGLE CLASSROOM
★ KNOW YOUR GENRES FOR GOOGLE DRIVE & GOOGLE CLASSROOM
★ READING GRAPHIC ORGANIZERS FOR GOOGLE DRIVE & GOOGLE CLASSROOM
★ READER RESPONSE/EXIT TICKETS FOR GOOGLE DRIVE & GOOGLE CLASSROOM
★ WORLD CONTINENTS & U.S. REGIONS FOR GOOGLE DRIVE & GOOGLE CLASSROOM
★ STORY ELEMENTS FOR GOOGLE DRIVE & GOOGLE CLASSROOM
★ FACT FAMILIES & NUMBER BONDS FOR GOOGLE DRIVE & GOOGLE CLASSROOM
★ BASIC FRACTIONS FOR GOOGLE DRIVE & GOOGLE CLASSROOM
★ GEOGRAPHY MAP SKILLS BUNDLE FOR GOOGLE CLASSROOM
Total Pages
61 Google Slides & 61 EASEL pages
Report this resource to TPT
Standards
to see state-specific standards (only available in the US).
Write opinion pieces in which they introduce the topic or book they are writing about, state an opinion, supply reasons that support the opinion, use linking words (e.g., because, and, also) to connect opinion and reasons, and provide a concluding statement or section.
Write informative/explanatory texts in which they introduce a topic, use facts and definitions to develop points, and provide a concluding statement or section.
Write narratives in which they recount a well-elaborated event or short sequence of events, include details to describe actions, thoughts, and feelings, use temporal words to signal event order, and provide a sense of closure.