2nd Grade Digital Math Escape Room Breakout Thanksgiving | Distance Learning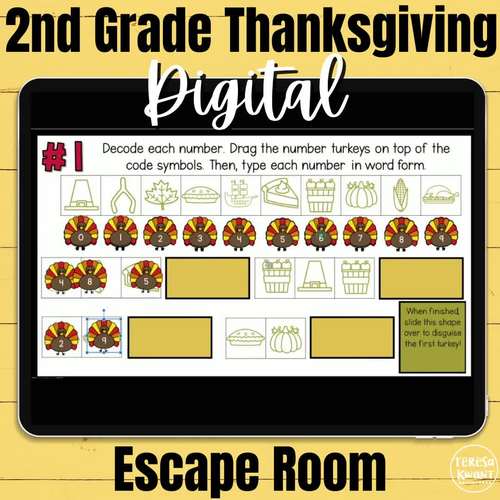 ;
Zip

Google Apps™

Internet Activities
Includes Google Apps™
The Teacher-Author indicated this resource includes assets from Google Workspace (e.g. docs, slides, etc.).
What educators are saying
A great way to practice skills before Holiday break. Also, this was a great sneak peek of concepts we are covering our 1st week back!
This was a great resource to give to a sub! They kids loved it especially that it was Thanksgiving themed!
Also included in
This Thanksgiving bundle is full of 4 different and engaging math digital activities! Use them for center time, bell work, partner work, review, and more! Students can use these at home with distance learning, or in the classroom!These activities can be used and played on any device. They are create

Price $9.60

Original Price $12.00

Save $2.40

Digital activities are the perfect no-prep solution to your lessons! With this MEGA bundle, 7 seasonal digital math activity bundles are included! There are 28 different games to choose from! All the activities are digital, but can be used with virtual learning, or in the classroom. These products a

Price $59.15

Original Price $84.50

Save $25.35

Grab all these seasonal math digital escape rooms for 2nd grade in one spot! Each game is available in both a Google Slides and PowerPoint format. HalloweenThis is a fun Google Slides escape room that reviews key concepts for 2nd grade! Students will practice writing numbers in expanded form, simple

Price $19.60

Original Price $24.50

Save $4.90
Description
This is a fun Google Slides escape room that reviews key concepts for 2nd grade! Students will practice writing numbers in expanded form, writing numbers in word form, comparing numbers, and addition with two-digit numbers with up to 4 addends.
There are 15 escapes. Each escape has multiple questions on it. Students will click and drag number tiles, click and drag to sort numbers, put puzzles together, use spinners, use magic wands to find hidden numbers, and more! This is very interactive and engaging. Not only is it educational, it is simple to figure out and play for students. Students can play individually, or with a partner or small group. Use it during school in class, for distance learning, as a center activity, or to review for a test. It is also a fun activity to use leading up to Thanksgiving. The fun turkey disguise theme is sure to catch the attention of your students.
The game is provided in both a Google Slides and PowerPoint version!
Escape rooms are a great way to get students working together, solving problems, and reviewing concepts they have learned in class.
Report this resource to TPT
Standards
to see state-specific standards (only available in the US).
Read and write numbers to 1000 using base-ten numerals, number names, and expanded form.
Compare two three-digit numbers based on meanings of the hundreds, tens, and ones digits, using >, =, and < symbols to record the results of comparisons.
Add up to four two-digit numbers using strategies based on place value and properties of operations.
Use addition and subtraction within 100 to solve one- and two-step word problems involving situations of adding to, taking from, putting together, taking apart, and comparing, with unknowns in all positions, e.g., by using drawings and equations with a symbol for the unknown number to represent the problem.