2nd Grade ELA Assessments or Worksheets for Grammar & Language - Common Core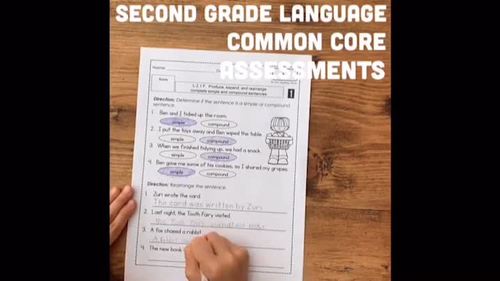 ;
33 pages + recording sheets + answer key
Description
Are you looking for meaningful 2nd Grade ELA assessments? This is a comprehensive grammar assessment packet that covers second grade Common Core Language Standards. You can use these grammar worksheets as assessments or extra practice for your students. 
These language assessments and grammar assessments come with two pages for each standard, which allows you to assess your students and then re-asses if necessary. There are grammar worksheets or assessments for each section AND sub-category within the Common Core standards. 
Included with these 2nd grade ELA assessments:
33 Assessment Pages and Recording Sheets
Answer Key
❤️You will LOVE how easy these language assessments are to use! Simply PRINT and GO! Then, record the results and reteach if necessary. 
Try using these grammar worksheets & assessments for quick checks in small and large groups, grammar quizzes, and use the results to record and reteach.
Which standards are covered with these 2nd Grade ELA assessments?
✅L.2.1.A Use collective nouns.
✅L.2.1.B Form and use frequently occurring irregular plural nouns.
✅L.2.1.C Use reflexive pronouns.
✅L.2.1.D Form and use the past tense of frequently occurring irregular verbs.
✅L.2.1.E Use adjectives and adverbs, and choose between them depending on what is to be modified.
✅L.2.1.F Produce, expand, and rearrange complete simple and compound sentences.
✅L.2.2.A Capitalize holidays, product names, and geographic names.
✅L.2.2.B Use commas in greetings and closings of letters.
✅L.2.2.C Use an apostrophe to form contractions and frequently occurring possessives.
✅L.2.2.D Generalize learned spelling patterns when writing words.
✅L.2.3.A Compare formal and informal uses of English
✅L.2.4.A Use sentence-level context as a clue to the meaning of a word or phrase.
✅L.2.4.B Determine the meaning of the new word formed when a known prefix is added to a known word.
✅L.2.4.C Use a known root word as a clue to the meaning of an unknown word with the same root.
✅L.2.4.D Use knowledge of the meaning of individual words to predict the meaning of compound words.
✅L.2.4.E Use glossaries and beginning dictionaries, both print and digital, to determine or clarify the meaning of words and phrases.
✅L.2.5.A Identify real-life connections between words and their use.
✅L.2.5.B Distinguish shades of meaning among closely related verbs and closely related adjectives.
Check out the preview and video preview for a closer look at these grammar assessments! 
What are teachers saying about these language assessments?
⭐️⭐️⭐️⭐️⭐️ "Quick and easy way to assess students!" - Maisha J.
⭐️⭐️⭐️⭐️⭐️ "Very helpful for reteaching and as an assessment." - Jessica T.
⭐️⭐️⭐️⭐️⭐️ "Helps me make sure I am covering everything AND that my students are learning everything!" - Kimberly F.
Other popular resources you might like:
Total Pages
33 pages + recording sheets + answer key
Report this resource to TPT
Standards
to see state-specific standards (only available in the US).
Demonstrate command of the conventions of standard English grammar and usage when writing or speaking.
Use collective nouns (e.g., group).
Form and use frequently occurring irregular plural nouns (e.g., feet, children, teeth, mice, fish).
Use reflexive pronouns (e.g., myself, ourselves).
Form and use the past tense of frequently occurring irregular verbs (e.g., sat, hid, told).