2nd Grade Guided Math: Odd & Even Numbers, Comparing & Ordering, Number Lines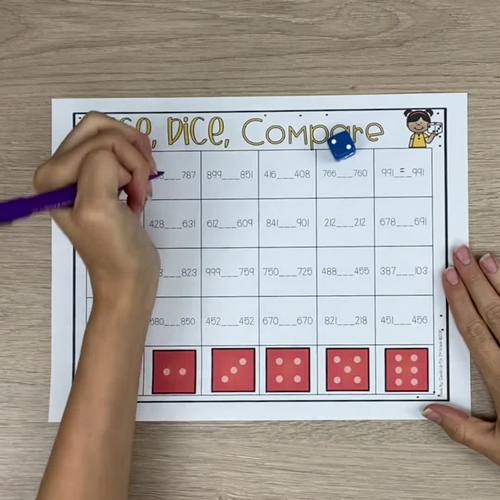 ;
What educators are saying
Great to use in small group to help those that need extra help. Thank you for creating this Saddle Up in 2nd Grade!
Such a great, engaging resource! Love how hands on it is! It alligned so well with our curriculum. Thanks for creating such a great resource!
Also included in
Make math fun with these engaging, hands-on 2nd grade guided math activities! This year long 2nd grade math curriculum is teacher and student approved to make your math block the best part of your day.Each of the guided math units comes with engaging activities that will have your students begging f

Price $135.00

Original Price $195.00

Save $60.00
Description
Are you looking for fun and engaging resources to help your students understand numbers better? These 2nd grade guided math lessons include resources to teach your students basic number concepts like odd and even numbers, comparing and ordering numbers, place value of numbers, and number lines up to 1,200. 
There are 20 days worth of lesson plans to help you teach your students important number concepts. You will find everything you will need to teach a 2nd grade guided math lesson. These lesson plans are filled with hands-on engagement and interactive notebook activities. Games and task cards are also included and can be used all year long! 
Included in this 2nd grade guided math pack:
20 Days of Lesson Plans & activities
Anchor Charts
Pre-Assessments with Data Checklists
Large Number Cards
Small Number Cards
Higher Order Thinking Questions
This Understanding Numbers unit covers 
Odd and even numbers (days 1-3)
Odd and even; Introduce Ordering Numbers (day 4)
Ordering Numbers (days 5-7)
Ordering and Comparing Numbers (day 8)
Comparing Numbers (days 9-11)
Number Lines - Determine Patterns and Finding Missing Numbers (days 12-13)
Number Lines - Name the Whole Number that Corresponds to a Specific Point (days 14-15)
Number Lines- Locate the Position of a Given Whole Number on an Open Number Line (days 16-17)
Number Lines Review (day 18)
Review (days 19-20)
These plans follow a guided math format that is consistent. Your students will understand what is expected of them, so they can focus on learning value math concepts such as odd and even numbers, comparing and ordering numbers, and place value! 
❤️Implementing these 2nd grade guided math lessons into your classroom math routine is EASY! There are center direction and recording pages included along with answer keys, to make your life easier. All activities come in color and black and white to save you money in ink. 
Each day's lesson provides you with…
✅ A daily math warm up
✅ A hands on whole group mini lesson
✅ An independent practice activity
✅ Differentiated small group lessons for each day
This 2nd grade guided math unit covers standards related to place value, odd and even numbers, comparing and ordering numbers and number lines! It aligns with Texas TEKS: 2.2DEF and 2.7A and CCS: 2NBT.A.2 and 2NBT.A.4. 
✅ CLICK ON THE PREVIEW TO GET A DETAILED LOOK AT THIS UNIT.
What teachers are saying…
⭐️⭐️⭐️⭐️⭐️ "My students and I loved the activities from this package!  So many amazing hands on activities and full of great ideas to help all of my students' different learning styles!  Thank you so much!" - Deanna R.
⭐️⭐️⭐️⭐️⭐️ "I loved using this resource to supplement our curriculum. My students found the activities to be engaging and it was a great way for us to continue practicing these important skills. Thank you!" - Maggie H.
⭐️⭐️⭐️⭐️⭐️ "This resource has been invaluable in helping me introduce and provide practice for my students in determining whether a number is even or odd, especially larger numbers." - Christine E.
Related Products
Teaching Duration
1 month
Report this resource to TPT
Standards
to see state-specific standards (only available in the US).
Count within 1000; skip-count by 5s, 10s, and 100s.
Compare two three-digit numbers based on meanings of the hundreds, tens, and ones digits, using >, =, and < symbols to record the results of comparisons.