2nd Grade Math Word Wall - print and digital math vocabulary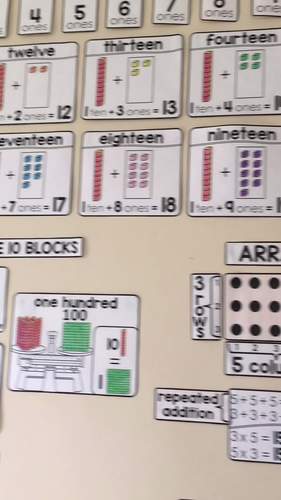 ;
PDF

Google Apps™
Includes Google Apps™
The Teacher-Author indicated this resource includes assets from Google Workspace (e.g. docs, slides, etc.).
What educators are saying
This was a lifesaver! The graphics are large, colorful, and clear. My students really related to the illustrations. It was a one-stop shop for all the concepts. I love this!
Love, love, love this 2nd Grade Math Word Wall resource. Concise verbiage with visual supports were everything I could have hoped for. Thank you!
Also included in
This bundle contains every math vocabulary word wall in my store, for 2nd grade through algebra 2, so that you can forever customize your math vocabulary wall based on the needs of your students. Every word wall comes in printable color, printable black & white and no-prep interactive digital in

Price $80.00

Original Price $149.00

Save $69.00

This bundle includes math word walls for 2nd grade, 3rd grade, 4th grade and 5th grade. The math word walls in this bundle show vocabulary and concepts in action and in the context of related words. This allows students to make connections between the different terms, understand how the words relate

Price $36.00

Original Price $48.00

Save $12.00
Description
This 2nd grade math word wall shows vocabulary and concepts in action and in the context of related words. With references for base 10 blocks, cube, flat, rod, unit, array, row, column, repeated addition, commutative property, even, odd, measurement (foot, inches, meter, centimeters), quadrilaterals, triangle, pentagon, hexagon, cube, side, angle, vertices, line plot, bar graph, data, addition strategies (add 10, add 100, doubles, add 10's, make 10), part, whole, addend, sum, greater than/less than, subtraction strategies (subtract 10, subtract 100, counting back, subtract 10's), whole, part, minuend, subtrahend, difference, number sentences, regroup, decompose, compose, ten frame, tally marks, money (dollar, pennies, nickels, dimes, quarters), time (minutes, hour hand, minute hand, second hand), this word wall is a helpful addition to your 2nd grade classroom.
For the printable word wall, everything prints on 8.5x11 computer paper. You can choose to print in color or in black and white. Both are included. In the file are closeup photos of the word wall to use as an assembly guide.
The no-prep digital word wall is in Google Slides and is fully interactive. Each image on the home wall clicks to an enlarged image where there is also a whiteboard. On the whiteboard you can type notes, add video links, add more references, etc., based on what you feel is best for your students. Or you can send the file to students as-is. Students can refer to their digital word wall while working at home or online, or you can use the digital version as a teaching tool in your classroom.
Spanish vocabulary words are now included in every math word wall.
You may also like:
Report this resource to TPT
Standards
to see state-specific standards (only available in the US).
Measure the length of an object by selecting and using appropriate tools such as rulers, yardsticks, meter sticks, and measuring tapes.
Measure the length of an object twice, using length units of different lengths for the two measurements; describe how the two measurements relate to the size of the unit chosen.
Tell and write time from analog and digital clocks to the nearest five minutes, using a.m. and p.m.
Solve word problems involving dollar bills, quarters, dimes, nickels, and pennies, using $ and ¢ symbols appropriately. Example: If you have 2 dimes and 3 pennies, how many cents do you have?
Generate measurement data by measuring lengths of several objects to the nearest whole unit, or by making repeated measurements of the same object. Show the measurements by making a line plot, where the horizontal scale is marked off in whole-number units.