2nd Grade Math Worksheets and Lessons - YEAR BUNDLE Print and Digital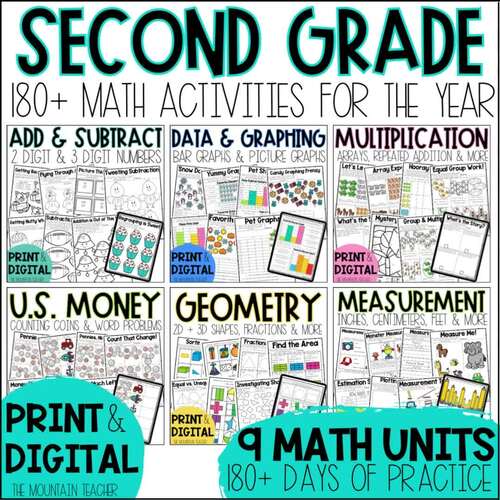 ;
Zip

Google Apps™
Includes Google Apps™
This bundle contains one or more resources with Google apps (e.g. docs, slides, etc.).
Easel Activities Included
Some resources in this bundle include ready-to-use interactive activities that students can complete on any device. 
Easel by TPT is free to use!
Learn more
.
Products in this Bundle (9)
showing 1-5 of 9 products
Bonus
Year Plan & Benchmark Assessments
Description
Planning your 2nd grade math lessons for the year is EASY with this YEAR LONG bundle that includes 40 weeks of 2nd grade math worksheets, activities (printable and digital), homework, pacing guides and assessments for every common core state standard.
What's Included With the 2nd Grade Math Worksheets and Lessons Pack:
9 2nd Grade Math Worksheet and Activity Packs (listed below - 10-30 2nd grade math worksheets in each unit)
Teaching Guides (for each unit)
Tests and Practice Tests (for each unit)
Weekly Homework (2-3 pages per unit)
Anchor Charts (for each unit)
Answer Keys
Please open the preview for a closer look.
Bonus Files Included in 2nd Grade Math Worksheets Pack:
50 Question Benchmark Tests (for BOY, MOY and EOY assessments)
Year Long Scope & Sequence
2nd Grade Math Worksheets Practice Pack Formats:
Multiplication Practice Worksheets - Printable in Black and White or Color
Google Slides Workbook
TpT Easel Activity
Who are the 2nd Grade Math Lessons and Worksheets For?
ANY student who needs 2nd grade math lessons - this can be used to supplement curriculum, as a standalone resource, for enrichment for 1st grade, for reviewing with 3rd graders, in the general education or special education classroom and so many more ways!
When to Use 2nd Grade Math Lessons and Worksheets:
Whole Group Math
Small Math Groups
Daily Math Centers
Review
Spiral Review
With Guest Teachers (substitutes, aides, volunteers, parents, student teachers, long term maternity sub plans, etc.)
Computer or iPad Time
Enrichment
Remediation
& so many more options!
2nd Grade Math Worksheets - Units Included:
- Addition and Subtraction to 1000
- Geometry
- Money
- Time
- Arrays
I recommend pairing this resource with the Second Grade Math Center BUNDLE to complete your math block and planning with ease.
Please ask any questions before purchasing. Enjoy!
Report this resource to TPT
Standards
to see state-specific standards (only available in the US).
Measure the length of an object by selecting and using appropriate tools such as rulers, yardsticks, meter sticks, and measuring tapes.
Measure the length of an object twice, using length units of different lengths for the two measurements; describe how the two measurements relate to the size of the unit chosen.
Estimate lengths using units of inches, feet, centimeters, and meters.
Measure to determine how much longer one object is than another, expressing the length difference in terms of a standard length unit.
Use addition and subtraction within 100 to solve word problems involving lengths that are given in the same units, e.g., by using drawings (such as drawings of rulers) and equations with a symbol for the unknown number to represent the problem.