2nd Grade Matter Activities Structure and Properties of Matter NGSS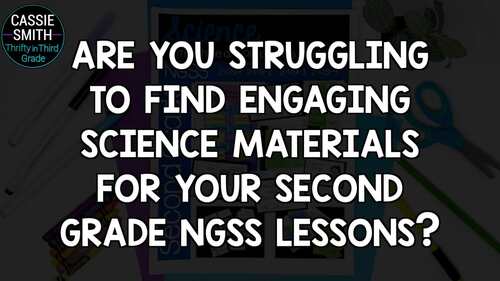 ;
What educators are saying
We have loved this science curriculum. It has been fun for the students, helped them to learn new concepts and allowed them to work with the scientific process.
I love these units. They are so fun and engaging and everything I need to teach science. I like how it includes interactive notebook pieces, vocab and experiments.
Also included in
Are you struggling to find materials for your second grade NGSS lessons? These units include so many activities and resources that you can use! There are mini books, vocabulary, posters, hands on activities, passages, and so much more! This is a bundle of my three 2nd Grade NGSS units. Here's a brea

Price $26.40

Original Price $42.00

Save $15.60
Description
This second grade unit on structure and properties of matter aligns to NGSS* standards 2-PS1-1, 2-PS1-2, 2-PS1-3, and 2-PS1-4. Students will learn about the different states of matter and how to classify the types of matter. They'll learn different properties of materials, how to build objects from sets of pieces, and how heating and cooling changes affect matter.
It covers four topics:
Classifying Types of Matter
Properties of Materials
Objects Built From Sets of Pieces
hands-onHeating and Cooling Changes
Included are mini books, hands on science activities, non-fiction passages, practice pages, interactive notebook pages, and much more! Download the 26 page preview to see what's included in this 130 page resource!
TEACHERS LIKE YOU SAID...
⭐⭐⭐⭐⭐ I love these units. They are so fun and engaging and everything I need to teach science. I like how it includes interactive notebook pieces, vocab and experiments.
⭐⭐⭐⭐⭐ This resource is just what I was looking for! Its aligned to our standards and completely stress free! My students enjoyed the books, video links and activities associated with this bundle. I look forward to purchasing more bundles from Thrifty in Third Grade again!
Save the most by purchasing the BUNDLE! It includes all three units:
*NGSS and Next Generation Science Standards are a registered trademark of Achieve. Neither Achieve nor the lead states and partners that developed the Next Generation Science Standards was involved in the production of, and does not endorse, this product.
©Thrifty in Third Grade
ALL RIGHTS RESERVED
Report this resource to TPT
Standards
to see state-specific standards (only available in the US).
Construct an argument with evidence that some changes caused by heating or cooling can be reversed and some cannot. Examples of reversible changes could include materials such as water and butter at different temperatures. Examples of irreversible changes could include cooking an egg, freezing a plant leaf, and heating paper.
Plan and conduct an investigation to describe and classify different kinds of materials by their observable properties. Observations could include color, texture, hardness, and flexibility. Patterns could include the similar properties that different materials share.
Analyze data obtained from testing different materials to determine which materials have the properties that are best suited for an intended purpose. Examples of properties could include, strength, flexibility, hardness, texture, and absorbency. Assessment of quantitative measurements is limited to length.
Make observations to construct an evidence-based account of how an object made of a small set of pieces can be disassembled and made into a new object. Examples of pieces could include blocks, building bricks, or other assorted small objects.