2nd Grade Morning Work Worksheets Math Centers Spiral Review Daily Math Language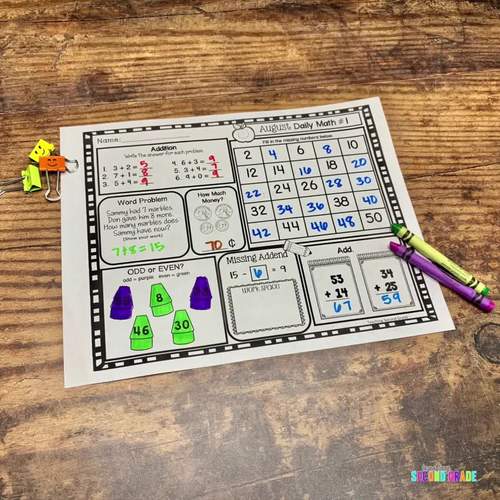 ;
What educators are saying
I love these as a warm up for my students. I also use some sheets to send home in addition to their homework for those kids that need more spiral review.
I love this morning work bundle! The students love it and enjoy doing the work. I love that it has math and language!
Description
This amazing YEAR LONG 2nd Grade Morning Work Bundle is just what you need to incorporate daily review of math and language skills into your day. This resource can be used as 2nd grade spiral review morning work or as homework for math and language arts practice. There are 20 resources included in this language and math spiral review bundle and each resource includes a variety of layout options.
ONLY $29 for 2 year-long bundles (math & language)
$99.50 if purchased separately!
This resource is designed to align with the skills that students would be working on at that time of the year. The pages gradually get harder and skills that are covered in the earlier pages are revisited throughout the month for a spiral review of learning.
You will love using these monthly morning work activities to help your students keep their language and math skills fresh all year long. Teachers love this time-saving, PRINT & GO resource, and students love the engaging quick review. Grab this morning work and spiral review bundle and your students are sure to master their 2nd grade math and language learning skills.
⭐This 2nd Grade Morning Work Spiral Review for Math & ELA is perfect for:
Morning work
Homework
Daily Math Review
Daily Language Review
Quick skills check-up
Quick assessment 
Center work
Independent work
Fast finishers
Extra practice
Substitute teacher work
See What Teachers are Saying:
⭐We are just starting to use this every day.  It's been great for my students that arrive before school starts (5-30 minutes before school starts).  The students find this easy enough to do on their own while I am setting up for the day and taking attendance but challenging enough to keep them engaged. 
⭐I use the morning work daily with my students and I use the homework as well. The students find this easy enough to do on their own while I am taking attendance but challenging enough to take them a few minutes and stay engaged. 
⭐This has been a great spiral review for my students to work on first thing in the morning! It gets their brains warmed up and ready to learn. It has been a great addition to our routine.
Daily Language Sets:
DAILY MATH SETS:
★LET'S GET CONNECTED!★
◼◼HOW TO GET CREDIT TOWARDS FUTURE PURCHASES!◼◼
Go to your My Purchases page. Next to each purchase you will see a "Provide Feedback" button. Click on that button and it will take you to a page where you can leave a rating and a comment about the product.
Every time you provide feedback, you will earn TPT credits. These can be applied to future purchases to save you money! Yay!
Search terms:
christmas | math | december | morning work | morning math | morning tubs | 2nd grade math | 2nd grade | early finishers | fast finishers | independent work | beginning of the year | december math | spiral review | extra practice | winter | activities |
Report this resource to TPT
Standards
to see state-specific standards (only available in the US).
Measure the length of an object by selecting and using appropriate tools such as rulers, yardsticks, meter sticks, and measuring tapes.
Estimate lengths using units of inches, feet, centimeters, and meters.
Measure to determine how much longer one object is than another, expressing the length difference in terms of a standard length unit.
Tell and write time from analog and digital clocks to the nearest five minutes, using a.m. and p.m.
Solve word problems involving dollar bills, quarters, dimes, nickels, and pennies, using $ and ¢ symbols appropriately. Example: If you have 2 dimes and 3 pennies, how many cents do you have?