2nd Grade Reading Comprehension Strategies - 2nd Grade Reading Mini Lessons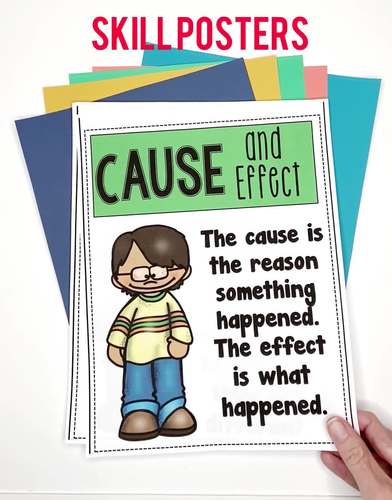 ;
Description
Do you need mini lessons to help you teach 2nd grade reading comprehension strategies? This set of 2nd grade reading comprehension mini lessons and activities come with 15 unique lessons that cover 15 different reading strategies! These ready-to-use resources can be used with any book in your classroom. 
Whether you already teach this way and want some fresh ideas and strategies, or you are new to this and aren't sure where to begin, these mini lessons give you an easy and quick way to teach the main reading comprehension strategies in grade 2. 
You will have materials to teach reading comprehension strategies such as making predictions, problem and solution, etc. There are reading comprehension graphic organizers and independent practice materials so your students can practice what they learn. 
Each reading comprehension mini lesson includes:
a mini lesson statement
the common core standard it aligns to
suggested books to use when teaching the lesson
ideas for how to teach the lesson
a mini poster
questions to ask during the lesson
questions to ask after independent practice
an organizer to use for the whole group as you teach the lesson 
an organizer for students to use during independent practice
This packet has 15 different 2nd grade reading comprehension strategies with everything you need (minus the books) to hold your reading mini lessons. These reading comprehension mini lessons can be used for whole group or small group instruction. 
The reading comprehension strategies included in this packet are:
❤️text to self connection
❤️text to text connection
❤️text to world connection
❤️making and adjusting predictions
❤️making a mental picture or image
❤️using text features
❤️problem and solution
❤️summarizing the text
❤️main idea and supporting details
❤️author's purpose
❤️cause and effect
❤️comparing and contrasting texts
❤️asking questions
❤️recognizing literary elements
❤️retelling
Your students will learn valuable reading strategies and become confident readers! With the option to use these reading comprehension strategies with any text, you can easily implement these straight away in your classroom. 
Using these reading comprehension mini lessons is EASY! Simply hold a quick mini lesson about one strategy and model with a book from the suggested list or one of your own. Your class will complete the graphic organizer together. Later during reading centers students will read a book and complete a different organizer/recording sheet on their own to show mastery of the strategy.
✅ Download the preview to see more!
What teachers are saying about these reading strategies mini lessons?
⭐️⭐️⭐️⭐️⭐️ "This is such a great resource that can be used with so many different books. It made planning super easy and is common core aligned." - Jesse C.
⭐️⭐️⭐️⭐️⭐️ "Worth every penny! Great lesson plans, with everything you need! The mentor texts are commonly found in the library. The practice sheets are great for assessment too." - Language Stars
⭐️⭐️⭐️⭐️⭐️ "I love how these lessons are laid out. They are very easy to use.  I also love the list of suggested books for each lesson." - Lorrie G.
Want a version with no standards listed to use with multiple grade levels?
Need a specific grade level?
Want a version with no standards listed to use with multiple grade levels?
↬ Be sure to follow my store to be alerted of new products. >>Click Here
↬Don't forget to leave feedback. You will receive TPT credits that can be used on future purchases!
Report this resource to TPT
Standards
to see state-specific standards (only available in the US).
Ask and answer such questions as who, what, where, when, why, and how to demonstrate understanding of key details in a text.
Recount stories, including fables and folktales from diverse cultures, and determine their central message, lesson, or moral.
Describe how characters in a story respond to major events and challenges.
Describe the overall structure of a story, including describing how the beginning introduces the story and the ending concludes the action.
Use information gained from the illustrations and words in a print or digital text to demonstrate understanding of its characters, setting, or plot.