3 Digit Addition with Regrouping Student vs Student Powerpoint Game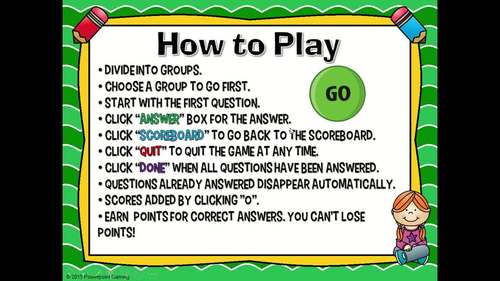 ;
Easel Activity Included
This resource includes a ready-to-use interactive activity students can complete on any device. 
Easel by TPT is free to use!
Learn more
.
What educators are saying
I have used this game with my 3rd and 4th grade students. I used it as an intervention for my 4th grade small group and play teacher vs student and also as a spiral review game for my 3rd graders.
My students loved this and thought it was so fun! It was a great change of pace from our normal math lessons! Thank you !
Also included in
Get over 140 fourth grade PowerPoint games and google activities for 1 low price! This fourth-grade bundle grants access to all my fourth grade PowerPoint games. This includes all the fourth-grade games I plan to make in the future. Simply make this one-time purchase and you're ready to start off yo

Price $180.00

Original Price $424.75

Save $244.75

82 fourth grade math games for 1 low price! Game topics includes fractions, factors, lines of symmetry, multiplication, and more. This includes google activities, bingo games, Easel activities, flash cards, and so much more! Each digital game is ready to play immediately. No prep. Simply make this o

Price $120.00

Original Price $230.25

Save $110.25
Description
Practice addition with regrouping with the fun competition. Students compete against one another in this fun game while practicing their regrouping skills. Students add 3 digit numbers. Students regroup in every problem, up to 3 times. You can have up to 4 teams. There are 20 questions in all, and you just click on each question to go to it. The question disappears after you've clicked on it so you know you've answered it. The scoreboard allows you to add scores during Slideshow Mode. Great for a guided math center or rainy-day activity. Great for individual practice on the iPad! Extra licenses are $1.5.
Questions/Materials include:
✔️ 4 Games (1 PC/Mac, 1 Google Slides, 1 Easel Activity. 1 Printable Activity)
✔️ 20 Questions (vertical)
✔️ Answer Range 0 - 2000
✔️ Printable Answer Key
✔️ Works great on Smartboard, Activboard, Whiteboard, and Promethean Boards
✔️ Terms of use Page
✔️ Common Core aligned - 4.NBT.4
✔️ 26 Slides
✔️ Mac-iPad Version compatible!
✔️ Google Slides Version included!
✔️ Digital Easel Activity included!
✔️ Printable Sheets included!
✔️ Additional Licenses $1.50
❓ What is a Student vs Student Game ❓
A student vs student game is a game where groups of students compete against each other. There can by up to 5 teams. Each team works together to answer the question. The team with the most points at the end of the game wins. There is a tie break question for teams who have the same score at the end of the game.
Recent Updates:
✂️ 5-3-15 - Deleted extra "Answer" button on Question 20
✂️ 8-16-22 - Added MAC compatible game, Google Slides Version, Easel Activity, and Printable activity
Other Related Materials:
✏️ Tic-Tac-Toe 2 Digit Addition Powerpoint Game
✏️ Student vs Student 2 Digit Addition Powerpoint Game
❤️ ❤️ Love my games? Purchase a grade level bundle and get every game made for your specific grade level. Purchase an All-Access Pass and gain access to every PPT Game ever made! ❤️ ❤️
Having issues? Submit any issues in the Q&A Section at the bottom or check out my Frequently Asked Questions on my blog. I will contact you as soon as possible!*****IN ORDER FOR THE BUTTONS AND IMAGES TO SHOW UP, THE GAME MUST BE PLAYED IN SLIDESHOW MODE IN MICROSOFT POWERPOINT.*****
Please leave feedback for my product! Earn TPT Credits! Thank you for your purchase!
Happy Teachings!
Follow Me on Social Media
⚙️ TpT
⚙️ Facebook
⚙️ Pinterest
⚙️ Website
⚙️ Instagram
⚙️ Twitter
⚙️ YouTube
Terms of Use:
By purchasing this product, you agree not to share, resell, copy, or alter this product in anyway. You agree not share without the purchase of multiple licenses. All sales final. Clip Art is not included as a separate file and is included as part of the background.
Video music provided by: Incompetech – Rainbow
© 2022 Teacher Gameroom (Chandra Martin)
✉️ Need to reach me? Email me: teachergameroom@gmail.com ✉️
Report this resource to TPT
Standards
to see state-specific standards (only available in the US).
Fluently add and subtract multi-digit whole numbers using the standard algorithm.