3-part Round Song "The Change Is You" Companion to Amanda Gorman's Change Sings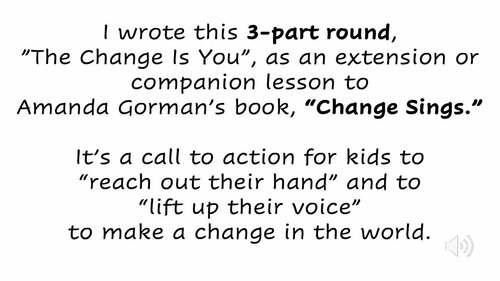 ;
What educators are saying
My students loved this song. One student stated "that is such a pretty melody, I just want to cry." I love it when a song gets to them emotionally.
Also included in
Combining quality musical experiences with the SEL theme of caring, kindness, thankfulness, and social action is what you will get with these three songs. A wide variety of musical offerings include a round, echo song, Orff arrangements, movement and scarf activities, and so much more. There's somet

Price $12.60

Original Price $15.75

Save $3.15
Description
Integrating music and children's literature, Amanda Gorman's book, "Change Sings", inspired this new 3-part round song that uses an African proverb to begin the journey of a call to action to be the change in the world. Core values in character education and social-emotional learning are reinforced through the book and the music activities using Orff and Kodaly approaches and instruments.
This resource includes:
a 50-slide PPT presentation utilizing ukulele, Orff, and Kodaly
embedded audio files to break down the learning and as performance aids
PDF files of all the music notation
The Breakdown
The Song-a beautiful 3-part round that can be sung effectively with 2 parts
Ukulele-Chords needed are C, F, Dm, and G7
Orff-The arrangement is for drums, triangle, and xylophones with many options for substitutions.
Kodaly-reinforcing d-m-s, d-r-m, d'-t-l, and s-m-l
Performing
with Orff arrangement
with ukulele
with piano accompaniment (PDF file)
with audio performance file (in PPT)
find a combination of the above to fit YOUR classes
Because of the many audio files, it is
A Change Sings companion resource for younger students is "Change the World With Kindness."
The Oodles Song Teaching Series
One review about One Piece of Pie: "Perfect fall activity. My students loved it."
Rhythm Writing Activities
The One-Beat Diner of Remarkable Rhythms-A super FUN activity where students create a menu (of one-beat food items) and then put items (rhythms) together for a special Take-Out selection.
Follow my blog Oodles of Music for
tons of free resources
ukulele playalongs from easy to advanced (some of my most visited pages)
MEGA databases (by song subject, great videos for you and subs, holidays)
Tips & resources for concerts, staging, decorations, blacklights
Follow my YouTube channel for
Game Videos
Ukulele and Body Percussion Playalongs & Activities
Report this resource to TPT