30 Google Slides Writing Prompts Activities and Videos | Year Long BUNDLE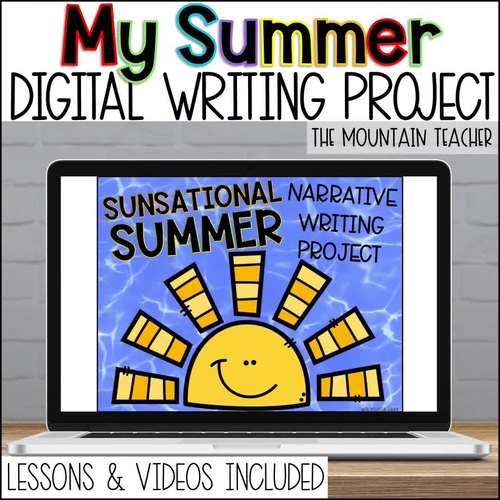 ;
Zip

Google Apps™
Includes Google Apps™
This bundle contains one or more resources with Google apps (e.g. docs, slides, etc.).
What educators are saying
This is an incredible resource that I've used in my classroom!! Thank you for sharing all your hard work! It's helped so much!
These are AMAZING! My students loved them and looked forward to writing when we used these. Thank you!
Products in this Bundle (33)
showing 1-5 of 33 products
Bonus
READ FIRST: Year Plan and Benchmark Assessments
Description
Engage students in digital writing with these fun weekly Google Slides writing projects. Students will practice common core writing with engaging prompts including narrative, informative, opinion and how to pieces throughout the year.
ALL teaching videos are already included.. simply assign and go! Excellent for digital learning, distance learning, homeschool teachers, hybrid teaching, guest teachers, student teachers and the average busy teacher!
Students will practice basic skills on Google Slides while working on these projects. ALL TEACHING VIDEOS are included, or can be replaced with videos that you make. Simply assign, and students will be ready to go.
Weekly Overview:
Monday: Introduction and Prewrite - Students will learn to add bullet points to their graphic organizer
Tuesday: Draft - Students will write a basic topic sentence, 2 event/fact/opinion sentences and 2 detail sentences - this is when a WEEKLY SKILL such as linking words, prepositions, similes, etc will be introduced
Wednesday: Draft - Students will finish their last 2 event/fact/opinion sentences and 2 more detail sentences, and a closing sentence - the weekly skill is reinforced this day
Thursday: Revise/Edit - Students are walked through using a basic revising and editing checklist that grows as the year continues
Friday: Students are taught to add photos and to use a rubric to check their work before turning it in.
What you get with each download:
A PDF linking to:
Teaching Slide
Student Planning Template
Student Publishing Template
This was designed for second graders, but can easily be implemented in first and third grade classrooms. While all teaching videos are included, I encourage teachers to add their own intro videos with read alouds each week. This is not necessary to use the resource, but is a nice touch for students to see their own teacher each week.
What's Included:
August
September
October
November
December
Or
January
February
March (Released February 19)
April
May
Looking for other digital resources?
- Second Grade Digital Let's Get Reading
- Second Grade Digital YEAR LONG Math Bundle
Please open the preview file to see exactly what is included. Please ask all questions before purchasing.
Enjoy! Don't forget to leave feedback on all paid purchases for future credit toward free resources.
Report this resource to TPT
Standards
to see state-specific standards (only available in the US).
Write opinion pieces in which they introduce the topic or book they are writing about, state an opinion, supply reasons that support the opinion, use linking words (e.g., because, and, also) to connect opinion and reasons, and provide a concluding statement or section.
Write informative/explanatory texts in which they introduce a topic, use facts and definitions to develop points, and provide a concluding statement or section.
Write narratives in which they recount a well-elaborated event or short sequence of events, include details to describe actions, thoughts, and feelings, use temporal words to signal event order, and provide a sense of closure.
With guidance and support from adults and peers, focus on a topic and strengthen writing as needed by revising and editing.
With guidance and support from adults, use a variety of digital tools to produce and publish writing, including in collaboration with peers.