3rd Grade Common Core Math Quizzes - All Standards - Distance Learning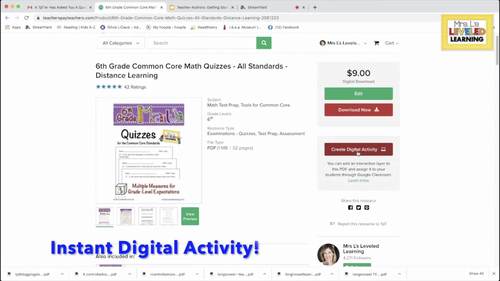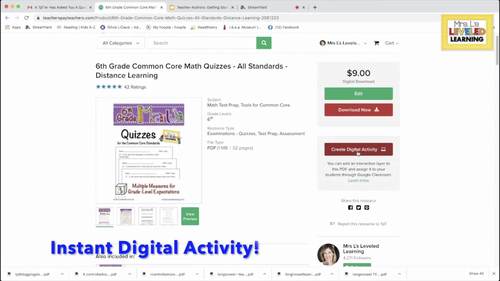 Created By
Mrs L's Leveled Learning
Formats
TpT Digital Activity
PDF
 (
1 MB
|
32 pages
)
TpT Digital Activity
Add notes & annotations through an interactive layer and assign to students via Google Classroom.
Learn more
Also included in
If your school uses the Marzano Framework or iObservations for Teacher Evaluations, this BUNDLE will save you weeks of work! The resources are perfectly align to a growth mindset, standards-based grading, and make differentiation planning easy! Inspired by Marzano's research in "The NEW Art and Sci
Description
These quizzes were created to offer students multiple opportunities to show mastery of the Common Core grade level standards. They can be used independently, or in addition to the Posters, Assessments, and Student Portfolio pages created by Mrs. L's Leveled Learning. The "I can" statement at the top of each quiz corresponds to Level 3 of the scale, since level 3 shows mastery of the exact grade level expectation. Using the same exact language helps to reinforce the goal for students to focus on. These quizzes can be added to the Portfolio binders along with the completed pre-and post- Assessment pages, or sent home.
It is recommended that the quizzes be used after some instruction,
but before the final graded post-test from the Assessment packet.
Mrs. L's learning goals and scales are based on the research and suggestions of Robert J. Marzano, in The Art and Science of Teaching: A Comprehensive Framework for Effective Instruction. The scales for each standard follow this basic structure.
*This product can now be assigned online with TpT's DIGITAL OVERLAY.
Visit my site for examples of student work, a video tutorial, and tips on grading the assessment using the 4-point scale.
Mrs. L's Leveled Learning
http://mrslsleveledlearning.com
©Melanie LiCausi. Purchasing this resource allows one teacher the right to reproduce materials for his/her own classroom. To share with other, please purchase additional licenses at 50% off the Original price. Uploading resources to the internet in any form, for free or for purchase is also a misuse of copyright. If you are a coach, principal or district interested in purchasing several licenses, please contact me for a district-wide quote. Thank you for your consideration! melanie.licausi@gmail.com
Report this Resource to TpT