3rd Grade DIGITAL Reading Review | Daily Reading Comprehension Practice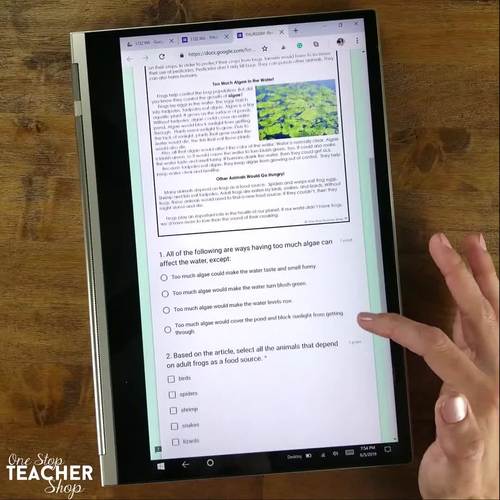 ;
Zip

Google Apps™
Includes Google Apps™
This bundle contains one or more resources with Google apps (e.g. docs, slides, etc.).
Products in this Bundle (4)
Also included in
This HUGE DIGITAL 3rd Grade Spiral Review Bundle is the perfect way to SAVE on ALL of my DIGITAL (Google Forms) 3rd grade spiral resources. This big bundle includes ALL 3 of my popular Spiral Review & Quiz resources, covering the ENTIRE YEAR of 3rd Grade in Reading, Math, and Language!What's In

Price $59.99

Original Price $119.88

Save $59.89

This HUGE 3rd Grade DIGITAL Langauge Arts Bundle is the perfect way to SAVE on ALL of my 3rd grade digital Language Arts resources. This big bundle includes Spiral Reading Review & Quizzes (made with Google Forms), Spiral Language Review & Quizzes (made with Google Forms), & "I Can" Dig

Price $59.99

Original Price $114.82

Save $54.83

This bundle includes BOTH Digital and Printable versions of my 3rd Grade Reading Spiral Review & Quiz resource. This bundle is perfect for teaching in the classroom or for teaching virtually with any learning platform (ex. Google Classroom, Canvas, Schoology, etc.)Use this daily spiral review a

Price $39.99

Original Price $79.92

Save $39.93
Description
This is the DIGITAL, Google Forms version of my top-selling 3rd Grade daily reading spiral review resource. Also includes the DIGITAL, Google Forms version of my weekly reading quizzes & constructed response practice. With this one purchase, you can provide daily reading review for your students, Monday through Thursday, and assess your students on Friday. No paper. Fully Digital.
⭐⭐UPGRADE for just $15 and get both PRINT & DIGITAL versions } CLICK HERE

✪ to see more SUBJECTS & GRADE LEVELS!
★★SAVE $$ with these BUNDLES★★
✱ 36 weeks of daily reading review - 144 Google Forms - 4 questions per day
✱ 36 weeks of weekly reading comprehension quizzes - 36 Google Forms - 4 multiple choice questions and one constructed response
✱ 36 weeks of constructed response practice - 36 Google Forms
✱ A Model Example for each Constructed Response is included!
✱ Covers the ENTIRE YEAR of 3rd Grade Reading! (common core aligned)
✱ ALL passages were written by a professional writer (QUALITY)
✱ Some weeks have two passages (paired passages)*
✱ Automatic Grading ➨ HUGE time saver!
✱ Automatic Data Collection and Data Analysis Feature
✱ Suggested Pacing Guide for the year
✱ Instructional video to help you get started
✱ Editable - Edit/Change/Delete any question
✱ Use as daily homework, morning work, or literacy centers, and give a quiz on Friday to hold students accountable.
❤ NO Grading! These quizzes grade themselves. This is a HUGE time saver!
❤ A dose of daily review helps build, strengthen, and review reading comprehension skills all year.
❤ Weekly quizzes make it easy to collect data and grades.
❤ Students focus on one passage per week, digging deeper each day! Ideal for Close Reading
❤ All passages are on grade level! (Perfect for exposure to grade-level texts)
❤ Questions are text-dependent and slowly increase in rigor as the week progresses.
❤ You can easily see where students are still struggling on a regular basis.
❤ Every Google Form will provide you with TONS of class and individual data, automatically!
❤ It's Editable - change questions or wording to differentiate and fit your students' needs.
❤ When using spiral review, teachers find students need almost NO test-prep before standardized testing.
❤ Homework completion rates increase! (if using as homework)
✔ Use the links I have provided to add the Google Forms to your Google Drive.
✔ Edit or change questions if needed.
✔ Assign the Google Form to your students via email, with a link, or in Google Classroom.
✔ See responses as your students submit their work.
✔ Grades and data are collected automatically.
✔ Optional: Export grades and results to a spreadsheet for further data analysis and easily see student scores. (includes instructional video on how to do this)
Students will complete just one Google Form each night (Monday through Thursday). At the beginning of class each day, I like to take about 5 minutes to quickly review the previous night's homework and clarify any questions my students may have. I recommend using the class data that is automatically collected to see which questions need the most review. On Friday, my students complete the "Friday Quiz" in class.
Each morning, students complete just one Google Form (Monday through Thursday). Before beginning the day, I take about 5 minutes to review that day's review. I can use the data that is automatically collected from the daily reviews for this. On Friday, I like to assign the "Friday Quiz" Google Form. This is the perfect time to assess your students and see where they still need help.
If you don't want to use this as homework or morning work, I recommend using it as a daily review in small reading groups or during centers. On the first day, read the weekly text with your group. Each day, dig into the 4 questions that accompany the passage. This will help you see exactly how students are doing each day and where you need to focus your daily lessons. Rereading the text works great with Close Reading and helps students strengthen their comprehension skills.
★★CHECK OUT MY OTHER POPULAR RESOURCES★★
★★★★★★★★★★★★★★★★★★★★★★★★★★★★★★★★★★★★★★★★★★★★★★★★★★★★★★★★★★★★★
LOOKING for MORE great RESOURCES???
Download my FREE Shopping Guide to easily browse through ALL of my resources.
►FOLLOW me on Teachers Pay Teachers!
►FOLLOW the One Stop Teacher Shop BLOG!
If you would like to contact me about pricing on a license for an ENTIRE school, county, or district, please email me at kristin@onestopteachershop.com
TERMS OF USE - © One Stop Teacher Shop, Inc.
This item is a paid digital download from my TpT store
www.teacherspayteachers.com/Store/One-Stop-Teacher-Shop
As such, it is for use in one classroom only. This item is also bound by copyright laws. Redistributing, editing, selling, or posting this item (or any part thereof) on the Internet are all strictly prohibited without first gaining permission from the author. Violations are subject to the penalties of the Digital Millennium Copyright Act. Please contact me if you wish to be granted special permissions!
Report this resource to TPT
Standards
to see state-specific standards (only available in the US).
Ask and answer questions to demonstrate understanding of a text, referring explicitly to the text as the basis for the answers.
Recount stories, including fables, folktales, and myths from diverse cultures; determine the central message, lesson, or moral and explain how it is conveyed through key details in the text.
Describe characters in a story (e.g., their traits, motivations, or feelings) and explain how their actions contribute to the sequence of events.
Determine the meaning of words and phrases as they are used in a text, distinguishing literal from nonliteral language.
Refer to parts of stories, dramas, and poems when writing or speaking about a text, using terms such as chapter, scene, and stanza; describe how each successive part builds on earlier sections.