3rd Grade Math Games - Hands On Small Group Math Activities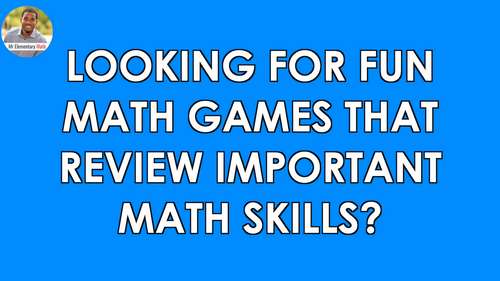 ;
What educators are saying
Probably one of my favorite purchases for the year! Easy, low prep math centers and my students LOVED the games!
I love that the rules are the same with so many different topics! I have to explain once and then they are good to go!
Products in this Bundle (11)
showing 1-5 of 11 products
Bonus
Ready-Set-Play Organization Guide
Also included in
Math Centers Mega Bundle for 3rd grade is a surefire way to get your kids to practice and review important math skills. ★★ Newly updated to include Back to School centers to review 2nd grade place value.★★This massive resource includes 3 of my best selling centers: 1) Ready-Set-Play Math Games2) Fli

Price $68.00

Original Price $102.25

Save $34.25
Description
Ready to ditch the worksheets and increase student engagement? These hands on math activities are low prep and highly engaging! Add these 3rd grade math games into your center rotations and watch as your students fall in love with math.
⭐️⭐️⭐️⭐️⭐️ I love this resource! Each unit has the same types of games just addressing a different standard, so my students always know how to play the game without having to ask me. I also love the sentence starters, they have been great to get my students using strong math talk!
- Jessi Syner
3rd Grade Math Games Topics - Each topic contains 3 different hands on math activities. 
Place Value
Rounding to the Nearest 10 and 100
Addition within 1,000
Subtraction within 1,000
Area and Perimeter
Division
Elapsed Time
Fraction
Geometry
Multiplication
Multiples of Ten
⭐️⭐️⭐️⭐️⭐️ Strong math games without the "floof" that allow the kids to really dig into meaningful math. Can't wait to print out more of them to use as the year goes on! 
3rd Grade Math Games Descriptions:
Flip and Match: In this hands on math activity, students take turns flipping their cards over to make a correct match. Next, they use Math Talk cards to explain their answers.
Finish Line: In this board game, students race to the finish line by answering a variety of standards based questions.
Face Off:  In this hands on game, students "face off" by counting down and turning their game cards over at the same time. The player that finds the correct answer first wins the match.
Why should YOU buy this bundle? Glad that you asked. It's:
✅ a huge time saver 
✅ easy to setup and comes with student friendly photo directions
✅ fun for students to play + easily check their answers
✅ aligned to the Common Core math standards
✅ a great way to get your kids talking and thinking about important math skills
Other 3rd Grade Math Activities You'll ❤️
✔︎ - Whole Class or Small Group Fun!
✔︎ - NO Prep and great for early finishers
✔︎ - Daily Standards Based Questions
✔︎ - SAVE on Small Group Activities
If you LOVED this resource get TPT credit to use on future purchases using these 3 EASY STEPS:
Go to your "My Purchases" page.
Click the "Provide Feedback" button to leave a rating ⭐⭐⭐⭐⭐ and tell us why you loved it.
Use the TPT credits you earned on future purchases!
Product Printing Information:
This is a digital file.  If you need help opening or printing the file, please refer to tech help within TpT or here for support printing the file.
Report this resource to TPT
Standards
to see state-specific standards (only available in the US).
Tell and write time to the nearest minute and measure time intervals in minutes. Solve word problems involving addition and subtraction of time intervals in minutes, e.g., by representing the problem on a number line diagram.
Measure areas by counting unit squares (square cm, square m, square in, square ft, and improvised units).
Relate area to the operations of multiplication and addition.
Solve real world and mathematical problems involving perimeters of polygons, including finding the perimeter given the side lengths, finding an unknown side length, and exhibiting rectangles with the same perimeter and different areas or with the same area and different perimeters.
Use place value understanding to round whole numbers to the nearest 10 or 100.