3rd Grade Math Task Cards & Review - Early Finisher Activities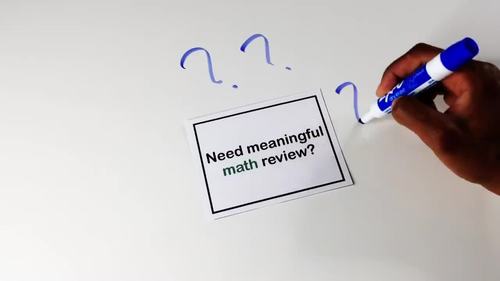 ;
What educators are saying
I teach fourth grade and bought the third, fourth, and fifth grade task cards. It's a great way to differentiate.
Awesome bundle!!! It was great for math centers and supplementing in lessons for additional concept practice! Very easy to use with lessons taught, students' goals, and common core standards.
Products in this Bundle (10)
showing 1-5 of 10 products
Also included in
Math Centers Mega Bundle for 3rd grade is a surefire way to get your kids to practice and review important math skills. ★★ Newly updated to include Back to School centers to review 2nd grade place value.★★This massive resource includes 3 of my best selling centers: 1) Ready-Set-Play Math Games2) Fli

Price $68.00

Original Price $102.25

Save $34.25
Description
Math task cards aligned to the Common Core Math Standards with a variety of question types. Yes, this bundle has it all!
★★ Save 20% when you purchase this bundle!!! ★★
▁▁▁▁▁▁▁▁▁▁▁▁▁▁▁▁▁▁▁▁▁▁▁▁▁▁▁▁▁▁▁▁▁▁▁
◎◉◎◉◎◉◎◉◎◉ 4 Resources You Will Also Love ◎◉◎◉◎◉◎◉◎◉
✔︎ Digital Math Games - Whole Class or Small Group Fun! Learn more HERE.
✔︎ 3rd Grade Mega Centers - Small Group Printable Activities. Learn more HERE.
✔︎ 3rd Digital Centers - Small Group Digital Activities. Learn more HERE.
✔︎ Simplified Math Curriculum - Teach, Practice & Assess all in one. Learn more HERE.
▁▁▁▁▁▁▁▁▁▁▁▁▁▁▁▁▁▁▁▁▁▁▁▁▁▁▁▁▁▁▁▁▁▁▁
Students will be exposed to several question types (Ex. Multiple Choice, True or False, Multiple Response, Fill in the Blank, etc) that require critical thinking and math reasoning skills. Having a variety helps prepare for state testing.
I know that every minute of the instructional day is precious. There is never enough time to do it all. These cards were designed to provide a quick and easy way for your students to practice math skills throughout the school day. They are easy to assemble. Simply print, cut and go! Oh, and don't forget to put a ring on it!
Flip and Go Math Cards are a fun alternative for students to practice math standards and strengthen mathematical concepts. Most importantly they can be easily integrated into your daily routine.
▁▁▁▁▁▁▁▁▁▁▁▁▁▁▁▁▁▁▁▁▁▁▁▁▁▁▁▁▁▁▁▁▁▁▁

What are other 3rd grade teachers saying about this product?
"The task cards are clear and concise. Thank you for providing teachers with a resource that is both rigorous and easy to use." - One Urban Teacher
"I really love these cards. The sets are very complete and have everything we need to teach the main math concepts for 3rd grade." - Fatima R.
"Love this! So thorough and appreciate the different types of questions." - Elizabeth N.
▁▁▁▁▁▁▁▁▁▁▁▁▁▁▁▁▁▁▁▁▁▁▁▁▁▁▁▁▁▁▁▁▁▁▁

When Can I Use Flip and Go Math Cards?
They can be used to reinforce math skills:
• during small group time or math centers
• during whole group lessons as a warm up or closure
• for morning work with students that need practice with a specific math skill
• for early finishers that need extra practice with a specific math skill
• for playing math games like SCOOT
▁▁▁▁▁▁▁▁▁▁▁▁▁▁▁▁▁▁▁▁▁▁▁▁▁▁▁▁▁▁▁▁▁▁▁
Check out my other 3rd Grade Math products:
✏ 3rd Grade Math Games and Centers - Meaningful math games that wi ll keep your kids engaged. Three different game types are included for each math skill.
✏ 3rd Grade Solve and Explain Problem Solving Tasks - These tasks promote critical thinking and enco urage students to explain thier reasoning. ALL Common Core standards are covered.
✏ 3rd Grade Math Centers 101 MEGA Bundle- This Mega Bundle includes everything you need to run year long centers in your classroom.
The Math Centers 101 MEGA Bundle includes:
➀ Flip and Go Math Task Card Bundle
➁ Ready-Set-Play Math Games Bundle
➂ Solve and Explain Problem Solving Tasks
▁▁▁▁▁▁▁▁▁▁▁▁▁▁▁▁▁▁▁▁▁▁▁▁▁▁▁▁▁▁▁▁▁▁▁

Product Printing Information:
This is a digital file. If you need help opening or printing the file, please refer to tech help within TpT or here for support printing the file.
▁▁▁▁▁▁▁▁▁▁▁▁▁▁▁▁▁▁▁▁▁▁▁▁▁▁▁▁▁▁▁▁▁▁▁

Customer Tips:
How to get TPT credit to use on future purchases:
Please go to your My Purchases page (you may need to login). Beside each purchase you'll see a Provide Feedback button. Simply click it and you will be taken to a page where you can give a quick rating and leave a short comment for the product. Each time you give feedback, TPT gives you feedback credits that you use to lower the cost of your future purchases. I value your feedback greatly as it helps me determine which products are most valuable for your classroom so I can create more for you. ☺
Be the first to know about my new discounts, freebies and product launches:
Look for the green star next to my store logo and click it to become a follower.
You will now receive email updates about this store. ☺
▁▁▁▁▁▁▁▁▁▁▁▁▁▁▁▁▁▁▁▁▁▁▁▁▁▁▁▁▁▁▁▁▁▁▁
Report this resource to TPT
Standards
to see state-specific standards (only available in the US).
Tell and write time to the nearest minute and measure time intervals in minutes. Solve word problems involving addition and subtraction of time intervals in minutes, e.g., by representing the problem on a number line diagram.
Recognize area as an attribute of plane figures and understand concepts of area measurement.
A square with side length 1 unit, called "a unit square," is said to have "one square unit" of area, and can be used to measure area.
A plane figure which can be covered without gaps or overlaps by 𝘯 unit squares is said to have an area of 𝘯 square units.
Measure areas by counting unit squares (square cm, square m, square in, square ft, and improvised units).