3rd Grade Morning Work Daily ELA Review Activities | Fall | Printable & Digital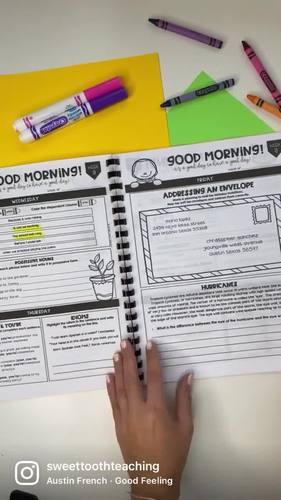 ;
Zip

Google Apps™
Includes Google Apps™
This bundle contains one or more resources with Google apps (e.g. docs, slides, etc.).
What educators are saying
Love this!! Thank you so much for creating, it's an extremely useful resource and hits multiple standards at once.
Products in this Bundle (2)
Description
Review reading, language, and grammar skills each morning with these fall-themed bell ringers. The possibilities are endless! Morning work resource includes 12 weeks of activities and targets third grade and fourth grade ELA standards. (Can also be used to review 5th grade skills!) These upper elementary ELA morning work activities are the perfect way to help your students start off the school day. This resource can also be used to review previously learned skills during small groups, test-prep season, or reading centers.
The activities are fall-themed focusing on topics such as Halloween, autumn, Thanksgiving, football season, and more!
This resource is a BUNDLE that includes the PRINTABLE & DIGITAL versions of the Fall-themed ELA morning work.
Skills included:
Cause/ Effect
Text structure
Common/Proper Nouns
Abstract/Concrete nouns
Homophones
Irregular Verbs
Parts of Speech
Types of Sentences
Editing
Writing Titles
Spelling
Writing Short Stories
Good Vs. Well
Subjects & Predicates
Text Features
Simple & Compound Sentences
Context Clues
Prefixes/ Suffixes/ Root Words
Possessive Nouns
Synonyms & Antonyms
Addressing Envelopes
Comprehension
Figurative Language
Poetry
Quotation Marks
Opinion Writing
Comparative vs. Superlatives
Prepositions
Abbreviations
Collective Nouns
Conjunctions
Action Verbs
Helping Verbs
-----------------------------------------------------------
DIGITAL VERSION:
These slides are compatible with Google Slides and/or Powerpoint. All of the slides are interactive with drag and drop features or fill-in-the-blank!
When you download the GOOGLE DIGITAL RESOURCES, you'll find:
Teacher Directions- (extremely easy and requires no prep!)
Step by Step instructions on how to download and make a copy of a Google Slide.
Step by Step instructions on how to assign Google Slide assignments to your students.
Step by Step instructions on how to assign on Google Classroom.
-----------------------------------------------------------
-----------------------------------------------------------
WHAT TEACHERS ARE SAYING:
"As a newbie to 3rd grade, this resource is awesome! I love the variety it has and the short daily activities. Perfect way to start the morning!"
-Denise T. ⭐️⭐️⭐️⭐️⭐️
"Loved this resource! Students appreciated each page having different skills and layouts. It helped with their motivation to complete it each morning."
-Mallory M.. ⭐️⭐️⭐️⭐️⭐️
-----------------------------------------------------------
Standards Related to this Resource:
★ CCSS.RI.3.1- Ask and answer questions to demonstrate understanding of a text, referring explicitly to the text as the basis for the answers
★ CCSS.L.3.1a - Explain the function of nouns, pronouns, verbs, adjectives, and adverbs in general and their functions in particular sentences.
★ CCSS.L.3.2- Demonstrate command of the conventions of standard English capitalization, punctuation, and spelling when writing.
★ CCSS.L.3.4- Determine or clarify the meaning of unknown and multiple-meaning word and phrases based on grade 3 reading and content, choosing flexibly from a range of strategies.
★ CCSS.RI.4.5- Describe the overall structure (e.g., chronology, comparison, cause/effect, problem/solution) of events, ideas, concepts, or information in a text or part of a text.
(See full list of standards below)
-----------------------------------------------------------
Earning TPT Credits for Future Purchases:
After purchasing an item on TPT, go to the "My Purchases" page. Click the "Provide Feedback" button next to the item you have purchased. You will provide a quick rating and comment for the item. By providing feedback, you will gain TPT credits to use towards future purchases.
If you have any questions, feel free to email me at SweetToothTeaching@Gmail.com
Thank you for your purchase!
-----------------------------------------------------------
>>> Connect with Me! <<<
Report this resource to TPT
Standards
to see state-specific standards (only available in the US).
Ask and answer questions to demonstrate understanding of a text, referring explicitly to the text as the basis for the answers.
Determine the main idea of a text; recount the key details and explain how they support the main idea.
Determine the meaning of general academic and domain-specific words and phrases in a text relevant to a grade 3 topic or subject area.
Use text features and search tools (e.g., key words, sidebars, hyperlinks) to locate information relevant to a given topic efficiently.
Use information gained from illustrations (e.g., maps, photographs) and the words in a text to demonstrate understanding of the text (e.g., where, when, why, and how key events occur).