3rd Grade Reading Assessments | Printable and Digital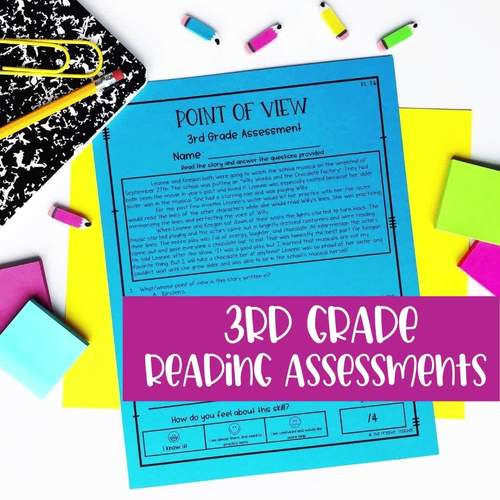 ;
PDF

Google Apps™
36 Pages in PDF File; Correlating digital assessments
Includes Google Apps™
The Teacher-Author indicated this resource includes assets from Google Workspace (e.g. docs, slides, etc.).
What educators are saying
My students did really well with this! Have not used it more then a couple of times but will use it a lot more next year.
A wonderful product to help with remote learning students. I also use it with my face to face students.
Description
Are you in need of more ways to assess specific reading skills with your students? Do you wish you had more targeted passages to use as pre and post-assessments in your classroom?
This pack of 3rd Grade Reading Assessments is perfect for your classroom!
What does this resource include?
Assessments for every reading skill in the common core standards!
Standards represented include: asking and answering questions, central messages, character, meaning of words, parts of stories, point of view, illustrations, compare and contrast, read and comprehend, main idea and details, relationship of events, academic words, text features, point of view, text features, connections, prefixes and suffixes, multisyllabic words, fluency, and irregularly spelled words! (bold words do not have a digital version)
Answer keys for most assessments are included
Assessments list the standard at the top of each page, as well as a student reflection about how confident they feel about the skill, to give you an added piece of data!
Google Form versions of the assessments are also included in this set!
How could I use this resource?
Use these skill assessments as pre-assessments before beginning a new unit
Use them as unit tests after you finish with a standard
Use them throughout the year and save them in a book to show students at the end of the year all of the things they learned in one school year!
Get started with these skill assessments today, and track your students' growth more effectively!
©The Friendly Teacher
Total Pages
36 Pages in PDF File; Correlating digital assessments
Report this resource to TPT
Standards
to see state-specific standards (only available in the US).
Read closely to determine what the text says explicitly and to make logical inferences from it; cite specific textual evidence when writing or speaking to support conclusions drawn from the text.
Determine central ideas or themes of a text and analyze their development; summarize the key supporting details and ideas.
Analyze how and why individuals, events, and ideas develop and interact over the course of a text.
Interpret words and phrases as they are used in a text, including determining technical, connotative, and figurative meanings, and analyze how specific word choices shape meaning or tone.
Analyze the structure of texts, including how specific sentences, paragraphs, and larger portions of the text (e.g., a section, chapter, scene, or stanza) relate to each other and the whole.