3rd Grade Reading Passages with Comprehension Questions Color By Number BUNDLE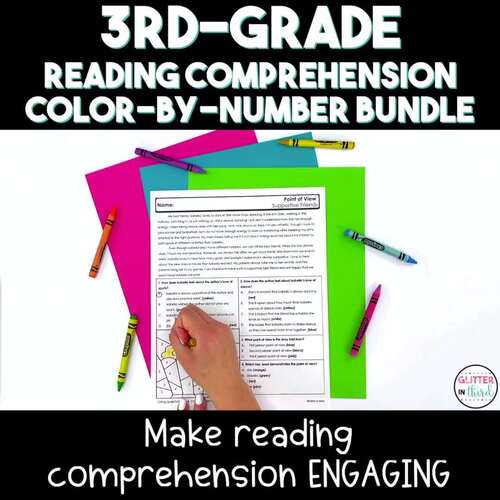 ;
Easel Activities Included
Some resources in this bundle include ready-to-use interactive activities that students can complete on any device. 
Easel by TPT is free to use!
Learn more
.
What educators are saying
My students LOVE these activities. It was a good way to review the information and gave a bit of a moment for students to recalibrate and get ready for learning!
Products in this Bundle (16)
showing 1-5 of 16 products
Description
Looking for a way to make 3rd grade reading passages with comprehension questions more engaging while targeting reading strategies?
Color-by-number reading comprehension passages & questions will TRANSFORM your reading block - kids LOVE completing these!
Color By Number Worksheets are available for: 2nd-Grade | 4th-Grade | 5th-Grade
You receive the following products in this bundle:
How does it work?
Kids first read the passage. Next, they answer comprehension questions. Each comprehension question answer choice dictates a color next to it (like green, red, blue, etc.). Students will color the coded picture based on the answer that they choose.
How many passages do I receive?
You receive a total of 63 reading passages (4 questions per passage).
Is there an answer key?
Absolutely! Each passage has an answer key as well as a completed colored picture.
What prep work is needed?
None! Simply print then pass out.
Do you have a digital version?
Yes! Click HERE. The passages and questions are the same as the digital version.
More questions?
Email me at Questions@GlitterinThird.com
Click the green star to follow Glitter in Third and be notified when new products are uploaded. New products are always 50% off for the first 48 hours they are posted.
TEACHERS LIKE YOU SAID
☆☆☆ Emily A. said, "My students are hooked on these! I love them. I can see if the kids followed directions by checking the picture!"
☆☆☆ Megan J. said, "My students LOVE these passages. I especially like that the skills are targeted and the text is written at a high level with great vocabulary."
☆☆☆ McKenna G. said, "Great addition to have for my students who are struggling readers. This is a confidence booster for my students! I love how it makes them go back into the text to find answers."
--------------------------------------------------------------------------------
Other 3rd Grade Favorites:
------------------------------------------------------------------------
Copyright © Glitter in Third by Kelly Chapman
Please purchase additional licenses if you intend to share this product.
Report this resource to TPT
Standards
to see state-specific standards (only available in the US).
Recount stories, including fables and folktales from diverse cultures, and determine their central message, lesson, or moral.
Compare and contrast two or more versions of the same story (e.g., Cinderella stories) by different authors or from different cultures.
By the end of the year, read and comprehend literature, including stories and poetry, in the grades 2–3 text complexity band proficiently, with scaffolding as needed at the high end of the range.
Refer to parts of stories, dramas, and poems when writing or speaking about a text, using terms such as chapter, scene, and stanza; describe how each successive part builds on earlier sections.
Distinguish their own point of view from that of the narrator or those of the characters.