45 Sets of 2nd Grade Math Review Boom Cards BUNDLE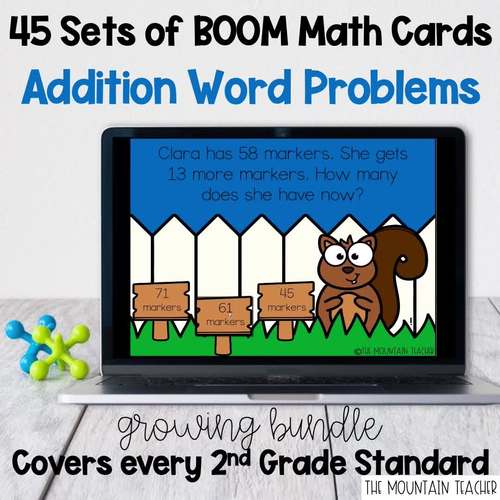 ;
Compatible with Digital Devices
The Teacher-Author has indicated that this resource can be used for device-based learning.
Products in this Bundle (45)
showing 1-5 of 45 products
Description
Engage students in 2nd grade math review throughout the year or review at the end of the year with these engaging math BOOM cards. This growing bundle will include 45 boom decks that cover every common core math standard.
This Resource Includes:
Operations and Algebraic Thinking:
Number and Operations in Base Ten:
Measurement and Data:
Geometry
Each Boom Learning Deck Includes:
30 cards, rotating through 10 cards at a time
3 Multiple self-checking multiple choice answers on each card
Boom Learning Cards are:
Interactive
Self-Grading
Paperless
Ever-Changing (students will never get the same deck twice)
Boom Learning Cards are used on the Boom Learning website.
Sign up for a FREE membership by clicking here
Students must have an internet connection to play
Boom Cards can be used on an app OR web browser
Upgrade to premium for detailed student reports and upgraded assignment options
Please be sure you understand exactly what Boom Learning Decks are before purchasing. After purchasing this resource, you will download a PDF that will contain a link to the boom deck you have purchased. Login and click the link, which will automatically add the Boom Learning Deck to your library for immediate use.
Please ask any questions before purchasing this resource. Don't forget to leave feedback below for credits toward future purchases.
Report this resource to TPT
Standards
to see state-specific standards (only available in the US).
Use addition and subtraction within 100 to solve one- and two-step word problems involving situations of adding to, taking from, putting together, taking apart, and comparing, with unknowns in all positions, e.g., by using drawings and equations with a symbol for the unknown number to represent the problem.
Fluently add and subtract within 20 using mental strategies. By end of Grade 2, know from memory all sums of two one-digit numbers.
Determine whether a group of objects (up to 20) has an odd or even number of members, e.g., by pairing objects or counting them by 2s; write an equation to express an even number as a sum of two equal addends.
Use addition to find the total number of objects arranged in rectangular arrays with up to 5 rows and up to 5 columns; write an equation to express the total as a sum of equal addends.
Recognize and draw shapes having specified attributes, such as a given number of angles or a given number of equal faces. Identify triangles, quadrilaterals, pentagons, hexagons, and cubes.