4th & 5th Grade Reading Intervention : Printable & Digital Reading with Audio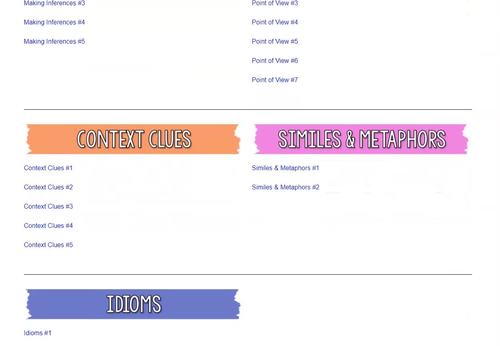 ;
Zip

Google Apps™
Includes Google Apps™
This bundle contains one or more resources with Google apps (e.g. docs, slides, etc.).
What educators are saying
Great resource. Enjoyed the digital and print format. Worked great for reteaching and review before state testing.
My students loved this resource. I really like that it has the option to read it to them, it was a good fit for my sped students.
Products in this Bundle (2)
Description
Are you a 4th or 5th grade teacher with students who read on a 2nd or 3rd grade reading level? This BUNDLE of my reading intervention printables will help you ensure those readers are still having access and practice with grade level standards and skills.
Note: This reading intervention set now includes TWO digital versions with audio components! In Google Classroom or using the web-based version, the students can click an audio button and listen to the story read aloud by a professional voice talent actor. Your students will love listening to the stories read aloud!
I know firsthand that it is incredibly challenging to meet our readers where they are at while still exposing them to instruction and independent practice in grade level reading skills and standards.
This BUNDLE of reading intervention skill printables was created to provide grade level practice for those readers. The stories and texts included in this reading intervention resource are written at a 2nd/3rd grade reading level but provide practice in grade level skills for 4th and 5th grade.
The stories and texts are also written with appropriate themes, contexts, and topics. for upper elementary students. (Note: These are still "parent appropriate themes and contexts." They are definitely more engaging than reading stories meant for 2nd graders, but they are still school-appropriate.)
There are 31 practice printables included in the Fiction Reading Intervention Set. Below you will find the skill breakdown and number of printables per skill.
Story Elements - 5 Printables
Identifying Theme - 5 Printables
Inferences - 5 Printables
Point of View - 7 Printables (2 Paired)
Context Clues - 5 Printables
Similes and Metaphors - 2 Printables
Idioms - 2 Printables
There are 35 practice printables included in the Nonfiction Reading Intervention Set. See below for the breakdown by skill.
Main Idea - 5 Printables
Text Structure - 7 Printables (2 Paired)
Inferences - 5 Printables
Firsthand and Secondhand Accounts - 6 Printables (2 Paired)
Multiple Accounts of the Same Topic - 2 Printables (Paired)
Main Point - 5 Printables
Context Clues - 5 Printables
The reading intervention passages are divided into sets by skill.
Each set includes several text sets.
Each set includes a title page, a one page text with embedded audio of the story being read aloud, and a response page with questions (and the text repeated but without audio). The response page also has text boxes for the students to type in their answers.
Note: If your school has strict google drive settings in place, your students may not be able to access the audio files without your district coordinator approving the site.
The web-based version allows you to send the URL to your students so they can listen to and read the story online.
They will not be able to answer the questions on the page, so you will need to provide directions for how they should answer the questions.
You must post the URL to the stories in SECURE, PASSWORD PROTECTED platforms ONLY. You may NOT post the URL on the open, searchable internet.
Steps for Assigning the Web-Based Digital Reading Intervention
1. Click on the main website (see PDF) or use the excel spreadsheet (see folder) to find the skill you want to assign.
2. Copy and paste the URL of the story and send to your students (via a SECURE platform).
3. In your instructions, tell the students how to respond to the questions.
Here are some ideas:
Have students write the answers to the questions in a notebook or on a piece of paper.
Have students type their answers in a Google Doc and submit it to you via Google Classroom.
Have students use an app or other site to audio record their responses.
Reading Centers or Stations
Re-teaching
Small Group Instruction
Independent Practice
Reading Homework
Need More Resources to Engage Your 4th and 5th Grade Readers?
*These resources include grade level texts unless specified.*
Paired Passage Differentiated and Scaffolded Texts and Questions
Report this resource to TPT