4th Grade Go Math 1.4 Round Numbers Bundle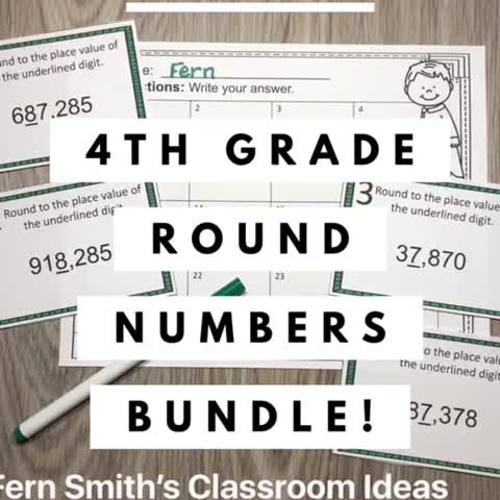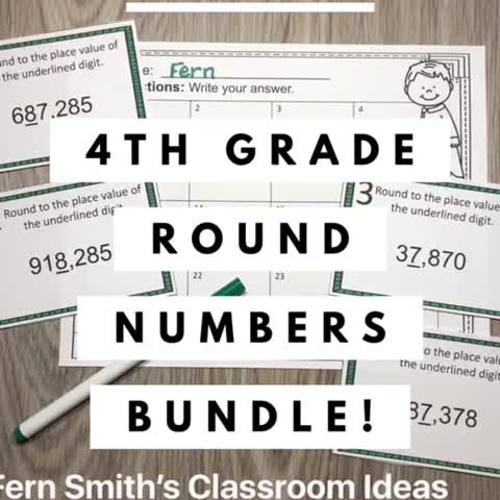 Created By
Fern Smith's Classroom Ideas
Products in this Bundle (2)
You will love how easy it is to prepare these math task cards for your small groups, centers, tutoring, scoot, read the room, Around the World, homework, seat work, so many ways to use these task cards that the possibilities are endless. Your students will enjoy the freedom of task cards while learn

Looking to add some excitement to your center time? These highly engaging center games are quick and easy to prep and can be used for a variety of games, concentration, match game, go fish, gin rummy, scoot, read the room, self checking, even perfect for assessments. Once your students play with thi
Also included in
This bundle has center games and task cards for all of Fourth Grade Go Math Chapter 1, Place Value, Addition, and Subtraction to One Million for 20% off! You will love how easy it is to prepare this easy to prep bundle for your math class. Perfect for small groups, read the room, centers, scoot, tut

This bundle has center games and task cards for ALL of my Fourth Grade Go Math resources for 20% off! Please read the listing for a list of included sections. You will love how easy it is to prepare this easy to prep bundle for your math class. Perfect for small groups, read the room, centers, scoot

$441.36

$551.70

Save $110.34
Bundle Description

Standards
This bundle has task cards and center games for Fourth Grade Go Math 1.4 Round Numbers. You will love how easy it is to prepare this easy to prep bundle for your math class. Perfect for small groups, read the room, centers, scoot, tutoring, Around the World whole class game, homework, seat work, so many ways to use these task cards that the possibilities are endless. Your students will enjoy reviewing important skills with the center games! Perfect for an assessment grade for the week or for a substitute teacher day!
This bundle has the following:
Task Cards Include:
28 Task Cards
1 Recording Sheet
1 Answer Key / Student Self-Checking Sheet
Center Game Include:
* One page of problems
* Two answer mats
* Adorable Cover for the center
Thank you,
Fern Smith *Store * Blog * Pinterest *
© Fern Smith's Classroom Ideas
to see state-specific standards (only available in the US).
Use place value understanding to round multi-digit whole numbers to any place.
Report this Resource to TpT