4th Grade Math Back to School Activities w/ Digital Back to School Activities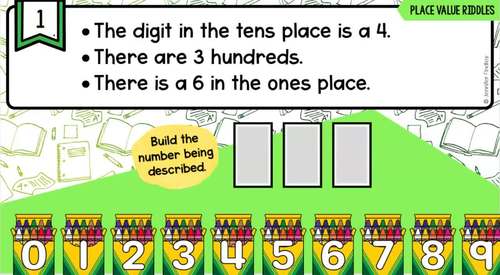 ;
PDF

Google Apps™
14 Centers + Google Slides Versions
Includes Google Apps™
The Teacher-Author indicated this resource includes assets from Google Workspace (e.g. docs, slides, etc.).
What educators are saying
My students loved the stations! Since I teach 4th grade resource, we didn't use all of them during the first week of review, but the ones I did pull were a big hit! I love Jennifer's products!
I use this as a center to review 3rd grade skills for my new 4th graders and they enjoy it. Thank you!
Also included in
4th and 5th grade holiday and seasonal math centers and activities for the ENTIRE year!Note: The math activities and centers included in this resource are available in printable, color versions AND digital versions.About the Math Activities and CentersThis HUGE holiday math center bundle includes 18

Price $54.00

Original Price $99.50

Save $45.50
Description
Start your year off with these back-to-school math centers that review 3rd grade math skills (making them perfect for the beginning of 4th grade).
Note: The back to school math activities are now available in digital versions as well as printable activities! See pages 4-11 of the PDF for the details and links.
This back-to-school resource includes 14 math centers that
These back-to-school math activities are perfect for the beginning of 4th grade and before you have taught new skills.
These back-to-school math activities and centers can be used at the beginning of the school year to teach math center procedures and/or small group procedures.
The activities can be completed by the students while you do small group math benchmarking or math conferencing with students.
Here are the specific back-to-school math activities included:
Place Value Riddles
Place Value Review
Crayon Match-Up
School-Themed Word Problems
School Supply Arrays
Back-to-School Cupcakes
Back-to-School Cupcakes
Back-to-School Word Problems
Pencil Box Equations
Folder Fractions
Comparing Fractions
Measuring Pencils
Sticky Note Perimeter
Quadrilateral Sort
3rd Grade Math Skills:
Place Value
Rounding, Comparing, and Writing Numbers
Representing Whole Numbers
Addition and Subtraction Word Problems
Arrays and Writing Matching Story Problems
Multiplication Basic Facts
Division Basic Facts
Multiplication and Division Basic Facts Word Problems
Finding Unknown In Multiplication and Division Equations (Basic Facts)
Equivalent Fractions
Comparing Fractions
Measuring In Inches On ½- and ¼- Inch Rulers
Perimeter of Regular and Irregular Shapes
Quadrilaterals
•The digital back to school math activities are available for use with Google Slides. Click here for a step-by-step guide for assigning Google Slides in Google Classroom.
•Each digital math activity includes a direction page with an image of the center.
•Recording sheets are not included for the digital math centers since the students do all of the work on the slides. However, you could use the printable recording sheets for extra accountability.
*The content for the digital math activities is the SAME as the printable math activities. It has been modified for optimal digital use and engagement.
•For answer keys, please refer to the digital answer key or the printable answer keys.
•Check out the video preview to see the digital back to school activities.
Want more non-seasonal math centers (printable + digital) for 4th grade?
***Click here to see 4th grade math centers that are non-seasonal and can be used all year.
4th Grade Math Error Analysis Math Tasks
Total Pages
14 Centers + Google Slides Versions
Report this resource to TPT