4th Grade Math Curriculum Unit 10: Geometry | Triangles, Quadrilaterals, Angles+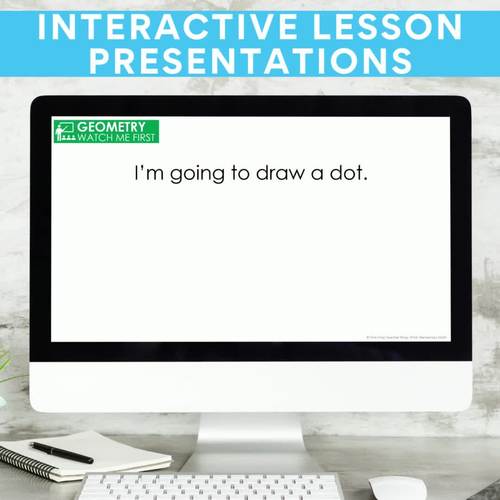 ;
What educators are saying
This is a great resource to use. It is a well planned resource, and it has everything that you would need to teach the unit.
These units are amazing and simple. I love how short the lessons are and the practice pages are great.
Also included in
The Simplified Math Curriculum™ is an all-inclusive 4th Grade Math Curriculum that includes EVERYTHING you need to Teach, Practice, and Assess ALL Math Standards!! This curriculum was designed to be effective in teaching the standards, easy to implement for teachers of all levels, and engaging for

Price $189.99

Original Price $319.89

Save $129.90
Description
This all-inclusive 4th Grade Math Unit from The Simplified Math Curriculum™ includes EVERYTHING you need to Teach, Practice, and Assess Geometry!! This curriculum was designed to be effective in teaching the standards, easy to implement for teachers of all levels, and engaging for students.
⭐WATCH THIS VIDEO to take a look INSIDE The Simplified Math Curriculum
⭐SAVE BIG when you get the FULL YEAR BUNDLE!!
Looking for MORE Units? See ALL Available Units !
✉ Get NOTIFIED when NEW Units & Grade Levels become available!
✔ DOWNLOAD a FREE Sample Lesson & Activities
★★★WHAT'S INCLUDED★★★
PLANNING TOOLS
Unit Flow Chart: to help with pacing
Teaching Roadmaps for each lesson: includes objectives, materials, notes, misconceptions, differentiation, etc.
Support Materials: We put together instructions on how to use everything included in this unit. We've got your back!
INSTRUCTIONAL TOOLS
: (PowerPoint & Google Slides) - These lessons are interactive and engaging, use research-based teaching strategies, and include a modeling section, a guided practice section, and an independent practice section.
A Student Math Journal for note-taking, guided practice, and independent practice.
Daily Warm-Ups that focus on number sense and fluency as well as review
Daily Self-Reflection Slips for the end of each lesson
"Extra Practice" activities for every lesson to extend learning and mastery
8 Anchor Charts (interactive and complete anchor charts)
End of Unit Review Game
Math Vocabulary Book
Printable Math Manipulatives
ASSESSMENT TOOLS (Printable & Google Forms)
Unit Pre-Test
2 Check-Point Quizzes
Unit Post-Test
Data Charts to help you analyze your students' test results
☝☝ Check out the Preview for more details! ☝☝

: (3+ Weeks)
UNIT INTRO: Pre-Test & Activity
LESSON 1: Geometric Terms
LESSON 2: Types of Angles
LESSON 3: Types of Lines
LESSON 4: Classify Triangles by Angle Type
LESSON 5: Classify Triangles by Sides
LESSON 6: Classify Quadrilaterals
LESSON 7: Practice Classifying Quadrilaterals
LESSON 8: Identify Lines of Symmetry
LESSON 9: Draw Lines of Symmetry
LESSON 10: Common Angle Measurements
LESSON 11: Using a Protractor
LESSON 12: Finding Unknown Angles
UNIT REVIEW GAME
UNIT CLOSURE: Post-Test & Activity
❤❤ Why Teachers Love This Resource! ❤❤
The Lesson Presentations are "teacher gold". They take the guesswork out of teaching math, are ready-to-go, and help you walk your students through learning each standard.
ALL materials are No-Prep or Low-Prep! Save TIME!
Activities promote deep thinking and understanding.
The layout and design are clean and not distracting. The focus is on the math!
Assessments come in Google Forms, so they automatically grade themselves! (printable version also included).
About The Simplified Math Curriculum™
The Simplified Math Curriculum™ was created by two passionate and experienced educators: Greg Coleman from Mr. Elementary Math and Kristin Rivera from One Stop Teacher Shop.
As classroom teachers, curriculum designers, professional development presenters, a math intervention specialist, a math curriculum coach, and a homeschooling parent, Kristin and Greg have pulled from their professional and personal experiences to develop a well-rounded curriculum that supports student learning and promotes quality instruction.
It was our goal when designing this curriculum to make it…
Effective in teaching the standards
Easy to implement for teachers of all levels
Engaging for students
The Simplified Math Curriculum™ provides you with everything you need to TEACH, PRACTICE, and ASSESS all grade-level standards.
If you would like to contact us about pricing on a license for an ENTIRE school, county, or district, please email: kristin@onestopteachershop.com
★★★★★★★★★★★★★★★★★★★★★★★★★★★★★★★★★★★★★★★★★★★★★★★★★★★★★★
TERMS OF USE - © One Stop Teacher Shop, Inc., © Mr. Elementary Math
This item is a paid digital download from my TpT store
www.teacherspayteachers.com/Store/One-Stop-Teacher-Shop
As such, it is for use in one classroom only. This item is also bound by copyright laws. Redistributing, editing, selling, or posting this item (or any part thereof) on the Internet are all strictly prohibited without first gaining permission from the author. Violations are subject to the penalties of the Digital Millennium Copyright Act. Please contact me if you wish to be granted special permissions!
Teaching Duration
3 Weeks
Report this resource to TPT
Standards
to see state-specific standards (only available in the US).
Recognize angles as geometric shapes that are formed wherever two rays share a common endpoint, and understand concepts of angle measurement:
An angle is measured with reference to a circle with its center at the common endpoint of the rays, by considering the fraction of the circular arc between the points where the two rays intersect the circle. An angle that turns through 1/360 of a circle is called a "one-degree angle," and can be used to measure angles.
An angle that turns through 𝘯 one-degree angles is said to have an angle measure of 𝘯 degrees.
Measure angles in whole-number degrees using a protractor. Sketch angles of specified measure.
Recognize angle measure as additive. When an angle is decomposed into non-overlapping parts, the angle measure of the whole is the sum of the angle measures of the parts. Solve addition and subtraction problems to find unknown angles on a diagram in real world and mathematical problems, e.g., by using an equation with a symbol for the unknown angle measure.