4th Grade Math Exit Slips - with Printable and Digital Math Exit Slips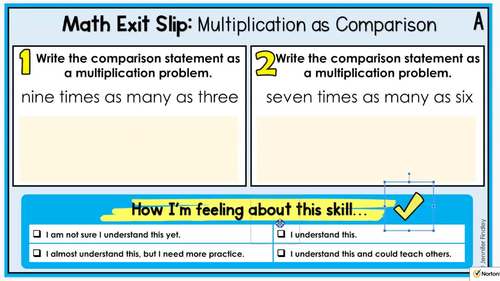 ;
PDF

Google Apps™
Includes Google Apps™
The Teacher-Author indicated this resource includes assets from Google Workspace (e.g. docs, slides, etc.).
What educators are saying
These are such great exit slips! They are so easy to use and are fantastic for gauging a students mastery.
When I moved to 4th, I just had to get these. I used them in 5th and found them extremely helpful to determining students needs.
Description
Math exit slips or exit tickets are the perfect way to assess your students in a formative way on a math skill. This resource includes over 200 math exit slips for 4th grade. These math exit slips will easily last you the entire school year.
Note: This resource now includes digital math exit slips for use with Google Slides™. See pages 4-9 of the of the PDF file for access to the digital math exit slips.
The resource is common core aligned and an alignment is provided (via the table of contents).
The standard is not listed on the actual exit slip so if you do not teach common core, you can still use these. If you teach common core standards, use the table of contents to quickly find the standards you are teaching.
I have also included math exit slips for embedded skills and exit slips to meet the needs of the substandards.
Each standard has anywhere from 2-10 exit slips depending on the depth and requirements of the standard. See the preview for the complete table of contents of skills included.
The exit slips include a mixture of computation skills, word problems, and using models to ensure that all aspects of the standards are addressed.
Each skill comes with at least two versions (labeled as A or B in the upper right corner of the exit slip). This allows you to assess the skill two times (or more) throughout your instruction.
Most of the exit slips come four to a page, but there are several that needed to be two to a page to allow enough workspace for the students.
Each exit slip also includes a section for the student to self-assess their knowledge of the skill.
These 4th grade math math exit slips are perfect for assessing math instruction, math centers, or independent math work.
Answer keys are included.
Need 5th grade math? Click here to see 5th grade math exit slips.
This resource now includes digital math exit slips for use with Google Slides.
The exit slips have been redesigned for optimal digital use with horizontal layouts and some moveable pieces.
The self-assessment section of the digital math exit slips has moveable check marks that the students will move to indicate their level of understanding.
See pages 4-9 of the PDF for information and links to the digital math exit slips.
More 4th Grade Math Centers and Activities
4th Grade Math Self-Grading Digital Practice
4th Grade Math Centers for EVERY Common Core Standard
4th Grade Error Analysis Math Tasks *Digital + Printable
4th Grade Math Sorts *Digital + Printable
Report this resource to TPT