4th Grade Math Exit Tickets - Printable & Digital Math Exit Slips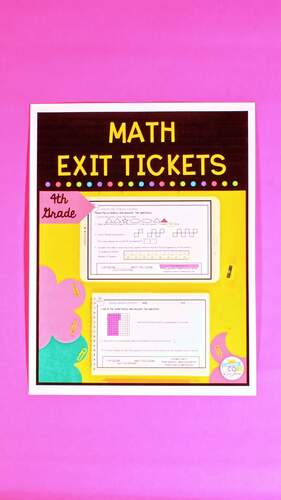 ;
Zip

Google Apps™
Includes Google Apps™
The Teacher-Author indicated this resource includes assets from Google Workspace (e.g. docs, slides, etc.).
Description
✏️ Do your students understand the math skills you're teaching them? These 4th grade math exit tickets in both printable and Google Slides include 112 short quick check math exit tickets / math exit slips covering each fourth grade math standard, so you'll know who gets it and who needs a little extra help. And these are REALLY effective. There are 4 exit tickets for every math standard, with each one increasing in difficulty - so you can see where the breakdown may be and target your instruction and support accordingly. The questions are presented in a variety of ways including short response, multiple choice, drawing, written response, etc., to further help you understand student progress and foster success.
⭐️ Excellent quick assessment at the end of a lesson
⭐️ Quick to administer and easy to grade
⭐️ Helps teachers determine next steps and identify students who need more help
⭐️ Holds students accountable to daily lessons
⭐️ Common Core aligned, but can be applied to many state standards
Exit Tickets for Every 4th Grade Math Standard and Domain!
Operations & Algebraic Thinking
Numbers & Operations in Base Ten
Numbers & Operations in Fractions
Measurement & Data
Geometry
A total of 112 exit tickets!
Exit tickets fit two to a page to help save paper and printing costs.
For copyright information and a summary of how this resource can and cannot be used, please review the Terms of Use Page.
***************************************************************************
Related Products:
3rd Grade Math Exit Tickets with Google Slides for Distance Learning
3rd Grade Math Common Core Foldable Activities
Math Review - 3 Week Home Learning Packet for 3rd Grade Distance Learning
***************************************************************************
How to get TPT credit to use on future purchases:
Please go to your My Purchases page (you may need to login). Beside each purchase, you'll see a Provide Feedback button. Simply click it and you will be taken to a page where you can give a quick rating and leave a short comment for the product. Each time you give feedback, TPT gives you feedback credits that you use to lower the cost of your future purchases. I value your feedback greatly as it helps me determine which products are most valuable for your classroom so I can create more for you. ☺
Be the first to know about my new discounts, freebies, and product launches:
Look for the green star next to my store logo and click it to become a follower. Voila! You will now receive email updates about this store. ☺
Follow me on Facebook for updates on new products and sales
Join my email list by visiting my website and receive a free resource ☺
*****************************************************************************
Report this resource to TPT
Standards
to see state-specific standards (only available in the US).
Know relative sizes of measurement units within one system of units including km, m, cm; kg, g; lb, oz.; l, ml; hr, min, sec. Within a single system of measurement, express measurements in a larger unit in terms of a smaller unit. Record measurement equivalents in a two-column table. For example, know that 1 ft is 12 times as long as 1 in. Express the length of a 4 ft snake as 48 in. Generate a conversion table for feet and inches listing the number pairs (1, 12), (2, 24), (3, 36),...
Use the four operations to solve word problems involving distances, intervals of time, liquid volumes, masses of objects, and money, including problems involving simple fractions or decimals, and problems that require expressing measurements given in a larger unit in terms of a smaller unit. Represent measurement quantities using diagrams such as number line diagrams that feature a measurement scale.
Apply the area and perimeter formulas for rectangles in real world and mathematical problems. For example, find the width of a rectangular room given the area of the flooring and the length, by viewing the area formula as a multiplication equation with an unknown factor.
Make a line plot to display a data set of measurements in fractions of a unit (1/2, 1/4, 1/8). Solve problems involving addition and subtraction of fractions by using information presented in line plots. For example, from a line plot find and interpret the difference in length between the longest and shortest specimens in an insect collection.
Recognize angles as geometric shapes that are formed wherever two rays share a common endpoint, and understand concepts of angle measurement: