4th Grade Math Games - Math Review - Board Games for the Entire Year BUNDLE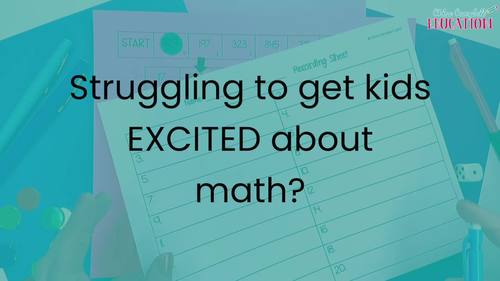 ;
Easel Activities Included
Some resources in this bundle include ready-to-use interactive activities that students can complete on any device. 
Easel by TPT is free to use!
Learn more
.
Products in this Bundle (38)
showing 1-5 of 38 products
Bonus
All games in one easy PDF download!
Description
You've found the perfect 4th grade math review! Your 4th graders will LOVE practicing or reviewing important math concepts with these hands-on and engaging math board games.  This year-long bundle has math games for all the 4th grade standards. A great on-going math center, practice after a lesson, small group instruction activity or even early finisher activity.  You can also use these math games as a spiral review throughout the year.  A fun test prep review, too!
Your students will love completing these math board games while mastering the content standards along the way.  This full year bundle includes 38 sets of math board games, with each set containing lots of practice problems.  View the preview above to see a detailed look at everything in this huge bundle.  You can also find a list of all the skills and concepts included below.  Save 50% by purchasing this math board game year long bundle for 4th grade.
The following items are included in this 100+ page resource:
• Board Games List with Standards
• Directions Page for Students
• 38 Board Games
• Answer Keys for each Board Game
• Recording Sheet for Students (5 different options!)
This resource includes the following board games:
Identify Points, Lines, Line Segments, Angles
Identify Points, Lines, Line Segments, Angles in 2D Shapes
Identify Shapes: Classify 2D Figures
Classify Triangles
Lines of Symmetry
Measurement Conversions Larger to Smaller Units
Measurement Word Problems
Area and Perimeter Word Problems
Fraction Line Plot Word Problems
Identify Angles
Measure Angles
Find Unknown Angle Measurements
Compare Values of digits x 10
Whole Numbers in Word and Expanded Form
Compare Whole Numbers
Round Whole Numbers
Subtract Whole Numbers
Add Whole numbers
Multiplication Area Models
Division Area Models
Equivalent Fractions
Compare Fractions with Unlike Denominators or Numerators
Add and Subtract Fractions with Like Denominators
Add and Subtract Mixed Numbers with Like Denominators
Add and Subtract Fractions with Like Denominators Word Problems
Multiply Fractions by Whole Numbers
Denominators of 10 and 100
Convert Decimals to Fractions and Fractions to Decimals
Compare Decimals
Multiplication by Comparison
Multiply and Divide Word Problems
Multi-Step Word Problems
Factors
Multiples
Prime or Composite Numbers
Patterns
What's the best way to use this board game? 
Math Centers or Stations 
Whole Group Practice
Morning Work 
Early Finisher Activities  
Substitutes 
Send home to engage students' families
Tips for Playing this Math Game: 
Read the directions to the students and model how to play. 
Be prepared with dice/spinner and game pieces for each player (paperclips, pencil top erasers, pieces from another game, etc.) 
Every student should solve every problem - not just the person who rolls.
Create groups of 2-4 students. The lower number of students means the more focused students are while playing.
Remind students that the focus is not playing the game but that's just an added bonus! The focus should be on practicing math skills. 
Show students how to compare and discuss answers. Did you both get the same answer? If students get different answers, ask them to solve the problem using a different strategy or help coach each other through the problem. 
Do your students need math practice? Students will be playing a game and will often forget that they are even practicing math skills! Research shows that challenge-based gamification in the classroom leads to an increase of 34.755% in student performance (ScienceDirect, 2020). 
The best part? Your students will quickly learn the instructions to play the board game and will get right to work on playing (and practicing) their math skills. This resource is easy to use and requires very little prep. It's also printer friendly so you'll only use black ink! 
★ Check out the preview to see exactly what is included in this WHOLE YEAR bundle!
★ Printer Friendly Resource! All pages are in black ink ONLY. If you are looking to add color, feel free to print on colorful cardstock paper.
★ Each game is sold separately.
★ Looking for games for 2nd grade? 2nd Grade Math Board Games YEAR LONG Bundle!
★ Looking for games for 3rd grade? 3rd Grade Math Board Games YEAR LONG Bundle!
★ Looking for games for 5th grade? 5th Grade Math Board Games YEAR LONG Bundle!
★ Looking for games for 6th grade? 6th Grade Math Board Games YEAR LONG Bundle!
Teachers Like You Say This: 
⭐️⭐️⭐️⭐️⭐️ "Very easy to use and I truly believe students learn best through game play." -Tony
⭐️⭐️⭐️⭐️⭐️ "My students love playing games and a simple, easy prep game like this is a great addition to math centers, early finisher activities, and review days." -Nicole
___________________________________
Go to your My Purchases page (log in first). Click on the Provide Feedback button to leave a rating and a short comment. You'll earn TPT credits, which you can redeem on future purchases!
___________________________________
You may also like…
→
→
→
___________________________________
Having difficulty with a file?
Visit the FAQs section, submit a help ticket, or ask a question on the Q& A tab before leaving feedback.
___________________________________
Copyright © Chloe Campbell
Permission to copy for single classroom use only.
Please purchase additional licenses if you intend to share this product.
Questions or comments? Please email me at: chloecampbelleducation@gmail.com
Report this resource to TPT
Standards
to see state-specific standards (only available in the US).
Know relative sizes of measurement units within one system of units including km, m, cm; kg, g; lb, oz.; l, ml; hr, min, sec. Within a single system of measurement, express measurements in a larger unit in terms of a smaller unit. Record measurement equivalents in a two-column table. For example, know that 1 ft is 12 times as long as 1 in. Express the length of a 4 ft snake as 48 in. Generate a conversion table for feet and inches listing the number pairs (1, 12), (2, 24), (3, 36),...
Use the four operations to solve word problems involving distances, intervals of time, liquid volumes, masses of objects, and money, including problems involving simple fractions or decimals, and problems that require expressing measurements given in a larger unit in terms of a smaller unit. Represent measurement quantities using diagrams such as number line diagrams that feature a measurement scale.
Apply the area and perimeter formulas for rectangles in real world and mathematical problems. For example, find the width of a rectangular room given the area of the flooring and the length, by viewing the area formula as a multiplication equation with an unknown factor.
Make a line plot to display a data set of measurements in fractions of a unit (1/2, 1/4, 1/8). Solve problems involving addition and subtraction of fractions by using information presented in line plots. For example, from a line plot find and interpret the difference in length between the longest and shortest specimens in an insect collection.
Recognize angles as geometric shapes that are formed wherever two rays share a common endpoint, and understand concepts of angle measurement: