50 Sight Word Poems for Shared Reading (SET 2 of My Sight Word Poems)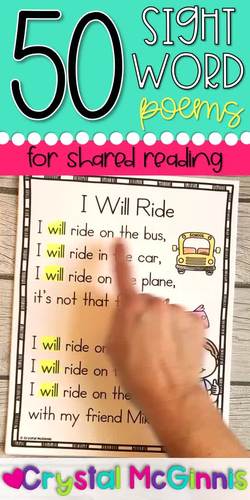 ;
What educators are saying
My kiddos love their poetry folders. I love the font size and the ease that my children can use this. It makes a great resource for children to use during independent reading time.
These poems work great in a poetry binder! The poems are enjoyable and easy for kids to remember. It's a fun way for kids to practice sight words in context. Thanks!
Description
This is set 2 of My Sight Word Poems for Shared Reading! This 50 Poem set has DIFFERENT sight words than my 40 Sight Word Poems for Shared Reading, and are a little more challenging! The poems area little bit longer than my first set, and the words are slightly more difficult. They could be used with multiple grades for differentiation! These poems are NOT THEMED or SEASONAL. They can be used anytime throughout the school year. Just match them to your sight word curriculum, and you are ready to go! There is a table of contents in the preview. Use that to check the sight words included!
I created this set of sight word poems to use during my shared reading time in my classroom. This set of 50 poems will provide you with one poem for each week of school. These predictable poems are filled with sight words so that your students can learn their sight words in "text." My students will highlight the sight words and keep them in a poetry notebook. (cover provided). We will also look for rhyming words, punctuation, context clues, and more.
The sight words included in this set are:
he, will, know, how
she, went, to, the
please, clean
pretty
will, ride
would, never
before
some, people, like
will, write
which, way
their
get, them
clean, out
it, was
we, had, long
time
called, my
who, will, go
do, know, about
these, are, your
have, you, been
ate, part
some, words, are
these, are, my
were, you
want, other
she, had, pet
what, will, we
water
want, more
is, it, time
there
after
get, your
down, by
may
how, do
we, each, have
come, with
now, we, will
than
are, from
give
small
her
when, is
use, you
today, we, will
will, watch
every, friend, should
THIS SET IS NOT INCLUDED IN MY SIGHT WORD BUNDLE THAT WAS COMPLETE IN 2018.
Report this resource to TPT