5th Grade Build It Games Yearlong Bundle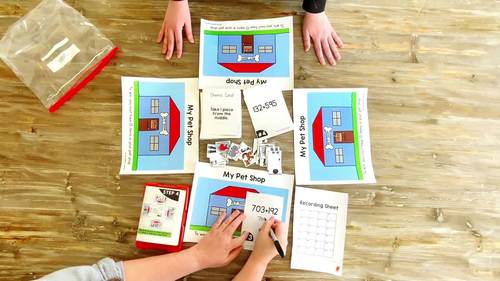 ;
Description
"Build It" math games are easy-to-learn 5th grade math games that are fun and engaging to ALL students. Students get to build a castle, a garden, a pet shop, and MORE! These 5th grade math activities are perfect for partner work, small groups, or math centers. There are 40 fifth grade math games included and 40 math task card sets. Once you teach students how to play the game, they can play it over and over again with a variety of skills. This is the MEGA BUNDLE!
Students get to "build" a different theme in every game. They add a piece each time they answer a question correctly. The first one to finish wins!
40 Build It Games
40 Sets of 5th Grade Math Task Cards
easy to play
easy to differentiate
color and black & white versions
answer keys
Build a Baseball Field
Build a Basketball Court
Build a Football Field
Build a Soccer Field
Build a Volleyball Court
Build an Ice Hockey Rink
Build an Aquarium
Build a Transportation Scene
Build a Pet Shop
Build a Dog Park
Build a Campsite
Build a Beach Scene
Build a Fall Scene
Build a Snow Day
Build a Spring Scene
Build a Farm
Build a Garden
Build a Park
Build a Swimming Pool
Build a Town
Build a Carnival
Build a Castle
Build a Comic
Build a Dinosaur Scene
Build a Pirate Island
Build a Robot
Build a Space Scene
Build a Theme Park
Build a Treasure Map
Build an Ocean Scene
Build a Birthday Party
Build a Breakfast
Build a Dinner Plate
Build a Dozen Donuts
Build a Grocery Cart
Build a Kid's Bedroom
Build a Pizza
Build a Science Lab
Build an Artist Studio
Build an Ice Cream Sundae
2 by 4 Digit Multiplication
3 by 2 Digit Multiplication
3 by 3 Digit Multiplication
3 by 1 Digit Division: No Remainders
3 by 1 Digit Division: With Remainders
4 by 1 Digit Division: No Remainders
4 by 1 Digit Division: With Remainders
4 by 2 Digit Division: No Remainders
4 by 2 Digit Division: With Remainders
Multiplication Facts 1-12
Add and Subtract Mixed Numbers with Unlike Denominators
Add and Subtract Mixed Numbers Word Problems
Add Fractions with Unlike Denominators
Subtract Fractions with Unlike Denominators
Divide Fractions by Whole Numbers
Division Facts 1-12
Fractions as Division
Multiply Fractions by Fractions
Multiply Fractions by Mixed Numbers
Multiply Fractions by Whole Numbers
Add Decimals
Subtract Decimals
Multiply Decimals
Divide Decimals
Round Decimals
Compare Decimals
Decimals in Expanded Form
Decimals in Word Form
How Many Times Larger
Multiply by Multiples of 10
Identify Shapes
Hierarchy of Shapes
Coordinate Graphing
Line Plots
Measurement Word Problems
Multiplication as Scaling
Order of Operations
Powers of 10
Finding Volume
Write Simple Expressions
You can pair any set of task cards with any game! OR, replace any set of task cards with your own set. These games are made to flexible and fit what content you are currently teaching.
Step 1: Each player gets a background to build their theme on. Playing cards and building pieces go in the middle.
Step 2: Each time you get an answer correct, you earn a piece for your game mat.
Step 3: Chance cards are provided to spice up gameplay. You never know who's going to win with these included!
Step 4: The first person to finish getting 10 items on their game mat wins!
Don't teach math? Haven't covered one of the concepts yet? No problem! Simply swap out the set of task cards you don't need with a set you'd like to use instead.
The 40 Build It Games can be used with ANY set of task cards (reading, math, science, social studies)….the possibilities are endless!
Simple, printable directions are included for you to place next to each game.
Choose between a color version for vibrant colors or black and white to save on ink for each Build It Game.
Short on time? Print the black and white version and let kids color their own decorations.
All 5th grade Build It games are aligned to common core standards and Texas TEKS.
These Build It Games are great as 5th grade math activities, 5th grade math spiral review, 5th grade math review, 5th grade math games, 5th grade math centers, partner activities, whole class games, independent math games, and more.
-----------------------------------------------------------------------------------------
You May Also Like:
5th Grade Classroom Transformations
5th Grade Enrichment Math Activities
5th Grade Multiplication and Division Fact Fluency
------------------------------------------------------------------------------------------
Grammar Build It Games ( Set 1)
Grammar Build It Games (Set 2)
Fiction Build It Games (Reading)
Nonfiction Build It Games (Reading)
------------------------------------------------------------------------------------------
Other Information:
Follow me and be notified when new products are uploaded. New products are always 50% off for the first 24 hours they are posted.
Thank you so much,
The Lifetime Learner
Copyright information:
Purchasing this product grants permission for use by one teacher in his or her own classroom. If you intend to share with others, please purchase an additional license at a discount!
Questions?
Email me at lindsaythelifetimelearner@gmail.com
Report this resource to TPT
Standards
to see state-specific standards (only available in the US).
Convert among different-sized standard measurement units within a given measurement system (e.g., convert 5 cm to 0.05 m), and use these conversions in solving multi-step, real world problems.
Make a line plot to display a data set of measurements in fractions of a unit (1/2, 1/4, 1/8). Use operations on fractions for this grade to solve problems involving information presented in line plots. For example, given different measurements of liquid in identical beakers, find the amount of liquid each beaker would contain if the total amount in all the beakers were redistributed equally.
Recognize volume as an attribute of solid figures and understand concepts of volume measurement.
A cube with side length 1 unit, called a "unit cube," is said to have "one cubic unit" of volume, and can be used to measure volume.
A solid figure which can be packed without gaps or overlaps using 𝘯 unit cubes is said to have a volume of 𝘯 cubic units.