5th Grade ELA BEST Standards "I Can" Checklists Autofill PDF & Digital Florida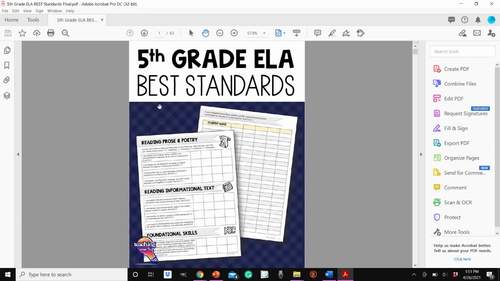 ;
Also included in
"I Can" Posters & Student Checklists 5th Grade ELA BEST (Florida) Standards BundleThis is a complete set of 5th grade ELA BEST Standards "I Can" posters and student checklists. The standards are rewritten in student-friendly "I Can" statements. I Can ChecklistsThis resource includes I Can Chec

Price $8.00

Original Price $10.00

Save $2.00
Description
"I Can" Student Checklists for 5th Grade ELA BEST (Florida) Standards
This resource includes 5th Grade ELA BEST Standards I Can Checklists in both Autofill PDF and Google Slides® formats. The checklists include three types of pages:
Standards organized by section, with each section marked with an identifying symbols that coordinate with the "I Can" Posters."
Pages with one standard and rows for 25 student names, as well as columns to track data. The student lists will autofill on every page - just type the names on one page, and they will appear on all the others. (This only works in the PDF. In Slides, teachers will need to type the names once, then copy them on the other pages.
A checklist of the suggested book lists for the grade level. Books are organized by type as well as reading level.
The sectioned pages can be used in two ways:
As student data folders students can take ownership of their learning by marking their progress on each standard. A cover page is included that can be used for data folders.
Standards tracking for lesson planning - note the dates when the student was taught.
The single-standard pages are great for tracking your students' progress in one place. Each assessment, mark down their scores in a column. Teachers can easily see student scores for creating small groups, student progress over time, and report card comments.
Save $ with a Bundle
The posters and checklists are also available in a money-saving bundle.
These checklists are also available in a grade-level bundle.
*****************************************************************************
Customer Tips:
How to get TPT credit to use on future purchases:
• Please go to your My Purchases page (you may need to login). Beside each purchase you'll see a Provide Feedback button. Simply click it and you will be taken to a page where you can give a quick rating and leave a short comment for the product. Each time you give feedback, TPT gives you feedback credits that you use to lower the cost of your future purchases. I value your feedback greatly as it helps me determine which products are most valuable for your classroom so I can create more for you. ☺
Be the first to know about my new discounts, freebies and product launches:
• Look for the green star next to my store logo and click it to become a follower. Voila! You will now receive email updates about this store. ☺
*****************************************************************************
Report this resource to TPT