5th Grade Math Centers Games Worksheets -5th Grade Guided Math -Year Long Bundle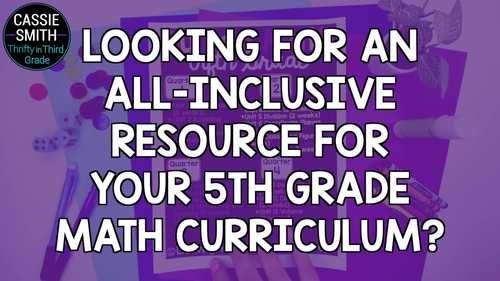 ;
What educators are saying
This resource is so great for organization and pacing. My students were engaged, and I feel it hit on most of the skills they needed for place value.
The lessons are clear and specific. This is very user friendly and the kids love the independent work. They can really master the skill. The games that are included are great too. Engaging resource!
Products in this Bundle (13)
showing 1-5 of 13 products
Bonus
Additional Bundle Items 5th Grade Guided Math
Description
This 5th Grade Guided Math bundle includes everything you need to teach math in your fifth grade classroom. Use it as a math curriculum or as a resource for math workshop! It includes daily materials, so every thing is ready for you!
Lesson plans are standards based and have a specific, achievable objective for each day. Units include pre and post assessments, daily practice pages, daily center activities, vocabulary cards, questioning cards, anchor chart posters, and SO many other additional resources to support your instruction.
These units are independent of each other and can be taught out of order. So, if you have to follow a pacing guide from your district, you can change the order. 5th Grade Guided Math units are recommended for small group, targeted instruction, but also can be used in a whole group format.
---
️❤️ Here's Why Teachers Love This Bundle️❤️
COMPLETELY EDITABLE Lesson Plans that are DONE for you! (Such a HUGE timesaver!)
Remediation and Enrichment Suggestions for EACH Lesson!
They report struggling learners THRIVING and students who are ENGAGED and WANT to do math!
Built-In review time all year!
Lessons that keep a steady pace so you can cover all standards without rushing your students along!
Specific and "achievable" objectives for each day!
PLENTY of activities to choose from!
---
✏️✏️
Guided Math Teacher Handbook and Overview Learn how you can use the components of Guided Math, a list of suggested read alouds by unit, plus a day by day overview of the entire year.
Launching Guided Math-A Ten Day Plan for the first two weeks of school Teach your students how to do Guided Math!
Vocabulary and Definition Cards that help your students learn new vocabulary and incorporate it into their math conversations
Vocabulary Trifolds are a perfect addition to your math interactive notebooks and make for a great reference tool for your students
Questioning Cards to guide your lesson and group conversations
Printables to support instruction including anchor chart posters, templates, manipulatives, and other tools to support your instruction
Daily lesson plans that are teacher and student-friendly and are fully editable so you can adjust them to meet the needs of your students
Problem of the Day in four different formats!
Daily worksheets that are a quick check of the lesson taught each day. Each day 5 practice page is a review of the objectives covered during the week and can be used as formative assessment.
Daily center activities that provide fun and engaging extra practice
Additional resources including extra games, interactive notebooks and other resources to support instruction
Pre and Post Assessments for each unit that use similar problems so you can directly gauge student growth
Answer keys for the assessments and practice pages to save you precious time
Unit Assessment Grade Book A fully editable excel file grade book that can be used to track students' pre and post assessment scores
Student Graphs for Tracking Data that students can use to keep track of their assessment scores and track their growth
⭐Download the preview to learn more!⭐
This resource can also be used as a full-year curriculum. There are a total of 32 weeks of instruction provided. I broke this up into four quarters, with 8 weeks per quarter. If you are in a traditional school that will give you an extra week each quarter for review, test prep, or to use as a buffer (because we all know interruptions happen).
---
STANDARDS:
⚠️These units are aligned to Common Core. For a complete breakdown of which standards are covered in each unit across grades 1-5,download this free Common Core alignment Guide!
⚠️TEKS Teachers: Download the preview to see what TEKS standards correlate to this bundle! Each unit is given as 2 PDF's--one for Common Core and one for TEKS. You can also check outthis free download for a breakdown of the TEKS covered.
---
Here is an overview of the units that are included in 5th Grade Guided Math.

---
️TEACHERS LIKE YOU SAID...
⭐⭐⭐⭐⭐This is the best math unit that I have ever used. The lessons are user friendly, the activities are short and get to the point (amazing for my restless class), and the optional extension activities are amazing. I don't know if I could use another math resource!
⭐⭐⭐⭐⭐My students are enjoying guided math. This is new to me and I find it easy to use and a much more effective way to reach students.
⭐⭐⭐⭐⭐I love this math resource! Everything is clearly laid out and organized with lesson plans and a pacing plan. The actual student materials are clear and focused, with larger print. They have been perfect or my struggling learners!
⭐⭐⭐⭐⭐This has been such an amazing resource to use with my students this year! I feel it has helped them all have a deeper understanding of math skills! Thanks for your amazing work!
---
FAQ: Are the Thrifty in Third Grade Guided Math Units based on research?
Yes! Email me at thriftyinthirdgrade@gmail.com for a copy of the research that went into designing the framework of these units.
If you have any other questions please feel free to email me!
---
Get Interactive Lessons To Use Along With These Guided Math Units!
Other 5th Grade Math:
©Thrifty in Third Grade
ALL RIGHTS RESERVED
Report this resource to TPT
Standards
to see state-specific standards (only available in the US).
Convert among different-sized standard measurement units within a given measurement system (e.g., convert 5 cm to 0.05 m), and use these conversions in solving multi-step, real world problems.
Make a line plot to display a data set of measurements in fractions of a unit (1/2, 1/4, 1/8). Use operations on fractions for this grade to solve problems involving information presented in line plots. For example, given different measurements of liquid in identical beakers, find the amount of liquid each beaker would contain if the total amount in all the beakers were redistributed equally.
Recognize volume as an attribute of solid figures and understand concepts of volume measurement.
A cube with side length 1 unit, called a "unit cube," is said to have "one cubic unit" of volume, and can be used to measure volume.
A solid figure which can be packed without gaps or overlaps using 𝘯 unit cubes is said to have a volume of 𝘯 cubic units.